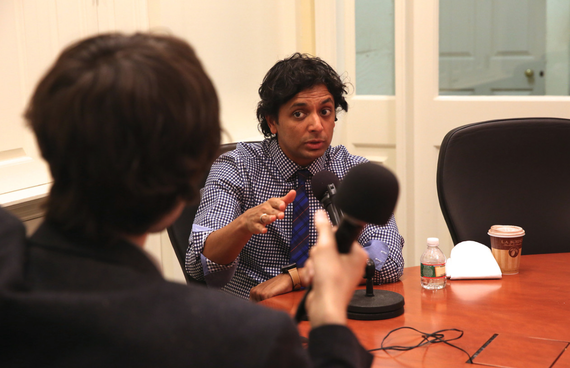 You know famed film director M. Night Shyamalan from his blockbuster movies like The Sixth Sense, Signs, and The Village -- but here's the surprise twist: He just wrote a book about education reform and presented on his findings at Harvard.
During his visit to the Harvard Graduate School of Education this week, Shyamalan appeared on the Harvard EdCast to explore his unique "outside" perspective on education and his data-driven approach to improving the education gap, while debunking other popular reform ideas. He then appeared in a forum to discuss his findings with the Harvard community and share lessons from his book, I Got Schooled: The Unlikely Story of How a Moonlighting Movie Maker Learned the Five Keys to Closing America's Education Gap.
"I got interested in this because of going on a location scout on a movie, visiting high schools in Philadelphia... and I got moved by the dire situation in some of those [schools] that I visited and I felt like I was in a third-world country," says Shyamalan. "It felt sinful... and so we started to ask questions."
He goes on to discuss what he learned over a 5-year journey in researching the education sector for his book and the evolving role he is hoping to play in the broader national discussion on improving American education.
Listen to the full interview below:
The Harvard EdCast is a weekly series of podcasts that features a 10-15 minute conversation with thought leaders in the field of education from across the country and around the world. A production of the Harvard Graduate School of Education, the Harvard EdCast is a space for educational discourse and openness, focusing on the myriad issues and current events related to the field.
[Photo Credit: Iman Rastergari/HGSE]
REAL LIFE. REAL NEWS. REAL VOICES.
Help us tell more of the stories that matter from voices that too often remain unheard.