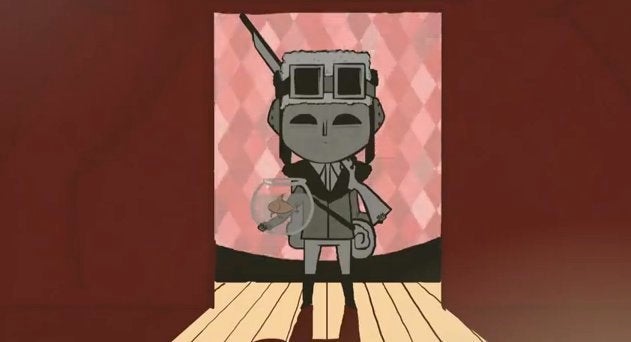 When M. Ward walked onto the stage at Webster Hall on Friday night, his sleeves were rolled up like a man ready to put in a solid effort for the crowd. More than two hours, 24 songs, and two encores later, he had done just that. It was the third time I've seen him play (once before at Webster Hall, another time at The Apollo), and the show was certainly a cut above the previous two. With a slightly annoying twist: When my friend Susan and I caught up with her pals Mark and Melissa on the street afterward, Mark pointed out one of the glaring facts of the night. "Did you notice how no one in the crowd was talking?" he said. "Even when I was just saying something to Melissa about a song he'd just played, someone would turn and glare at me."
While it's cliché to bring up Bob Dylan when you're writing about a singer-songwriter with a strong grip on his material and a captive hold on his audience that can make them angry with those who would deign to express their enjoyment out loud, I'm going to insist that you indulge me on that front, at least for a moment. With his unruly hair, slight frame, and a certain seriousness about him, Ward's stage presence does bring to mind the young Robert Zimmerman. And Ward's first two encores -- Elvis Presley's "Such a Night" and Chuck Berry's "Roll Over Beethoven" -- also make clear that the two men draw much of their musical water from the same well. Lastly, Ward is as comfortable departing from traditional song structure as Dylan is, but likewise seems to understand that without great melodies, you've got nothing. So what am I saying? M. Ward, like the master, is a thinking man's musician. But he also knows how to put on a pretty awesome show.
Ward, unlike Dylan, knows how to write a short song. His crowd-pleaser (his "Rainy Day Women," in other words), is "Magic Trick," and lasts about two minutes, max. By the time he busted that one out mid-way through the evening, he already had the audience wrapped around his finger. And he knew it. "It's early in the night, but you guys are already my favorites," he'd said just a few minutes before. That was in response to raucous cheering after "Duet for Guitars #3," off his album Transfiguration of Vincent. (Talking aside, you are still allowed to cheer at an M. Ward concert. And text your friends while ignoring the performance in front of you. Put the iPhones away, people. You can't tell people about the experience unless you actually experience it.)
Ward didn't play too many songs off his excellent new album, A Wasteland Companion -- just "Clean Slate," "Me and My Shadow," and "Primitive Girl" -- instead choosing to take the crowd on a rollicking tour of what is arguably one of the most impressive bodies of work of any musician working today. Alternating between a bluesy versions of "Rollercoaster," the straight up rocking of "Primitive Girl," and a country version of "Helicopter," complete with some sweet slide guitar, the band put on a showcase of pretty much every genre Ward has touched on in his career. When they slipped into a jam -- they do it often, and do it well -- they don't wander off into the musical anywhere. The performances were compact but impactful, with none of the musicians on stage big footing it through anything. (Save, perhaps, for the excellent heavy bass resonating through "Requiem," a perfect example of Ward's powerful songwriting capabilities. I wish I'd known the man he wrote that song about.)
The guy is on a roll of serious proportions. Ward's three solo efforts before the current one -- Transistor Radio, Post-War, and Hold Time -- are standouts each in their own right. His work with Zooey Deschanel as one half of She & Him (three albums since 2008) can only be described as utterly charming. And Monsters of Folk, his collaboration with Jim James of My Morning Jacket and Conor Oberst and Mike Mogis of Bright Eyes, is one of the best "supergroups" out there. These people are constantly crossing paths -- Oberst joined Ward on stage for the final encore, and Deschanel brings her voice out of no time to a few tunes on A Wasteland Companion -- and one of the highlights of the night was Oakley Hall's Rachel Cox joining the band on stage for some sublime singing. I've never seen her before, but she was impossibly cute in a long-sleeved white silk shirt and long black skirt, with dance moves that brought to mind Uma Thurman in Pulp Fiction.
All the while, there was Ward, fingerpicking, strumming, and pounding his various guitars through a show that seemed to get better with each song. I interviewed Ward a few years ago and pointed out that people called him all manner of things, from "modern folk interpreter" to "acoustic retro whisperer." What did he call himself, I asked? He had a one-word response: "Guitarist." On Friday, I asked Susan if she agreed with him. "He shredded it tonight, so yes, I do," she said. So there you have it. Next time you have a yen to see a great guitarist, get yourself a couple of tickets to see M. Ward. You won't be disappointed. But just remember not to talk about it in between songs.
REAL LIFE. REAL NEWS. REAL VOICES.
Help us tell more of the stories that matter from voices that too often remain unheard.