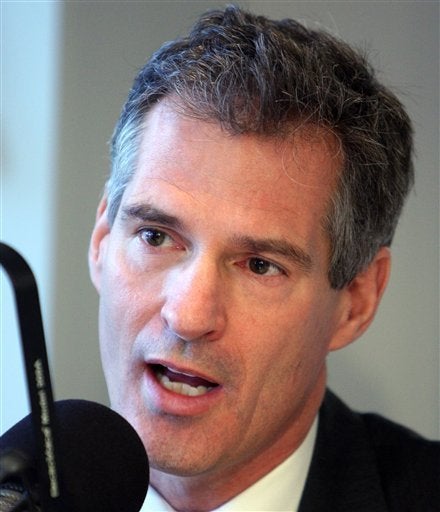 Massachusetts Republican Senatorial candidate Scott Brown has vaulted himself into once-improbable contention in a tight election in part by presenting himself as an everyman. His economic agenda is decidedly centered on small business. His favorite tag line concerns the mileage on his car.
"I live in Wrentham," Brown declared in a debate against his opponent, Attorney General Martha Coakley "I drive a truck. And, yes, it has 200,000 miles on it now."
It's been a politically advantageous narrative. But one complicated by Brown's personal finances. According to a review of Brown's 2008 financial disclosure report -- which was filed April 2009 and appears to be the most current document available -- Brown and his wife own (at least then) five separate properties. The list includes a 3,000-square-foot home near a lake in Wrentham, Massachusetts, a condo in Boston and a time share in Aruba.
70 Hayden Woods, Wrentham, MA: A 3,000 squared-foot single-family house that is the current principal residence of Brown and his family. The house lies off a cul-de-sac in a recently developed neighborhood near a small lake is nearby. According to financial disclosures, it is valued at $100,000 or more.
1840 Commonwealth Avenue #11-14, Brighton, MA 02135. In October 2007 Brown and wife Gail purchased what property records indicate is two condominium units at 1840 Commonwealth Avenue in the Brighton neighborhood of the city of Boston. The assessed value for #11 is $60,000 to $100,000; for #14 it is $100,000 or more
1870 Commonwealth Avenue #8, Brighton, MA. Brown's 2008 SFI reports ownership of this unit, with a net income derived from it of $1,001 to $5,000. The property itself is valued at $100,00 or more
33 Ocean View Ave. Rye, NH. This property is listed as Brown's second home with an asset value greater than $100,000.
Aruba Timeshare. Brown and presumably his wife have a timeshare on the island that is valued at $10,001 to $20,000
Brown's office did not immediately return a request for comment. The state senator earned between $10,001 and $20,000 as a JAG attorney in the Massachusetts National Guard and another $80,001 to $100,000 from his own law offices in 2008 -- according to his financial statement.
Brown's wealth still pales in comparison to the state's other senator, John Kerry (D-Mass.), the richest member of Congress with a net worth of $167 million. But, like Kerry, his financial disclosures could prove problematic to his public image.
Owning a number of properties has certainly tripped up other candidates. During the presidential campaign, Sen. John McCain was tdamaged by revelations that he and his family held the rights to eight properties (though the biggest stumble came when he couldn't recall exactly how many he owned). Likewise, former Sen. John Edwards (D-N.C.) struggled mightily to justify the massive, $6 million mansion he had built in North Carolina while running a campaign based on helping the working poor.
Popular in the Community