At Tanganyika Wildlife Park in Goddard, Kansas, you may, according to its website, "find yourself face to face with a kangaroo, have a giraffe eating out of your hand, or look up to a ring-tailed lemur on your shoulder." Or, in mom Angie Widener's case, discover that lemur on your 9-week-old baby's head.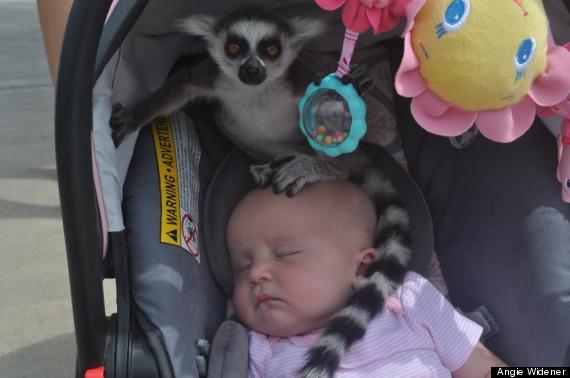 Since you aren't allowed to take strollers into the lemur exhibit, mom had brought baby Finley in in her carseat -- complete with lemur-friendly toys -- and set it on the ground. She told HuffPost over e-mail that she was watching her two older children feed the animals when she heard a stranger laugh and say, "Um, ma'am, there is a lemur on your baby."
"I was shocked, but the zookeeper assured me she was safe, so my two older daughters and I got a few laughs and we snapped some pictures," Widener said. Pictures that have now made our day.