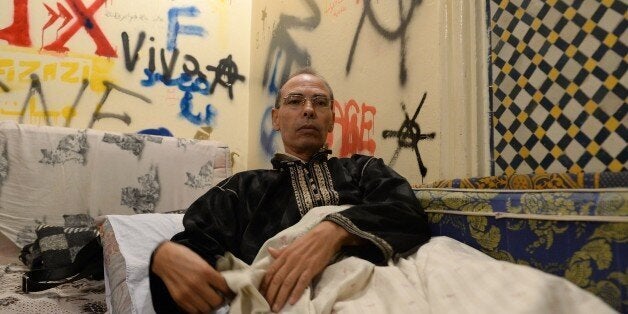 Maati Mounjib, a Moroccan intellectual, has suspended his hunger strike after the authorities lifted the travel ban. But the struggle for freedom continues. Morocco is very well known to be one of the most stable countries in North Africa and the Middle East -- or at least this is how it is portrayed to the outside world. But when talking about the current political situation of a country, one must remember that "stable" doesn't necessarily mean good or democratic.
Even though Morocco adheres to many international conventions, many appalling cases of oppression in all of its forms still exist, including but not limited to infringements on free speech and freedom of the press.
Such is the case for Maati Mounjib. A Moroccan Professor of African studies and political history at the University of Rabat, an activist, and an international scholar who is among the country's most prominent defenders of democracy and human rights. He embodies the values of the Enlightenment, the values of the 21st century, the values of the future, and for that he faces ongoing persecution by the Moroccan government.
In 2014, Mounjib and a group of other Moroccan journalists and scholars founded an association called "Freedom Now" that defends the rights and freedom of Moroccan journalists. Mounjib was slated to become its president. However, the government refused to process the association's application, depriving it of legal status. Soon after, press outlets with ties to the Moroccan throne launched a disgraceful campaign to personally and politically defame Mounjib.
On August 31, 2015, border officials at Casablanca Airport informed Mounjib that he was wanted for threatening state security. He was later interrogated by the police and was accused of "destabilizing citizens' allegiance to [Moroccan] institutions," working for foreign agendas, and teaching investigative journalism to young people in order to tarnish the image of Morocco.
On September 14, he was denied the right to leave the country to attend an academic conference in Spain. Hence, he began his first hunger strike in September in order to warn the public and the government of the consequences of restricting free speech.
The government only ramped up their campaign against him. On September 19, the Ministry of Interior accused Mounjib of corruption and financial irregularities in the period when he managed the Averroes Center for Studies and Communication, at the same time denying the fact that Mounjib had been prohibited from leaving Morocco days earlier. But Mounjib was denied the permission to leave Morocco yet again on October 6 to attend an academic conference in Norway, whereupon Mounjib began an open hunger strike for not getting the permission.
On October 13, after eight days without food, Mounjib collapsed. He was rushed to the hospital. With his health in serious danger, he continues to resist state oppression with no intention of abandoning his rights. Asked by the news agency Reuters whether he is ready to give in, Mounjib responded, "It is better to die than live in such injustice."
On October 29, Maati Mounjib suspended his hunger strike after the Moroccan Authorities lifted the travel ban. But he was then charged with receiving foreign funds to diminish the credibility of Moroccan Institutions. He told Reuters: "I decided to suspend my hunger strike as they lifted the ban. But we will see if they will end all forms of harassment against me and my family."
Maati Mounjib is not alone in his struggle against this kind of oppression. More and more independent Moroccan journalists, such as Ali Anouzla and Ali Lmrabet, have realized that their country is much less free than the world imagines it, and when they attempt to speak out about Morocco's restriction of free speech, they experience that restriction firsthand.
Oppressing and restricting the freedoms of intellectuals and banning them from leaving the country for academic and intellectual purposes is not what democracies do. If Morocco wants to maintain its image as a stable and democratic state in a part of the world that has too few, it needs to stop persecuting people who promote the very values and principles that the Moroccan government claims to embrace. Sharing the story of Maati Mounjib will help build international pressure on the Moroccan government and bring its restriction of rights to an end.
Yassine Aitmoulay has a Degree in Computer Networks and is currently enrolled in English, Studies. He is Blogger and Internet Activist and also an Artist. www.Yassinart.wordpress.com
Popular in the Community