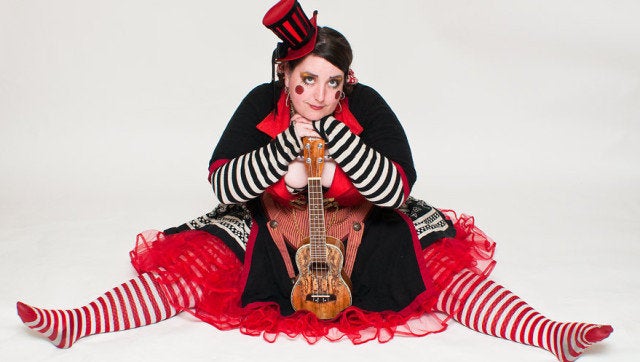 For this installment of The Huffington Post's "My D.C." Q&A series, we chatted with a performer that's an expert with broken glass and nails, Mab, Just Mab.
Mab, Just Mab, a performer of the unusual variety, can be regularly seen shoving nails into her face, eating fire and walking on glass -- real nails, real fire and real glass. The performer tells The Huffington Post about the perils of riding an elevator with a bed of nails and other tasks not usually encountered on a day-to-day basis.
The Huffington Post: What do you do for a living?

Mab, Just Mab: My time is pretty evenly split between being a variety artist, performer and being a web developer. To the casual eye, the two might seem unrelated, but I found that each makes the other better.
HuffPost: Where do you live?

Mab: To folks who don't live in D.C., I live in D.C. To D.C. folks, I live in the McLean/Falls Church area.
HuffPost: What's your commute like?

Mab: I take the Metro to the web developer gigs, and drive to the performing gigs. Folks on the Metro get funny when you try to cart 100 lbs of broken glass onboard.
Riding the train regularly is great. I get to catch up on my emails, which are non-stop, or watch old "Doctor Who" episodes on my tablet. Folks get funny if I try to do that while driving.

HuffPost: What's your favorite local spot to take out-of-town visitors?

Mab: This may surprise some, but the Red Palace on H Street NE. It houses James Taylor's, the editor of "Shocked and Amazed" and America's sideshow historian, personal collection of oddities and sideshow memorabilia. There is a unicorn that once toured with Ringling Bros. and Barnum & Bailey. It was one of the things I saw when I was a kid that let me know that facts like "Unicorns don't exist" are not always as solid as one would think. And it's there, stuffed in a case over the door at the Red Palace. Along with Fiji mermaids and two-headed turtles.
Of course, on the more typical tourist front, I really like the Botanic Garden, the FDR Memorial, and the butterfly exhibit at the Natural History Museum.

But really, if you are visiting me from out of town, you're going to end up at the Palace.
HuffPost: What's your favorite local neighborhood?
Mab: H Street -- Great bars, hang-out places and it still kind of reminds me of what I used to like about U Street.
HuffPost: What's your favorite local restaurant?

Mab: While I love the new menu at the Palace, I'm a sucker for Dangerously Delicious Pies.
HuffPost: What do people in D.C. complain about too much?

Mab: Everyone else's driving.

HuffPost: What got you interested in becoming a sideshow performer?
Mab: I've been a performer of one sort or another for most of my life; theater, dance, music, etc. About 10 years ago, I joined forces with Paolo Garbanzo, an old college buddy and juggler, to play music and do character work in the Accidental Circus. It didn't take long before he had me doing the bed of nails, a classic sideshow feat. After that, I realized that I needed to learn glasswalking. Sideshow combined movement, theater and human endurance in a way that really appealed to me.

HuffPost: What's the most common misconception about your craft?

Mab: Every show, there is at least one person who thinks what I'm doing is fake or a trick. No matter how many different ways I try to prove it. People think I'm walking on sugar glass, even though I break glass bottles on stage, or that the fire is fake. Is this even possible? Or, and this one is my favorite, that I coat my mouth with something, they usually say wax, which is hysterical as wax is actually flammable, to prevent myself from getting burned when I eat fire.
You want to know the trick? Alright, since you asked so nicely ... I can tell you. The trick is ... not minding the pain.
HuffPost: What's the ideal gig for a sideshow performer?

Mab: The one where all I have to do is show up and do my bit and get paid a lot of money. But they seldom happen that way.
Actually, a residency would be great. Any regular gig, where I know the space, and I can leave my gear for a long run. And if it was a truly ideal gig, it would pay enough where I didn't have to take additional gigs to round out the week. I pack and unpack and repack tons of costume, props, etc. several times every week. When looking for a place to live, I have to keep in mind that I will be bringing not groceries, but a straitjacket, chains and a huge bucket of broken glass back and forth to my car on a regular basis. I'm just imagining getting into a crowded elevator in an apartment building with a bed of nails. *DING* "Evening." . "I'll just get the next one."
Calling all HuffPost superfans!
Sign up for membership to become a founding member and help shape HuffPost's next chapter
BEFORE YOU GO