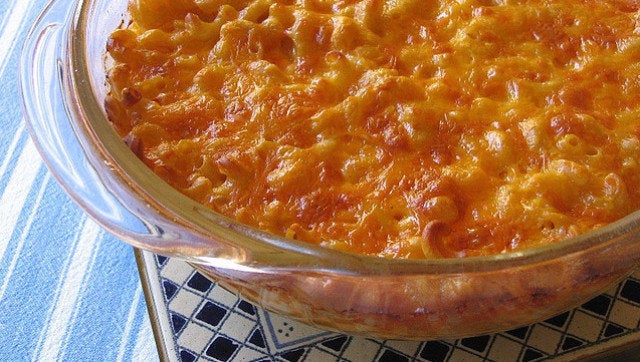 We are total nerds for the kitchen. We love the calm rhythm of the stand mixer as it whips cream to soft peaks. We hover lovingly over soups and stews, stirring, tasting, seasoning just because we like to. We read cookbooks like some people read mystery novels. But, we embrace the fact that not everyone feels the same way. And we know that those of you out there who are more tightly-wound in the kitchen still need to get dinner on the table, and sometimes want to do it yourself. So, we're here to talk about one of our favorite and most methodically debated foods: mac and cheese.
A quick internet search of "mac and cheese how to" yielded some startling auto-fill results. You guys are freaking out about macaroni and cheese recipes.

How to melt cheese?? Guys. Let's take a few deep breaths, and talk about what you should stop worrying about when you make your own mac and cheese:
Melting the cheese: We are assuming that those of you Googling this phrase are referring to melting and browning some cheese on the top of your mac and cheese. Right? We hope so. If you are making mac and cheese and the rest of your cheese won't melt, you need to turn the oven or the stove on. Problem solved? As far as the stuff on top goes, if you want it brown and bubbly, whack your oven up to broil or as high as it will go and maintain a close eye on the top of your dish. You want browned, melty cheese, not charred, smoking cheese.
How long to cook the pasta: If there is one universal truth about macaroni and cheese, it's that you have to cook your pasta twice. Whether you like to bake your mac and cheese or make it on the stovetop, you'll be adding extra heat to the pasta while you get all your cheese melted, browned, bubbling etc. So, do yourself and your pasta a favor and cook it only until it's not quite ready. No one likes mushy macaroni.
Making it taste like the stuff that comes out of the box: Here's an unpleasant cooking truth -- no matter how much of a kitchen magician you are, your mac and cheese will never taste like it came out of a blue box, for better or for worse. You know what makes it taste like that? Chemicals. Factory ingredients. Food scientists. Enjoy that stuff in moderation as a rare treat. We promise you'll start liking homemade better very soon.
Getting it perfectly creamy: Like with any other dish, we all have preferences. If you want your mac and cheese to be velvety and creamy, you're going to have to make a bechamel. Did you freak out when you saw that word? Don't! It's just butter, flour and milk (great mac and cheese with bechamel recipe here). You can do this. That is the basis for every cheese sauce you will ever need to make.
If you prefer your mac and cheese less creamy and more... well, cheesy,
is for you. This is how I make my mac and cheese and unless there is a creamy pasta devotee in my midst, I will never go back. Plus, Tom's recipe will make you laugh while it teaches you to make the easiest mac and cheese on earth. And, as an added bonus, Tom's mac and cheese recipe only uses one pot. Which means you only clean hardened cheese off one pot.
Are you worrying about your mac and cheese? Let us know why in the comments and we'll try to help!