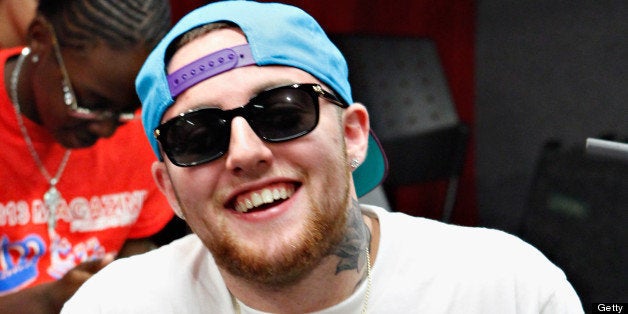 Over the course of 30 minutes backstage before a recent show at New York City's Hammerstein ballroom, Mac Miller went through four cigarettes and a red Solo cup of straight Jameson, early signs of excess from the 21-year-old rapper. He is an over-the-top man, in language, in appearance, and in lifestyle. Born Malcolm James McCormick, Mac Miller swears casually and often, choosing to mumble the word "fucking" in place of a pause between sentences. His body is covered in tattoos, stretching up the lengths of his arms and around his neck, up to his unkempt fiery red hair and beard.
"It was gold to me [but] I think [the public] has trouble taking me seriously, which I mean... it's my fault," Miller explains. "But it's cool because I really just kind of appreciated how everyone was able to listen with an open mind. They were able to just listen to the records and not be like, 'Oh, I can't... this sentence... fuck your sentence.'"
"I'm a goofy-ass motherfucker a lot. It's a lot easier than being vulnerable, you know what I'm saying?" Miller, who recently went through a break-up with his long-term girlfriend and has been open about his struggles with addiction, went on. "Or being like, 'Hi, I'm sad.' Like, 'Hey, how you doing?' 'Not too good...'"
He laughs off his troubles, hurrying through discussions of anything less-than-positive in his life. "My ideology was, if I just make very happy music, very happy music, then people will forget about whatever their problems are. I will forget about my problems," Miller says of his first studio album, "Blue Slide Park," dismissed as simply "party music" or "frat music" by critics. "People will just be happy. They'll jump around, they'll dance, they won't think about whatever they're going through in life. So I did that and everyone kind of took it as this like, 'He's trying to go at this demographic of college.' I was like, 'No dude! I'm just trying to put smiles on kids' faces.'"
"I think that I realized that maybe it's time to confront my own issues and write about them -- write about my own shit and put it out there -- which was difficult, but it was important," Miller says of his latest work.
His issues are on full display in "Watching Movies with the Sound Off," partially cloaked in quick rhymes. On the Pharrell Williams-produced "Objects in the Mirror," Miller raps, "Never thought that it would feel this way / You never taught me how to heal the pain / I wish you caught me on a different day / When it was easier to be happy."
Miller's vulnerability as seen in his recent work is in stark contrast to the singles off of "Blue Slide Park," an album made up of songs with lyrics like, "There's a party on 5th Ave. / Hit me if you tryna go / I can be there in like 20 / I'mma hump it and come runnin', cause we gotta hit the road."
"With 'Blue Slide Park' I wanted to have a number one album, and I did do it, so I'm not mad at it, but that was its goal," Miller confesses. "The goal [with 'Watching Movies with the Sound Off'] was just to make an album that number one, just made me real happy and that [had] layers. The thing I'm most proud of with this album is like, I feel like it has a lot of layers. At first I think [people] might just take it for what it is on face value, and be like, 'Eh, this is a good album, cool album,' but if you really listen, there's like, a lot of shit in there."
The artistic departure for Miller was one that he feels critics had a hard time swallowing. He names the song "Aquarium" as his favorite track on the album, but notes his love for the single "SDS" as it made some of his doubters admit that he had something to offer. "There were certain people that couldn't accept it," he says, before launching into an impression of critics saying, "He's trying, he doesn't suck, he's doing okay."
"It was just funny to me," Miller adds. "I was like, 'You know you like it! You fucking like it! You like it man, just say it, you piece of shit!'"
While Miller's latest work has been far more well-received than his first album, it has not performed at the same level of commercial success. "Watching Movies with the Sound Off" failed to top the Billboard 200, peaking at No. 3.
"Fuck no," Miller spits when asked if he was considering radio play or singles when making his recent album. "I was thinking anti-single. I was just like, 'I don't want to make a single,' because I'm not gonna get radio play anyway. I don't have the money to do that shit, you know what I'm sayin? We're independent. I mean, yeah, if I had the right record, I could do whatever, but I'm cool. I don't need that right now."
"I'm 21 years old and I think that I've got a lot of perspective in life," Miller asserts. "When I turned 18 I dropped [my mixtape] 'K.I.D.S.' on August 13, 2010. August 16th, I went on tour -- went and did my first show, like real show, and I toured for like two and a half years straight. I thought, 'Okay, I don't need to get all this now.' At first I was like, 'I need this number one album! I wanna be in big arenas! I want stadiums! I want to be as big as Rihanna and fucking Jay-Z breaking out.' You know what I'm saying? 'Let's do this!' It was all in constant motion, I couldn't stop it. I dug myself a little hole and jumped in it and buried myself and just kind of hid away from everyone and became self-destructive. It worked, which is good cause I was able to get myself out of it."
The self-destructive hole that Miller speaks of is his much-discussed addition to lean, a dangerous cocktail that includes promethazine, or prescription-grade cough syrup.
"I think drugs are drugs," Miller says. "I love drugs. To this day, I still fuck with drugs. I did get clean, but I love drugs. I'm just saying, be smart about it. I think when I was in to the lean heavy, I think what it was is that it created this numbness which I liked. I was 19 years old and I was the CEO of a multi-million dollar corporation. I've like, got people with families depending on me. Like, fuck dude. The numbness thing was like I was going through a lot of relationship issues, going through a bunch of different shit so I just kind of wanted to just like, shut it all out."
At just 21 years old, Miller still doesn't seem to want to fully grow up yet, nor does he seem fully sure of who he is yet. He giddily expresses admiration for those who came before him, calling Jay-Z "one of the best," gushing over Kanye West's "Yeezus," and taking out his iPhone to show-off a background photo of himself and Nas. He pads around his backstage area without shoes, wiggling his toes in multicolored, patterned ankle socks as he talks. He takes risky opinions on controversial topics such as the dangers of the drug molly and finds humor in overwhelming misogyny.
"I don't know if you've ever taken molly but you're not getting raped on molly," he says, referencing the controversy surrounding rapper Rick Ross eluding to using molly as a date rape drug in the lyrics to one of his songs. "It's not a roofie. If you have sex on molly, it's consensual. Like, they were calling molly this date-rape drug and shit -- it's not a date-rape drug. I don't even like to have sex when I roll. If I'm rolling and I'm with a girl, I'm much more likely to have a good conversation. For real."
"It's imagery, you know?" Miller adds, before referencing one of his own controversial lyrics from his song "O.K." "'Fuck her in the ass everytime I'm in a bad mood' -- that's funny. If you just think about it. It's all about imagery. Imagine me coming home, like to my girlfriend, and being like, really upset about my day and being like, 'I just need to have fucking anal sex.' That would be funny. And some girls like anal sex!"
But is any of it real? Miller himself isn't even sure anymore. "Here's me right?" Miller says, lighting a final cigarette as he slips on his shoes, draining his plastic cup of whiskey as he prepares for the stage. "But am I speaking to you as Malcolm McCormick right now? Or am I speaking to you as Mac Miller? Who knows? I don't even know anymore."
Calling all HuffPost superfans!
Sign up for membership to become a founding member and help shape HuffPost's next chapter
BEFORE YOU GO