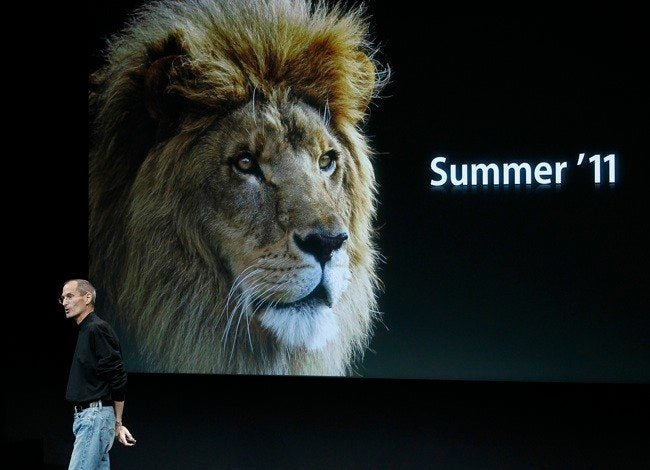 Last October, Apple promised oodles of new additions to the eighth update of its Mac OS X software and described Lion as "Mac OS X meets the iPad." We've got some of the details you need to know before Apple gives its extensive preview of the software at WWDC next week (Apple promised in a press release that the company would "unveil its next generation software - Lion, the eighth major release of Mac OS X").
Lion will feature an app home screen, called a Launch Pad, that resembles the home screen found on an iPad. The new software will allow the user to set apps like iPhoto, Mail, iCal and Preview into fullscreen mode. Redesigns are also coming for apps like Apple Mail, Finder and iCal.
A Mission Control panel will give the user a look at every program currently open on her Mac device and will let her navigate quickly to the program she wants.
A feature called AirDrop will let the user share files with other devices on her local network. According to The Guardian, iCloud may be used to store these documents for easier sharing.
Gigaom describes Apple's forthcoming improvements to saving and restoring documents:
Lion is a great step forward for document and information management. Auto Save automatically saves changes you make to a file, while Versions allows you to look at and revert to older iterations quickly and easily. Resume means that every time you restart your Mac, you go back exactly to where you left off with open apps and documents, so there's no reason to put off that crucial Software Update that requires a restart ever again.
New multi-touch gestures like pinch to zoom and swipe to navigate, as well as tweaks to existing gestures, will make scrolling through app pages, navigating inside apps and managing documents more seamless.
To view some of Mac OS X Lion's new features in action, take a look at the video (below).
Calling all HuffPost superfans!
Sign up for membership to become a founding member and help shape HuffPost's next chapter