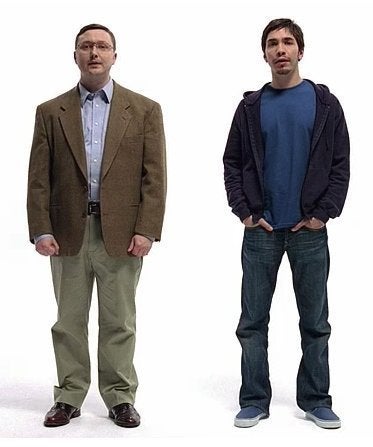 Steve is healthy, the Tablet looks sharp, and everyone's pleased with the latest Nanos.
Hot off the press from consumer-research firm NPD is just a little bit more good news for Apple: not only are Mac users richer than the average computer user and buy more tech goods, but they're 'hipper,' too.
The study concludes, "Apple household owners' actions and purchases can be used by the industry as leading indicators for hot new products and adoption." Zing.
Mac market share is also going up.
The NPD study found that approximately 12 percent of all computer-owning households in the US have an Apple computer, up 4 percent from 2008. Interestingly, although Apple ownership is growing, the vast majority of those Apple-buying households (85 percent) also own a Windows-based PC.
More stats from the study:
Thirty-six percent of Apple computer owners reported household incomes greater than $100,000, compared to 21 percent of all consumers.
The average Apple household owns 48 CE [consumer electronic] devices whereas the average computer household owns about 24.
66 percent of households owning three or more computers, compared to just 29 percent of Windows PC households.
Apple owning households are decidedly more mobile as well, with 72 percent of them owning a notebook, whereas only 50 percent of households that have a Windows PC own a notebook.
Not only do Apple computer owners own more computers (and more mobile computers) than the norm they also tend to own more types of electronics, and more of them, than typical computer owning households. For example, while 36 percent of total computer owning households have an iPod, 63 percent of Apple households have one. And while almost 50 percent of Apple owners own some type of navigation system, only about 30 percent of all computer households own one.

See the graph of NPD's findings below: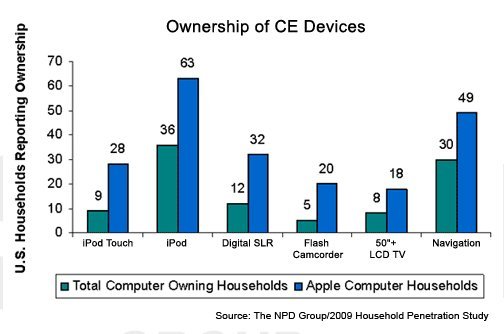 Related
Popular in the Community