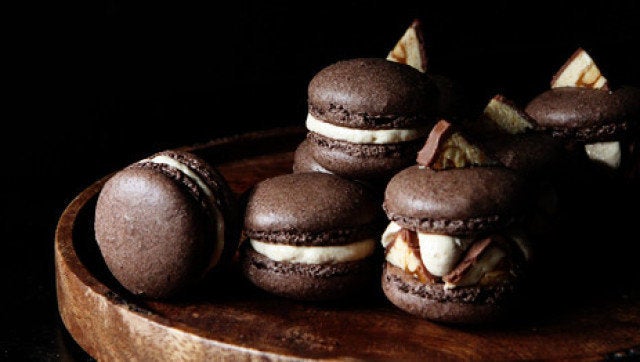 In New York, nothing surprises me.
This includes $300 steak and eggs on LAVO's brunch menu, restaurants (like The Smile) open on Thanksgiving, the inability to find a cab when I'm already running 10 minutes late, and my patience waiting in line for frozen yogurt at 16 Handles (it's just that good)... but I digress.
So when I popped into Macaron Parlour (111 St. Marks Place, between 1st Ave. and Ave. A), my expectations were set simply: pretty treats with fun flavors.
As I nearly inhaled the most amazing salted caramel buttercream macaron I've ever met in my life, I made a new buddy behind the counter -- Simon. My fast friend offered me another sweet treat, and I obliged (because when Simon says, you follow suit).
Turns out, Simon slash server slash bartender is also the (slash) owner, along with his wife Christina who studied macarons at La Haute Pâtisserie Pierre Hermé in Paris.
While love stories and food generally cause my stomach to turn, I needed to know more. If the brownies were any indication of their past, this was going to be an awesomely sweet story.
The two each dreamed of opening a cute confectionary before meeting one other on Halloween in 2009.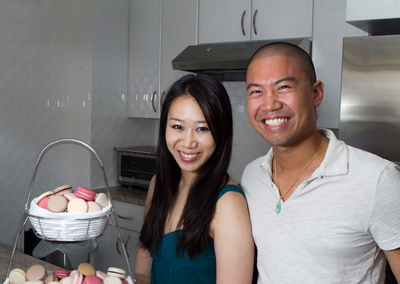 Simon dressed as a nerd in tandem with his friends (the "nerd herd"). Christina impersonated Lady Gaga, circa era of shiny glasses and hair bow (yes, I needed to know which Gaga).
Since that fateful October 31, the couple has sold macaroons together at the Hester Street Fair and other food events -- ultimately celebrating the opposite of a "Bad Romance," as they wed in April 2012.
I can't decide if I'm more impressed by the range of delectable flavors at Macaron Parlour -- s'mores, Elvis, honey and cognac, candied bacon with maple cream cheese, and Cheetos (to celebrate the holiday on which they first crossed paths) -- or that this relationship, started on a night of tricks and treats, evolved into a shop of sweets.
REAL LIFE. REAL NEWS. REAL VOICES.
Help us tell more of the stories that matter from voices that too often remain unheard.