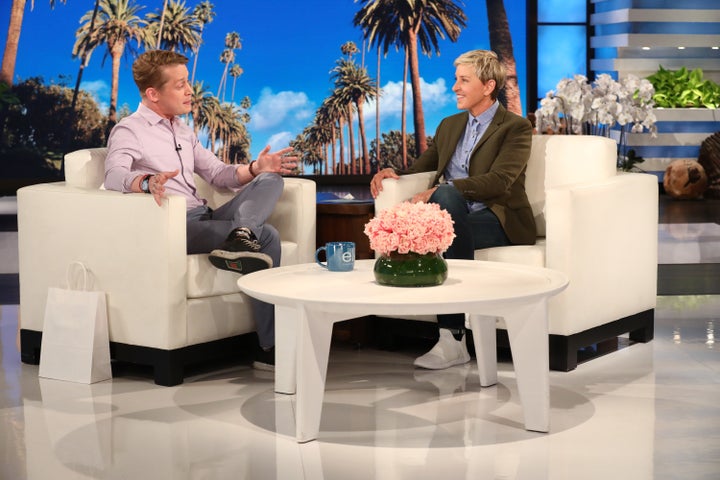 The '90s child star turned self-proclaimed "world-famous recluse" made a rare appearance on "The Ellen DeGeneres Show" on Monday. Culkin was there to talk about his lifestyle brand ― yes, Kevin McCallister has a lifestyle brand ― but, of course, all roads lead to "Home Alone."
Culkin revealed that he won't watch the classic film anymore, or do "the face" upon request (don't even think of asking, OK?) after years of being hounded in public.
"I've been there, done that already. I'm 37, OK? OK, Mom?" he joked.
The last time he watched the film was for the taping of a DVD commentary track on the 15th anniversary edition.
The actor described his celebrity as both a "curse and blessing," saying that while he's only acted sporadically over the last two decades, people still approach him all the time. He actually avoids going out in public during Christmastime, so he won't come face to face with fans of the "Home Alone" franchise.
"It's my season," Culkin said. "It's Macaulay season. I try to go out less and less around that time of year."
Around 1994, Culkin took an extended break from Hollywood at age 14 to attend high school and attempt to have a normal adolescence.
"I was tired of it, to be honest. I did like 14 movies in six years or something like that," he said. "I was away from home a lot. I was away from school. I needed something else. … It was great to be around people my own age for once. … It was the smartest thing I could have possibly done was to take eight years off."
While child superstardom has certainly complicated life for Culkin, it has allowed him to pursue other interests. He was the lead vocalist of a comedy rock band thanks to the Hollywood payday.
"I felt like some kid worked really, really hard and I inherited all of his money," he explained. "It allows me to treat everything like a hobby."