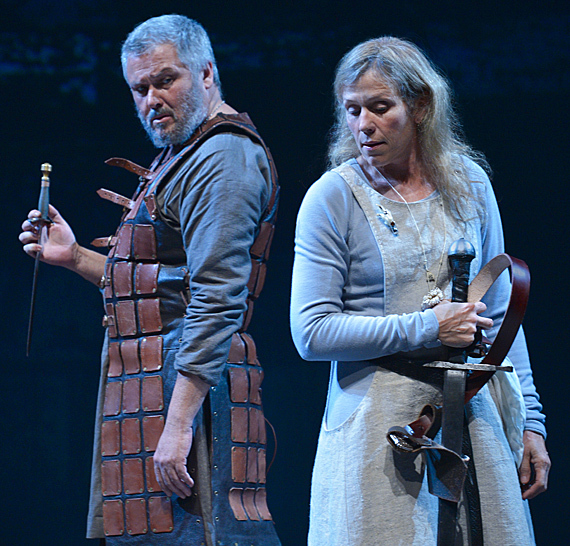 Conleth Hill as Macbeth, Frances McDormand as Lady Macbeth in Shakespeare's classic tale
Tomorrow and tomorrow and tomorrow may give director Daniel Sullivan and his colleagues the time they need to reinforce the strengths and repair the weaknesses of their Macbeth at Berkeley Rep. At the moment, though, their efforts have shaped only a technical triumph that sorely lacks performances worthy of their backdrop.
Highly anticipated because of the involvement of Sullivan, perhaps the country's most respected interpreter of Shakespeare, along with stars Conleth Hill in the title role and Frances McDormand as Lady Macbeth, the production offers an abundance of sound and fury but too little interpersonal passion. In case you're unfamiliar with the stars, McDormand's many accolades include a Tony, an Oscar and an Emmy; Hill holds an Olivier award for work in London, several Tony nominations on Broadway and current attention on HBO's Game of Thrones.

The play opens on an appropriately eerie note as the three witches writhe around a huge tree, disemboweling a captive while intoning their grim omens amid lightning, thunder and fog.
Unfortunately the tone quickly goes flat with the entry of Macbeth and Banquo (Christopher Innvar) a few minutes later, when they stumble upon the witches and hear the prophecies that propel the drama. The warriors look less like survivors of a horrendous battle than well-armed gents strolling through the woods; their puzzled responses to the witches give us Shakespeare's words, with little visceral expression through performance.
The dearth of connections between speakers and their words is distressingly common throughout the drama, affecting major characters and lesser figures alike. And the lack of a palpable bond between Macbeth and his wife is especially troublesome.
From her first moments, McDormand's Lady Macbeth is a mentally fragile figure, bristling with intensity and ambition but lacking the authority that lets her command Macbeth or the courtly grace that would engage and comfort guests to their castle. That deficiency is especially conspicuous during the feast that is disrupted by Banquo's bloody ghost. Even before the apparition appears, prompting Macbeth's descent into hysteria, McDormand projects an aura of edgy discomfort.
Still, she contributes some of the play's most arresting scenes as well, especially in visual suggestions that Lady Macbeth might have experienced motherhood but lost the child or children. Such hints surface in both the soliloquy that follows her receipt of Macbeth's letter about the witches and in an excruciating sleepwalking scene. In both occasions McDormand's extended arms tell agonized stories that bring added poignancy to Shakespeare's verse.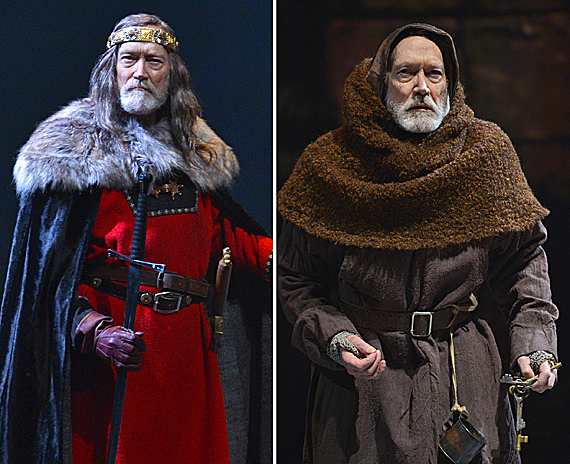 Double duty for James Carpenter: as the ill-fated Duncan and as the castle's addled porter
Similarly, Hill injects a few compelling moments but rarely projects the strength and ferocity of the warrior whose valor has placed him on the path to the crown, and then to disaster. Some of his problems stem from the breakneck pacing of the final scenes, however. As events speed toward their climax his frenetic responses leave Macbeth incapable of dealing coolly with his allies and servants, and especially with the doctor who has been observing his despondent queen.
The cryptic news of her death comes in rushed and frightened terms, delivered by a servant who enters and leaves in seconds. And Macbeth's reaction, voiced in the speech that ends with the famed declaration that life "is a tale told by an idiot, full of sound and fury, signifying nothing," seems far too thoughtful and poetic for a man in Macbeth's agitated state.
Among the production's positive notes are fine performances in some minor roles, most notably by Berkeley veteran James Carpenter in three guises: as the ill-fated king, Duncan; as the boozy porter who welcomes visitors to the castle; and as the compassionate doctor who has no tools to help the overwrought queen.
Technically, the show is a tour-de-force for video designer Alexander V. Nichols, whose black-and-white projections run from the natural (clouds that seem unusually threatening, forests that can seem spooky or natural, as needed) to the supernatural (apparitions drawn from Macbeth's bloody rise and reign). Dan Moses Schreier contributed eerie music and turbulent sound effects and Pat Collins did the lighting, both consistently providing expert support to the varied moods.
Macbeth runs through April 10 in Berkeley Rep's Roda Theatre, 2025 Addison St., Berkeley. Tickets are $35 to $145, from 510-647-2949 or berkeleyrep.org
Popular in the Community