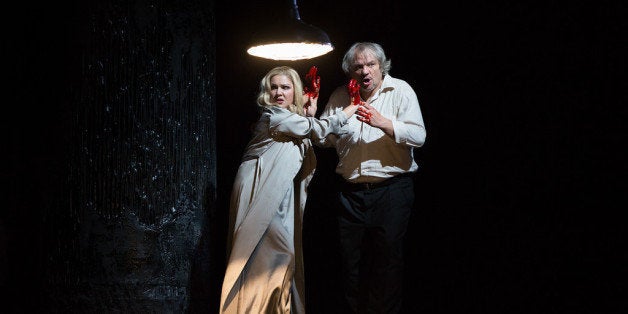 Raw lust for power dominates the Met Opera's stirring modernistic production of Verdi's Macbeth, which returned to the house last night with Anna Netrebko giving a soaring bravura performance as Lady Macbeth and Zelijko Lucic in a commanding portrayal of the doomed Scottish king.
From the opening crash of chords, the conductor Fabio Luisi and the always splendid Met orchestra create a sense of tragic foreboding in this early Verdi work that marked a turning point in his career, away from the simple melodic lyricism of his earlier efforts toward real dramatic opera that bared the emotional fabric of the characters.
It is a stark yet exciting staging that will be available to opera lovers around the world when the Met offers it as part of its Live in HD series on Oct. 11 in more than 2,000 theaters in 68 countries.
Although Macbeth is the title of both Shakespeare's play and Verdi's opera, it is Lady Macbeth who is the driving force in each, and Netrebko conveys all of her fiery, vaulting ambition as she cajoles and goads her indecisive husband into regicide.
In every note she sings -- from her opening "Vieni, t'affretta," as she learns King Duncan is approaching her deadly web, to the haunting sleepwalking scene, "Una macchia e qui tuttora," in the final act -- Netrebko embodies the thirst for power and the ecstasy of gaining it that ultimately drives her to madness.

Lucic is a forceful presence as Macbeth, singing the conflicted title role in a rich and powerful baritone that ranges from reluctant assassin to terrifying and bloodthirsty tyrant. Rene Pape is splendid as the ill-fated Banquo and the tenor Joseph Calleja is moving as Macduff, especially in his aria "O figli, o figli miei."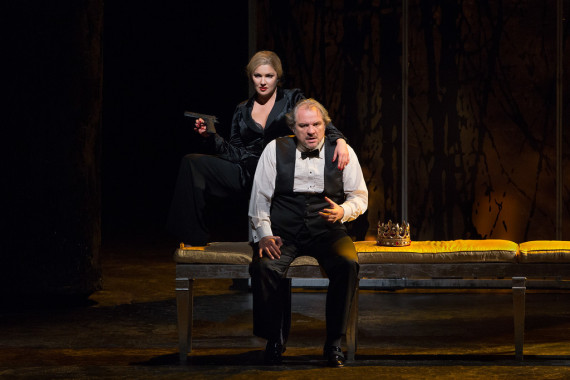 Anna Netrebko as Lady Macbeth and Željko Lučić in the title role of Verdi's Macbeth, opening September 24 at the Metropolitan Opera. Photo: Marty Sohl/Metropolitan Opera.
Verdi was a great admirer of Shakespeare, and if Macbeth does not quite achieve the same depth of characterization as the composer's later operas based on the playwright's work, such as Otello or Falstaff, the Scottish play itself, while one of Shakespeare's most familiar and quotable, is not of the same complexity as, for example, King Lear or The Tempest.
Shakespeare is believed to have written Macbeth in 1606 for a command performance for King James, who may have counted Banquo among his ancestors. Verdi wrote his opera in 1847 for the Teatro della Pergola in Florence. Both play and opera were originally set in 11th-century Scotland.
The current Met production, by Adrian Noble, the former artistic director of the Royal Shakespeare Company, moves the setting to the late 1940's. The curtain rises on three groups of women from the chorus, all wearing dresses that could have come from a thrift shop or a church jumble sale, each of which represents one of the three witches from Shakespeare's play.
The chorus, in fact, is an essential part of Verdi's Macbeth, singing the opening and closing scenes of the opera as well as other key moments, and the Met chorus, under Donald Palumbo's expert guidance, is in top form as always.
The three groups of women's voices who prophesy Macbeth's (and Banquo's) fates, dance around in a circle and hold flashlights to their faces, creating an eerie feeling to the proceedings. They are later joined by the men, wearing fatigues they might have picked up at an Army & Navy store sale and looking like recruits for the Home Guard or maybe duck hunters. No tartans or kilts among this Scottish clan.
In fact, it is not clear exactly what war these fighters are emerging from. There is a stand of trees upstage that represents Birnam Wood. Later, as the hags concoct a particularly odious witches brew in their cauldron, a giant crystal ball appears through which Macbeth gets a glimpse of past and future, and some circles of light float up and down from the flies showing him the long line of kings Banquo's heirs will produce.
A tableau at the top of Act IV further evokes the post-World War II era when a horde of refugees trudge through the snow while singing "Patria oppressa," a moving chorus that faintly echoes the great chorus from Nabucco. Other passages presage later Verdi musical themes, but it is the blind drive for power at all costs that Netrebko so chillingly captures and that makes the Met's Macbeth such a success.