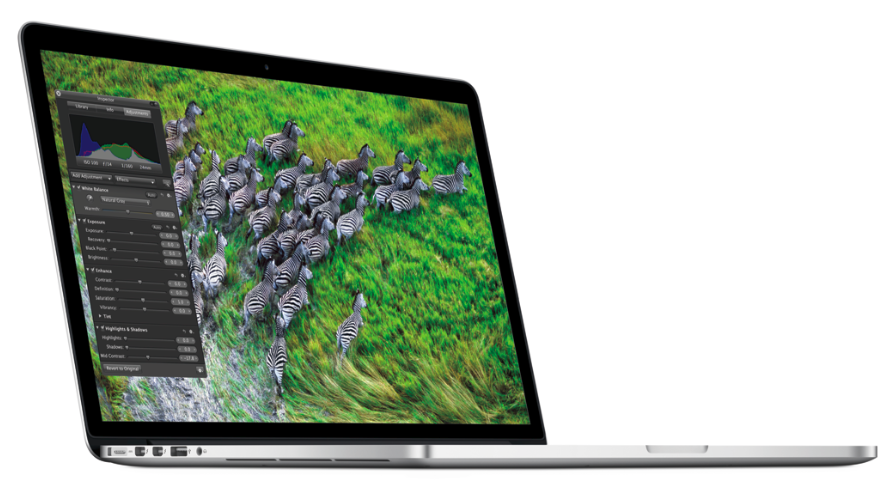 MacBook Pro with Retina Display (Photo: Apple, Inc)
I have to admit I was tempted by the 15-inch Macbook Pro with retina display. Not only is it thinner and lighter than previous MacBook Pros, its screen is nothing less than stunning if you're looking at apps designed for its 5.1 million pixel screen. Some reviewers have said that after looking at this screen, their other laptops -- including other Macs -- looked downright fuzzy. I wouldn't go that far, but I was impressed. It's a very nice screen.
I also like that Apple has packed quite a bit of power into a laptop that weighs 4.46 pounds and is only .71 inches thick. The solid state drive (starting at 256 GB) not only makes the Pro lighter but also faster because programs and data load more quickly from drives with no moving parts. And with a 2.3GHz quad-core Intel Core i7 processor and 8 GB of RAM even the "entry level" model is fast and powerful.
But it's also expensive and, compared to the two new MacBook Air models, it's too heavy for carrying around all day. At $2,199 for the starting model, it could put a strain on my pocketbook, but the strain that I was more worried about is on my back. I admit that a 4.5-pound laptop as powerful as this is nothing to be ashamed of. In fact, it's a pretty impressive feat. But as someone who often carries around a laptop for hours at a time at trade shows, weight matters a great deal to me, which is why I wound up buying a MacBook Air instead. Compared to the Pro with Retina display, I saved 1.5 pounds and $1,000 (actually more when you count sales tax).
This is actually my second MacBook Air. Last year I bought the second generation 11-inch Air, which I grew to love although I found myself squinting at the small screen. I learned to live with the small screen and become very familiar with the Command + key combination that lets you increase the size of text and graphics at the expense of how much you can see at any one time.
I skipped the third generation that was introduced last June but when it came time to decide on a new Mac notebook, I decided to give my eyes a break at the expense of a small extra strain on my back. The 11-inch Air weighs 2.38 pounds and the 13-inch 2.96. While that extra 9.28 ounces are noticeable, they're acceptable relative to the extra screen real estate. Still, I have to admit that there is something even more personal about a personal computer that's really small, so I wouldn't blame anyone for going with the 11-inch. I got the low-end model with 4 GB of RAM and 128 GB of storage because that suited me well enough on the 11-inch I had, especially now that I can store data in the cloud.
My other machines run Windows
Lest you think I'm a Mac bigot , please know that my desktop computer -- the one that I use most of the time -- runs Windows 7. I also have a Lenovo ultrabook that I like, though I must say I prefer the MacBook mostly because of its superior track pad that is smoother than any Windows trackpad I've tried. And I'm now testing out machines that run the preview version of Windows 8 and, so far, I'm pretty impressed.
Still, when it came time to plop down money for a machine to carry on business trips, I went with one that is light, thin, attractive yet still pretty fast and powerful. If only someone could say that about me.
REAL LIFE. REAL NEWS. REAL VOICES.
Help us tell more of the stories that matter from voices that too often remain unheard.