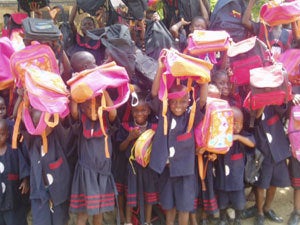 As an idealistic twenty-something, I'm fascinated by people who aren't placated by mere good intentions but consciously shape their lives to mobilize real-world change.
The "Giving Life" series highlights such figures by asking "What inspired you to make a difference in the lives of others?" We know that many people want to make a difference, and align themselves with the ideals that back social change- but few are remembered as the martyr marching off into the sunset all for a cause. In the day of too busy, too stressed, too little money, how can you still make a difference? The reality is, it takes more than depthless discussion over coffee to ignite waves of social and political change, it requires sincere inspiration and action.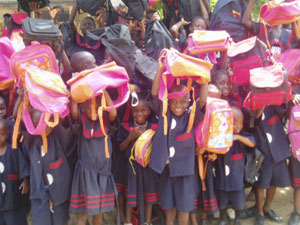 As part of "Giving Life" I had the opportunity to attend the MacDella Cooper Foundation (MCF) Fashion Week Event to interview MCF founder MacDella Cooper. The event raised funds for the MCF Academy for Orphans and Abandoned children, opening in Liberia in 2010. The sustainable MCF academy (designed by acclaimed architect Winka Dubbeldam of Archi-Tectonics) will be the first school in Liberia to offer free education, including room and board. The 2010 opening will offer 200 Liberian children both a safe home and a stellar educational environment.
Born in Monrovia, Liberia in 1977, MacDella's dedication to Liberian Refugees is a personal one. After witnessing first-hand the brutal civil war that erupted in early 1990, she escaped to the bordering Ivory Coast, eventually getting clearance to come to the US in 1993. She never forgot how much suffering her fellow Liberians endured, which is what sparked her inspiration for the MacDella Cooper Foundation.
Below she responds to my questions about what it took to start MCF.
1. What was the biggest challenge you faced getting MCF started?
One of the challenges I faced when I first started MCF was that the public knew very little about Liberia (its history and its relationship to the US). The few individuals who knew about Liberia were more familiar with the war and conflict/devastation. This made my work very difficult at first. I spent more time educating the public about the history of Liberia (its history and connection to the US). I had to spend so much time convincing potential donors that Liberians are not just murderers and warlords.
Once Mrs. Sirleaf was elected President of Liberia, it made things so much easier for me. Finally, Liberia had a democraticly elected president - plus Mrs. Sirleaf was popular and was heavily supported by the international community. The press coverage of Liberia shifted direction. All of a sudden, the public view of Liberia became more favorable and that made my work so much easier.

2. At what moment did you say to yourself, this is what I'm going to do- I'm going to found an organization to support, educate and sponsor Liberian children?
The decision to support Liberian children was very easy for several reasons. I originally started MCF in 2004 to primarily support Liberian refugees and survivors of the civil war returning from exile. I knew there would be a lot of Liberian war survivors returning to Liberia after the cease-fire agreement was signed by the African Union, the UN and the warring factions. I knew that thousands of refugees would be returning to Liberia with absolutely nothing. The country's infrastructure had been totally damaged as the result of the civil war. I started off by sending care packages to old neighbors and friends. It wasn't until my first visit to Liberia in Dec of 2005 that I noticed the number of unwanted children in Liberia. There were thousands of children roaming the streets of Monrovia without parents or anyone to care for them. That brought me to tears. I could not understand why nobody wanted them. NOBODY WANTED THEM. They were beautiful children. I visited a few orphanages and saw more unwanted children. There were too many unwanted children in the country, I knew I had to do something to save as many as I could.
3. What fundraising tips can you offer start-up cause related organizations?
With regards to fundraising in today's economy, I'll say that you have to be creative and create total transparency within the organization so donors can feel that they are part of the effort or cause.
4. What is the one thing that we can do to help MCF?
MCF helps children in need. We are always in need of funds and resources to accomplish our goal. Exposing MCF to your readers could be a huge help. There might be a reader who will want to donate resource or funds as the result of reading about the cause...
5. So many people don't know where to start when it comes to cause-related missions. What advice can you give them?
It is always important for you to select a cause that you believe in or a cause that is personal. The work we do is very difficult. It requires a lot of passion, commitment and total dedication. It is even harder if you do not have passion for what you are doing.