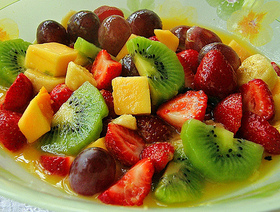 Macedonian fruit salad is a refreshing way to utilize and to showcase all the terrific summertime fruits at your local food markets.
The Macedonian Empire once ruled over a population made up of a highly diverse mix of ethnicities. My recipe for this colorful and exquisite fruit salad is aptly named for its diverse and exotic mix of fruits that beautifully and harmoniously meld together and are representative of the different peoples that made up the empire of Macedonia.
This fruit salad is a festive array of several different types of fruits comprised of unique textures, shapes and colors. Like our special individual qualities, the contrasting fruits are what make this salad so delicious and interesting.
Tip: The suggested fruits can be substituted with any fruit of your liking. So, if you prefer one type over another, go for it. Just keep the quantity the same. (2 cups = 2 cups, regardless of the fruit.)
Macedonian Fruit Salad Recipe
( serves: 8-10 )
Pineapple -- 2 cups (1 inch chunks)
Mango -- 2 cups (1 inch chunks)
Papaya -- 2 cups (cut into long strips)
Kiwi -- 2 cups (quartered and cut in to 1/2 inch chunks)
Cherries -- 25 (pitted and cut in half)
Peaches -- 2 cups (cut in 1 inch chunks)
Oranges -- 1 cup (segmented, seeds removed)
Tangerines -- 1 cup (segmented, seeds removed)
Lime Juice -- 4 tablespoons ( fresh)
Sugar -- 4 tablespoons
Water -- 10 tablespoons
Lime Zest -- 1 tablespoon ( freshly grated)
Tequila, Rum or Cognac -- 2 tablespoons (optional)
Salt -- one pinch
Accompaniments: (optional)
Heavy Cream -- 2 cups
Sugar -- to taste
Vanilla -- 1/2 pod scraped or one tablespoon extract
Coconut -- 1/2 cup, toasted (for garnish)
Make the marinade.
In a small saucepan, dissolve the sugar in the water, bring to a boil and thicken slightly to create a syrup.
Remove from heat and add lime juice, zest and alcohols if using. Set aside and let it cool.
In a large bowl, combine all the fruits and salt. Then, add the flavored syrup and toss lightly.
Place the bowl covered, in the refrigerator for at least 2 hours to allow the fruits to chill and the flavors to meld together nicely.
Whip the cream with sugar and vanilla until soft peaks are formed (optional)
Place fruit salad in serving bowls, using a slotted spoon.
Place a dollop of the whipped cream on top (optional)
Sprinkle with the toasted coconut and serve (optional )
This is an absolutely delicious salad. It is best if left for a day in the refrigerator before serving. Now, go pick up some fruit and enjoy some of the best gifts that summer can offer!
Support HuffPost
A No-B.S. Guide To Life
Related
Popular in the Community