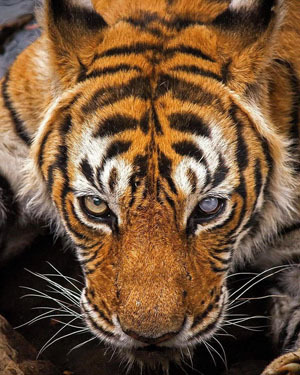 Machali was born in 1996 and died from old age on August 18 this year. She was the Queen of Indian tigers and one of the most beautiful beasts ever seen. As such, she was often used as the image for India's wildlife across the world. And she played a key role in the regeneration of the tiger population in India in the 2000s. She was named Machali because of the markings on her face, which looked curiously like a fish. "Machali" means fish. A feature of many wildlife programs, Machali (in photo right) was most famously shown dispatching a 14-foot long crocodile in 2003. Later in life, though, she lost her teeth and some of the sight in one eye and had to be fed by park rangers at her home in Ranthambore National Park in North West Indian. She gave birth to many litters and her children are now everywhere in the park so the world can see and experience her presence for many years to come. In 2013, the Indian government issued a commemorative postal cover and stamp to honor the tigress for her ecological and economical contributions.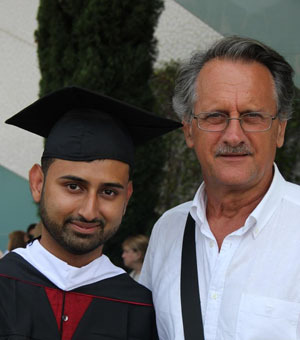 When you look at pictures of Machali all you can do is sigh at the perfection of her beauty and her majestic bearing. This really was the Queen of Tigers and one that inspired people. In particular, she inspired a young student who I worked with recently in Spain. Abhinav Agrawal, known as "Abhi," came from New Delhi and spent the last academic year at Berklee Valencia in the Music Business Program headed up by Emilien Moyon. I was his Advisor. During my work with Abhi, Machali inspired me too and while I never met her in life and in the wild as Abhi had done, I still feel that I know her well. Abhi felt very close to Machali as so many Indians do and was present for her funeral in August. (Here we are in photo right at Commencement.)
Abhi is a young man of 24 and had trained as an architect but now wants to have a different type of life supporting Indian culture. He is critical of the "Bollywoodization" of traditional Indian culture and wants to reintroduce some of the traditions and magic of the past, which he fears are in danger of being lost. He wants to do this through the power of music. He is a keen musician and through his passionate advocacy of traditional Indian culture enjoys high credibility with Indian musicians who seem to love working with him.
There is a lot of ignorance towards our cultural music in the country. Our society is casually unaware of the endangered existence of the valuable musical heritage we have. -- Abhinav Agrawal
Before even coming to Berklee, Abhi had created Eclectica in 2010 as a learning platform for young students and musicians. This gave him confidence to establish a new musical organization, the Anahad Foundation, as a registered non-profit in India working for the recognition, preservation and evolution of Indian classical and folk music. From this came the idea of producing two songs. Machali celebrates the Queen of Tigers and the second Chaiti, celebrates spring (Chaiti would become an animated music video). Both promote environmental and wildlife awareness through music.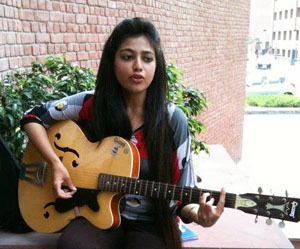 The project quickly ignited great interest and came to involve many people not just at Berklee Valencia but also in India. Abhi has the ability to inspire and recruit the most talented and gifted of his friends. I can remember being immensely impressed by a SKYPE conference call, which seemed to include every single member of his planning team: musicians, graphic artists, sound engineers, web site designers, marketers, and legal advisers who just blew me away with their professionalism and energy. To say he had all his talent bases covered would be an understatement. (Sadly, though, the project lost its lead singer Sunakshi Raina (in photo above and video below), who died suddenly and tragically young. Fortunately, you can still hear her on the recording that was made and the beauty of her voice and soul just shines through.)
The major logistical problem Abhi had to resolve, though, related to resources and raising sufficient funds to make his passionate dream a reality. This challenge was particularly acute in India because so much attention is given exclusively to Bollywood where investors tend to be focused. So the team had to come up with a strategy to raise sufficient funding for the two songs and the cost of the infrastructure for the new start up. As his Adviser, this is where I concentrated and we spent many hours going through fundraising strategies. The total amount to be raised was about $15,000, a great deal of money for a brand new organization without a track record. (Even as he faced this challenge, Abhi had his sights set on the future: he wanted to inspire lots of other similar projects across India!!)
Abhi was highly motivated, had a great team that seemed possessed and willing to work every hour of the day to make this happen, and he also demonstrated the discipline in entrepreneurial thinking and planning that Berklee had so successfully taught him. I used to enjoy hearing him speak about the budget, which always reminded me of a great mountaineer analyzing a difficult climb. He was never short of strategies for saving money, deciding on one occasion not to go to any of the accepted fundraising platforms like Kickstarter or Indiegogo but instead to create his own platform for crowdfunding. And he did it! The resultant savings had a great and positive effect on the bottom line. He also found it a natural part of his strategy to provide benefits for donors, all attractive but all deliverable with very low costs. His story was compelling and he told it well and he was not afraid to ask.
For his campaign, he projected raising 70% of the needed funds in India with the balance to come from outside. His targets were, first, his existing network; then the socially aware attracted by the project's cultural agenda; followed by music enthusiasts. Interestingly, the demographic contributing the most support, or nearly 50%, was the 25 - 40 age group.
At the end of the day, Abhi and his team came very close to reaching their goal. They certainly covered all their costs and have been able to go ahead with their project. And I learnt a great deal from this young man who I consider to be a great potential leader for India's future development and a very good friend.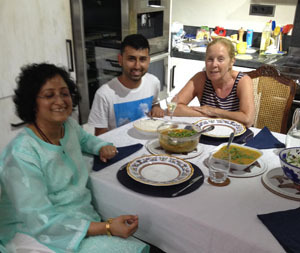 First off, these Millennials are good! Technically savvy, focused, flexible, amazingly creative and totally at home in everything the contemporary world has to offer. They think smart and fast. And, as demonstrated by Abhi, they care about the world and what we are doing to it. Machali was a wonderful symbol of this. Abhi wants music to be used to change the world and I am inclined to agree. This was a great social entrepreneurship project. Secondly, Berklee Valencia should take a bow for providing world-class entrepreneurial training that allows such talented young people to realize their dreams. Finally, and, incidentally, I also learnt about Indian food from Abhi and his wonderful mother who came over from India equipped with authentic spices and even her own kitchen knife to cook us a thank-you dinner. You just have to taste Indian salad with poppadums! (In photo above, L to R: Abhi's mother, Abhi, and my wife Virginia)
I really loved when my grandmother used to sing me lullabies for me, describing the forests, kings, culture, back then. Anahad (meaning "endless") was conceptualized to bring back those eternal stories as a lullaby for the people to realize their heritage, philosophy and values. --Abhinav Agrawal
REAL LIFE. REAL NEWS. REAL VOICES.
Help us tell more of the stories that matter from voices that too often remain unheard.