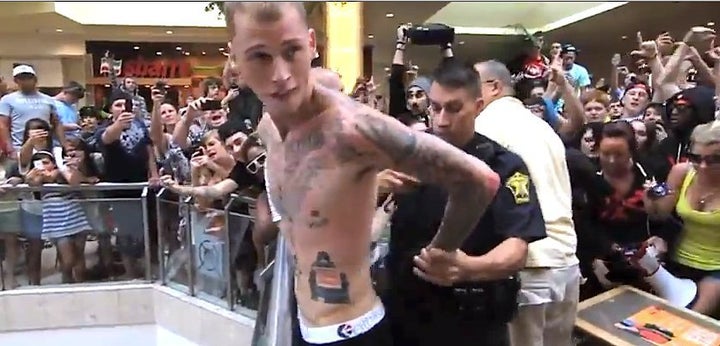 STRONGSVILLE, Ohio – Authorities say rapper Machine Gun Kelly organized a flash mob at a suburban Cleveland mall and was charged with disorderly conduct.
Strongsville police say the group gathered Saturday, and mall management asked three people standing on a table near a second-floor railing to step down. Kelly was among the three. When they refused, police were called.
Police say they're no longer in custody. Kelly tweeted later that "today was a statement."
The incident took place in front of a Panera Bread, as screaming high school kids ran through the mall and surrounded Kelly.
Kelly posted a video on his official YouTube feed that follows him during the flash mob and after he'd been released from police custody. It begins with an artsy intro in black and white, as MGK and his crew roll up to the tune of P. Diddy's "Bad Boy for Life."
The rest seems to happen pretty fast, at least on camera -- they enter the mall, rile the crowd up, and the police intervene.
Kelly, who hails from Cleveland, explained in the video how important his hometown fans from home are to him as his car drove away from the police department.
This whole flash mob thing that we did today wasn't necessarily about looking all funny, like flash dancing, it was more of a chance to like, you know, it was the first appearance we've done in Ohio since we announced a major label deal, and it was kind of a chance to show all the kids that we really care about them and that we're still here and we're still grounded and we're gonna be Ohio boys and Cleveland boys till we're six feet under.
Sean "P. Diddy" Combs told MTV this month that he signed Kelly, an Ohio native, to his Bad Boy Records label.
"Machine Gun" was the nickname of George Kelly, a Prohibition-era gangster.
The Plain Dealer reports that Cleveland's mayor recently vetoed an ordinance that would have criminalized some uses of social media and was aimed at curbing flash mobs.
WARNING: Video contains graphic language:
Calling all HuffPost superfans!
Sign up for membership to become a founding member and help shape HuffPost's next chapter