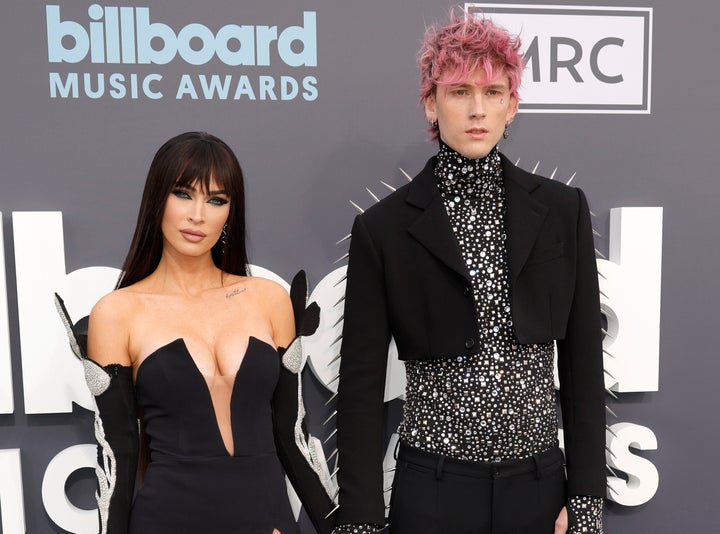 The PDA-forward couple arrived at the ceremony in Las Vegas on Sunday, coordinating in heavily sparkled black ensembles on the red carpet, where Fox teased the "super-special secret meaning" behind Kelly's performance at the show.
So when the musician took the stage later in the evening to perform his song "Twin Flame" ― the pair's now famous term of endearment for each other ― fans were on high alert.
"I wrote this song for my wife," he said before launching into the rock ballad, seemingly suggesting that he and his fiancée had secretly tied the knot.
The pair, who started dating in 2020, announced their engagement in January.
As the song reached its climax, Kelly made another dedication: "And this is for our unborn child."
According to People, he went on to sing: "Go to sleep / I'll see you in my dreams / This changes everything / Now I have to set you free," as the sound of a heartbeat could be heard.
Neither Fox nor Kelly clarified the statement, leaving many wondering exactly what the singer was referring to.
Following the performance on Sunday, Kelly, born Colson Baker, wrote on Twitter that it "broke my heart to sing the end of that song."
"i recorded twin flame 2 years ago today, the second half came a year later. beautifully serendipitous getting to sing it for you tonight," he wrote in a separate tweet.
The couple has yet to confirm whether they are, in fact, expecting a child together.
Fox shares three children, Noah, Bodhi and Journey, with her ex Brian Austin Green, while Kelly is a father to two daughters from previous relationships.
Not long after Kelly's performance, the pair were back to their eyebrow-raising antics, with Fox sharing a TMI post about their after-show activities.
In an Instagram slideshow shared Monday, the "Jennifer's Body" star showed off a sparkly blue jumpsuit and a screenshot of a text-message conversation with her stylist.
"Was this blue outfit expensive because we just cut a hole in the crotch so we could have sex," she wrote.
"I hate you," her stylist responded, followed by three laughing emojis. "I'll fix it."
Popular in the Community