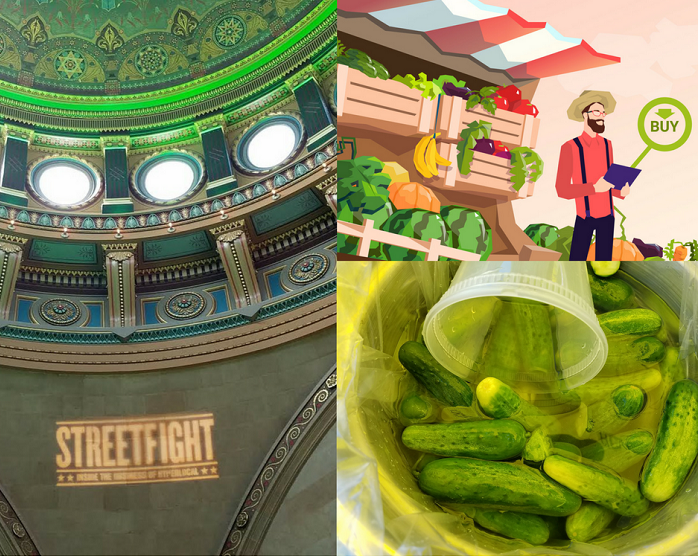 This has been a week of contrasts to be sure! 
My week began with my making (with Jim D'Arcangelo and contributions by others) a book and e-book about how machine learning and AI will transform the marketing world.
I then attended a terrific thought-provoking conference called Street Fight Summit about how technology will enable businesses to market at a local level more effectively and give consumers exactly what they want, when they want it.
On Thursday and Friday I visited two farmers markets and spoke with local people who grow, cook-up, pickle, and otherwise fabricate food and products for consumption. Most of them have websites and Instagram accounts and Squares for processing payments. Those who serve locavores are becoming savvy to the technologies behind local-level (and, in some cases) national marketing and distribution.
Just a few takeaways from this wacky week that touched on everything from bots to bee pollen:
Local-level data and targeting is more important than ever before. Tech-based companies are developing tools to help big brands reach consumers where they live, work, and play (at exactly the right time) and to help SMBs (small- and mid-sized businesses) scale up quickly and efficiently. Close to 5,000 companies are now in the marketing technology space. I'm a map and data visualization fan, so I loved speaking with the folks from Spatially, I also enjoyed hearing from Jeena James of Google about how consumers' travel patterns have been transformed by planning, review, and mapping apps. Mono Solutions, RTBiQ, Tiger Pistol, and Uberall (not related to Uber!) were among the companies in attendance — with solutions to make data and marketing simpler and more precise for companies and marketing agencies. BUT…
The reality is that many of these data aggregation and analytical functions will ultimately be machine-driven in the future. Says Jim D'Arcangelo (who predicts consolidation in the martech space and the elimination of many job functions — including some that were just created in the past five years), "Artificial intelligence will entail the integration and likely consolidation of many aspects of the martech platforms that exist now. Marketing roles like multiple social and digital media managers, content creators, and persona specialists will be taken over by AI."
So where will we all go when machines and droids are doing our jobs? Kate Plumb, who runs the East Hampton Farmers Market, has seen a groundswell of people returning to the "land." The markets I went to this week were packed — not just with consumers seeking to buy fresh produce and handcrafted products, but also with vendors — some of whom left corporate careers to make and grow things. Plumb believes that more people will pursue their passions and causes, choosing lifestyle over wallet.
My own consulting practice (theONswitch) includes creating content for SaaS companies and helping a local pickle producer grow from beyond the New York market, forge strategic alliances and build his brand. Perhaps the renaissance of the simple community marketplace is a response to a world in which our behavior is being tracked and dissected and used by companies — big and small — to sell more stuff.  But technology can also help small businesses reach larger audiences. I applied my new skills and inspiration from Wistia Fest and Street Fight to produce Facebook slideshows about the markets, helping farmers and artisans build awareness.
Machines, when used for good rather than evil, can build community and help SMBs thrive. And I don't believe a robot will  be selling me heirloom tomatoes any time soon (although I might get a message on Waze that the tomatoes are waiting for me at the next exit!)
Some (Human) Intelligence and Whimsy: I'm not yet convinced a machine could easily find these facts
Calling all HuffPost superfans!
Sign up for membership to become a founding member and help shape HuffPost's next chapter
This post was published on the now-closed HuffPost Contributor platform. Contributors control their own work and posted freely to our site. If you need to flag this entry as abusive,
send us an email
.