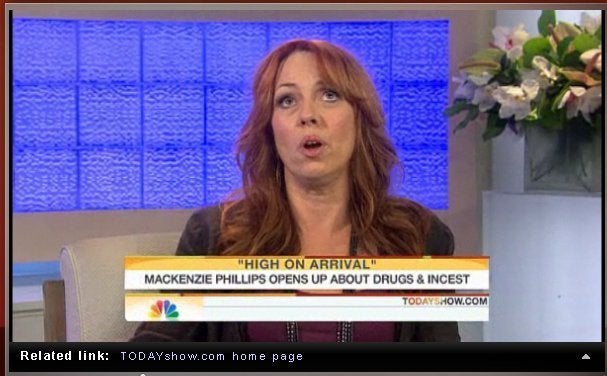 (AP TEXT, SCROLL FOR VIDEO)
NEW YORK - Mackenzie Phillips has defended her father John Phillips as "a good man" despite her claims that they had an incestuous affair.
Meanwhile, her stepmother, Michelle Phillips, the ex-wife of the late pop superstar, says Phillips is lying about the affair.
The 49-year-old former child actress writes in her new book, "High on Arrival," that she had a decade-long sexual relationship with her father, and alleges they had sex on the night before she was to get married in 1979 at age 19...
Phillips, 49, who starred on TV's "One Day at a Time," said the sexual relationship with her father lasted a decade and ended when she became pregnant and didn't know who had fathered the child. She had an abortion, for which her father paid.
Interviewed on NBC's "Today" show Thursday, Phillips said it was "a very permissive time and a very rock 'n' roll world and pretty much anything went." Her father "did the best he could," she said...
But her stepmother (and former Mamas and the Papas member) Michelle Phillip sharply differs with the sexual allegations.
"I have every reason to believe it's untrue," she told the Hollywood Reporter. "Mackenzie has a lot of mental illness. She's had a needle stuck up her arm for 35 years. She was arrested for heroin and coke just recently. She did 'Celebrity Rehab' and now she writes a book. The whole thing is timed."
Half-sister Chynna Phillips told US Weekly that Mackenzie Phillips told her about the sexual relationship in 1997.
"Do I believe that they had an incestuous relationship and that it went on for 10 years? Yes," Chynna Phillips said.
But Genevieve Waite, John Phillips' wife at the time of the alleged abuse and Mackenzie's stepmother, said in a statement, "John was a good man who had the disease of alcoholism and drug addiction. He was incapable, no matter how drunk or drugged he was, of having such a relationship with his own child."
During her "Today" appearance, Phillips pronounced herself drug-free, and she characterized the skepticism with which her book has been received as typical for a family visited by incest.
"The instinct is to brush it under the table. The instinct is to protect the abuser," she said.
She characterized her book as a way to expose a problem that extends beyond the Phillips family, describing herself as "a voice for this large community of incest survivors that don't know where to go or what to do or how to talk about what happened in their lives."
WATCH THE TODAY SHOW APPEARANCE:
Popular in the Community