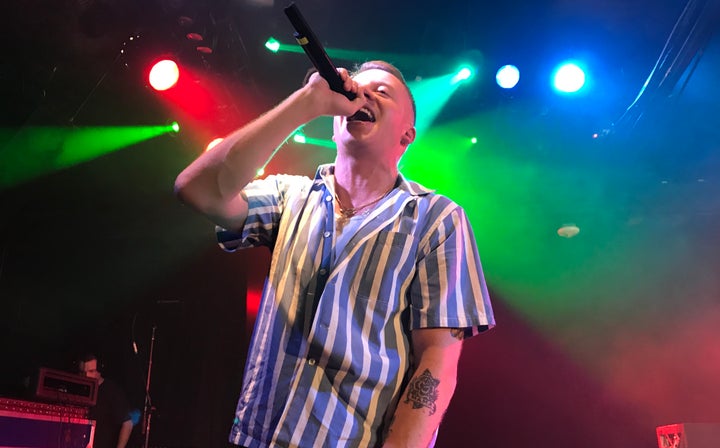 Last night, I was in the front row at the Echoplex in Los Angeles when Macklemore took the stage. It was the album release party for Gemini. The crowd was primed. When Macklemore bounded to the mic, the packed venue roared. I wasn't the only sober one there: it was a massive party of people in recovery, fans, and hip-hop appreciators.
Of course, the show was awesome.
Tall and animated, with a magnetic presence, Macklemore drops some serious knowledge in his new album Gemini. The album weaves together personal stories of recovery and socially conscious lyrics that insist we've got to do better. At the show, he said that "music is resistance," and called on his fans and listeners to keep rising up and calling for justice.
Macklemore speaks a message of inclusion, honesty, and positive change. "I believe that music is a form of resistance, and so is love," he said. After denouncing the arbitrary visa bans that target Muslim-Americans, immigrants, and Dreamers, he went into his hit "Same Love." The song supports gay marriage and equal rights for the LGBTQ community. He rapped, "No freedom til we're equal: damn right, I support it."
His message is resonating with fans. Concert tickets sell out in under three minutes. Macklemore's massive underground following makes him one of the world's most successful independent artists. He's using his platform to discuss issues like the racial violence in Charlottesville, civil rights, and fulfilling America's promises for everyone. "Regardless of the God you believe in, or the God you don't believe in, you are welcome here," he said.
Macklemore, whose real name is Ben Haggerty, has always been an outspoken advocate for change. The rapper's hit tracks, like "Drug Dealer," call for stronger regulation of pharmaceutical companies. "My drug dealer was a doctor, had the plug from Big Pharma. He said that he would heal me, but he only gave me problems." The song names the many celebrities and friends who lost their lives to drugs and calls out Congress, Big Pharma, and other billionaire drug dealers. That song really spoke to me, for obvious reasons. I've lost too many friends to the disease of addiction, and I won't rest until the opioid epidemic and the people responsible for starting it, feeding it, and profiting off it are held accountable.
Macklemore, who is also in recovery, is open about his status. After a relapse following the 2012 release of his album The Heist with Ryan Lewis, Macklemore is sober again. He told Rolling Stone that coming face to face with his substance use disorder helped him make progress in his music. "And, as it always works, the minute that I start actively seeking recovery — not just sobriety, but recovery — music is there," he said.
His recovery is all over his music. The lyrics of "Drug Dealer" include the Serenity Prayer, which is popular in 12-Step groups like Alcoholics Anonymous. He shares his personal story often in order to smash the stigma of addiction and be a positive role model. Gemini, like his earlier albums, is powerful and introspective, reflecting on the progress Macklemore has made and all the changes he's undergone. As he points out, hip hop can glamorize thug life, drug dealing, and drug use: his music, however, strives to be a tool for transformation.
What he's doing is working, too. YouTube users often post their sobriety dates in the comments of Macklemore's videos, as well as personal stories of recovery. One listener shared, "I've been an addict since I was 16. I'm 31 and have gone to jail, mental institutions, etc. I'm currently in a private detox and this song is REAL. Thank You Macklemore; I needed you in my darkest time. You lifted my spirit to fight and not give up. The message is powerful."
Calling all HuffPost superfans!
Sign up for membership to become a founding member and help shape HuffPost's next chapter
BEFORE YOU GO