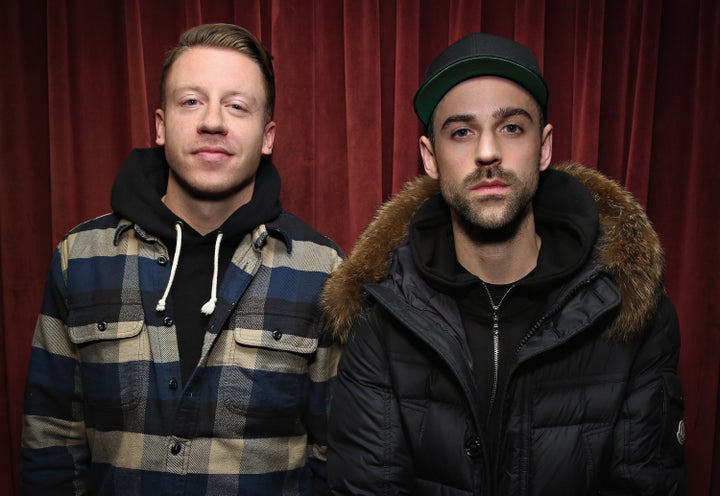 Since the song "Thrift Shop" hit the airwaves in 2012, Macklemore has become entwined in countless conversations about race, racism and white privilege, something he's well aware he's benefited from. 
"Thrift Shop" thrust Macklemore and his musical partner/producer Ryan Lewis into the spotlight; the song went to No. 1 on the Billboard Hot 100, sat there for six weeks and went on to sell 7.9 million copies. The rapper even scored endorsement deals with the NBA and Dr. Pepper. 
Suffice it to say, the whole situation was terrible. But both Macklemore and Ryan Lewis are working to educate themselves on race and white privilege, with the hopes of gaining a little perspective. 
"Georgia really schooled us," Lewis said.
"They were beginning to process the previous couple of years, and I got the impression they were looking for an honest, outside perspective on some of the push-back they'd received," Roberts added. "I appreciated that they weren't dismissive of the criticism; they seemed genuinely interested in understanding it."
The song also earned Macklemore and Lewis the respect of Black Lives Matter activist DeRay McKesson, who called it "powerful," and rapper Talib Kweli, who "loved it." 
It's clear that Macklemore and Ryan Lewis are trying to gain a better understanding of their chosen art form, but at the end of the day they're both white men "appropriating a black art form." It's an interesting dichotomy which begs the question: Can they ever win?
No matter what he says, Macklemore will likely be criticized one way or the other. But as he told Billboard, "It's really not about me. At the end of the day, God willing, I'll have another 40 or 50 years on this planet, and what I'm saying to myself is, 'What do I want to leave here?'" 
To read the entire interview, head over to Billboard. 
REAL LIFE. REAL NEWS. REAL VOICES.
Help us tell more of the stories that matter from voices that too often remain unheard.
BEFORE YOU GO
PHOTO GALLERY
7 Historic Moments From Black Stars At This Year's Grammys