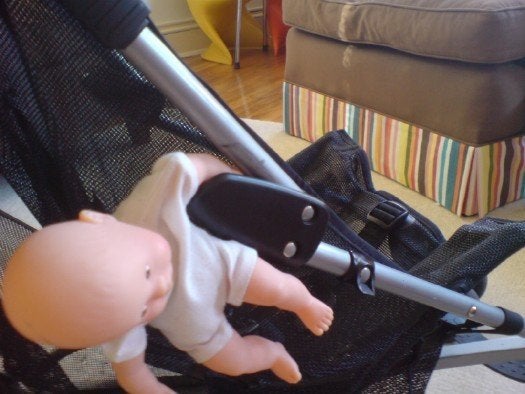 Kalyani Spieckerman was only 15 months old when she had the tip of her right ring finger amputated by her stroller while her parents were visiting Boston for a medical conference.
The accident happened just a month before stroller company Maclaren issued a recall of 1 million of its strollers, in November 2009. Now, a December 29 bankruptcy filing by Maclaren, first reported by DaddyTypes, has left victims like Spieckerman in limbo.
On the day it filed for bankruptcy last year, Maclaren named among its creditors seven families, including the Spieckermans, whose children's fingers were amputated by Maclaren strollers. All of them are in the process of suing. Chapter 7 bankruptcy automatically halts all lawsuits against a company, including those from people injured by products.
Unless the seven families with pending lawsuits receive explicit permission from a Connecticut bankruptcy court, their cases will remain in limbo while an independent trustee divvies up the company's remaining assets. Chapter 7, unlike other types of bankruptcy, results in the complete liquidation of a company, with no possibility of restructuring.
Since the 2009 "Macopalypse," Maclaren has faced many such lawsuits. A faulty hinge mechanism in strollers amputated 20 fingertips and caused more than 149 total incidents, including lacerations and bruising, according to the U.S. Consumer Product Safety Commission.
Maclaren did not respond to The Huffington Post's requests for comment.
Yet Maclaren is not exactly defunct; other branches of the company continue to sell its strollers. This is because Maclaren USA, the unit that filed for bankruptcy, is only one part of a multinational corporation with branches in China and Europe. It is unusual for a company to file for bankruptcy for only one of its branches, The New York Times has reported. The court-appointed trustee is preparing to investigate the filing, the paper reported on Friday.
Because other branches of Maclaren -- such as Maclaren North America, incorporated in October 2010 -- are alive and well, some are calling the bankruptcy an attempt for a healthy company to write off liabilities by shifting its assets to a new, debt-free branch. Court filings put Maclaren USA's liabilities at $15.9 million, much of it owed to other branches of Maclaren and the company's CEO, Farzad Rastegar.
David Netto, the former creative director of Maclaren Nursery and a chief creditor in the bankruptcy filing, has accused Maclaren of fraud, arguing that the bankruptcy was an intentional attempt by the company to transfer profitable assets while writing off debt and liabilities. Maclaren owes Netto $1.1 million for the purchase of his company in 2009.
"I gather [Maclaren North America] was invented to supplant Maclaren USA," Netto told The Huffington Post. "It had everything to do with writing off the debt."
Netto was made aware of the bankruptcy in late January when he received a letter from the court-appointed trustee naming him as a creditor in the bankruptcy of the company where he was still working. Netto resigned on Feb. 27, and is now pursuing legal action.
"What I find particularly offensive is it seems impossible not to conclude that [CEO Farzad Rastegar] is trying to get out of injury lawsuits for amputated fingers," he said.
According to Jason Brookner, a Dallas-based bankruptcy attorney, the practice of intentionally moving assets from one company to another before filing for bankruptcy might be a fraudulent conveyance, which can be illegal under bankruptcy law. Typically, the court-appointed trustee will investigate and decide whether fraudulent conveyance has occurred and whether to pursue legal action on behalf of creditors, a process that can take as long as several years.
In a statement to parenting blog BabyGizmo posted on Feb. 25 -- the only statement that the company has released so far -- Maclaren North America said that Maclaren USA, also known as American Baby Products, was a "third party distributor" who had "lost the rights to distribute Maclaren products." This is despite the fact that it was Maclaren USA CEO Farzad Rastegar who first acquired the British company out of a bankruptcy in the United Kingdom in 2001.
On Thursday, Kalyani Spieckerman's lawyers filed a motion requesting that the court remove the "automatic stay" imposed on her lawsuit by the bankruptcy filing. Spieckerman's case may be allowed to proceed, as her claims lie within the limits of Maclaren's insurance policy with Swiss Reinsurance America, said Larry Cook, a lawyer for the Spieckermans.
"We got derailed and now we're going to get put back on track," Cook said.
Yet in court filings, Maclaren checked a box that said it had no insurance policies at all. "There's a lot of red flags making us scratch our heads and say something's not right," said Elizabeth Austin, who will represent the independent, court-appointed trustee. "We're taking a deeper look to figure out what has happened," she told The Huffington Post.
Plaintiffs are not always so lucky in bankruptcy cases if the damages they seek exceed the limits of a company's insurance policy, according to Brookner, the bankruptcy attorney. "Sometimes there is a limited amount of insurance coverage, which can be exhausted," he said.
In other words, other families could be left out to dry with no settlement money even while international branches of Maclaren continue to sell strollers, depending on the unreleased details of Maclaren's insurance.
Cook declined to comment on the exact amount the Spieckerman family is seeking, but in a letter that he wrote in May to the insurance company, Cook asked for a $400,000 settlement, mentioning Spieckerman's medical bills, permanent disfigurement and her mother's emotional distress. In the filings, lawyers call Maclaren's actions "malicious," alleging that the company knew about the potentially dangerous mechanism even as it continued to distribute and sell the strollers.
CORRECTION: An earlier version of this story stated that David Netto resigned from Maclaren on Jan. 27. He resigned on Feb. 27.
REAL LIFE. REAL NEWS. REAL VOICES.
Help us tell more of the stories that matter from voices that too often remain unheard.