A suburban Detroit mother says she was forced to give birth on a filthy jail cell floor last year, after staffers at the facility repeatedly refused to take her to a nearby hospital when she went to go into labor.
Jessica Preston's ordeal began in March 2016 when police arrested her for driving with a suspended license, she first explained to local TV station WDIV in a story published Monday. She spent a night in the police department lockup and appeared before a judge the next day. Although it was Preston's first such driving offense and she was eight months pregnant at the time, the judge noted past drug possession charges and ordered her to pay a $10,000 cash bond to get out of jail. The process was done over video and took about three minutes, with no consideration about whether she'd be able to pay her bond, Preston told The Huffington Post in an interview Wednesday.
Preston's case highlights concerns surrounding the prevalent use of money bail, which requires people to pay for their freedom and often results in poorer defendants languishing in jail for long periods before trial. Her allegations also raise questions about the treatment of inmates at the Macomb County Jail and jails around the United States. At least two people have died at the Michigan facility since 2013, and, like Preston, both had allegedly been denied medical treatment.
Preston's family didn't have thousands of dollars lying around to pay for her bail, she said. Although they might have been able to scrape together enough cash, likely around $1,000, to pay a commercial bail bondsman to secure her release, she had to choose between spending that money on her freedom or her child.
"We were about to have a baby," Preston said. "So as much as it was gonna suck, I said I'd wait."
Preston was sent to be locked up at the Macomb County Jail until her court date two weeks later.
Although Preston made the difficult decision to wait, her baby couldn't. When she began experiencing contractions five days later, she said she alerted medical staff on three separate occasions that the baby was coming. But the employees told Preston they didn't believe her and accused her of faking it, she said. At one point, they allegedly even threatened to add additional charges for lying.
On her third and final visit to the medical ward, Preston was bleeding. She said she was scared because her first pregnancy was complicated by a placental abruption, a condition that causes heavy bleeding and can be fatal to both the mother and the baby. Jail staff decided Preston still didn't need to go to the hospital, and instead put her in a cell in the medical ward for monitoring. The cell was still dirty from the previous occupant, she said.
Preston couldn't believe it.
"Either way, eight months pregnant and bleeding, I should have gone to the hospital," she said.
Less than an hour later, she gave birth to her son Elijah on the floor of the cell.
Surveillance video obtained by WDIV appears to show jail employees around Preston as she gives birth.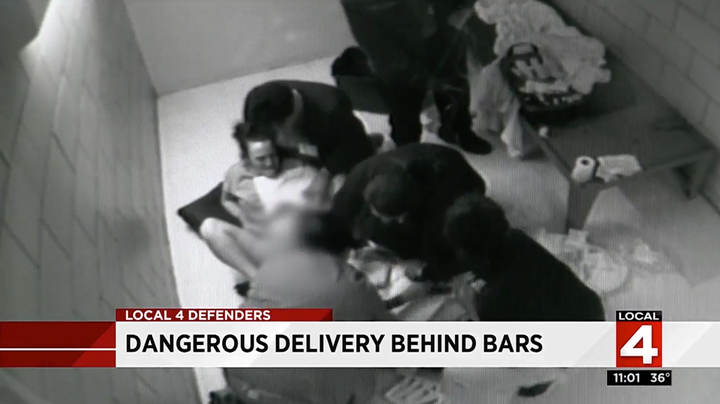 Preston said she'd had a date scheduled to deliver Elijah by Caesarean section, which is how she'd had her first child. Jail staff clearly were not prepared to perform the procedure behind bars.
"The nurses had never delivered a baby before," Preston said. "One nurse was in tears, crying, saying she'd never even seen a delivery before."
Elijah was born around a month early and weighed under five pounds. After the delivery, medical staff wrapped him in jail blankets, Preston said. Eiljha is happy and healthy today, but Preston believes the negligence of the jail could have led to serious harm or death to her and her baby.
"I didn't know if I was bleeding to death, and they wouldn't have been able to take care of it if I was," she said. "A dog that was having puppies at the humane society would have been treated better."
Macomb County Sheriff Anthony Wickersham has defended the actions of his employees, noting in an interview with the Detroit News this week that medical staff did attend to Preston as she gave birth. He also pointed out that she gave birth on a mattress, not the actual floor.
"Yeah, we're not talking a Sealy Posturepedic mattress here," Preston said. "These mats are like a half-inch thick, and this one wasn't clean."
The conditions at Macomb County Jail have been the focus of controversy over the past few years, thanks largely to reporting by WDIV that has uncovered incidents of alleged disregard for inmate health and safety.
In 2013, 37-year-old mother Jennifer Meyers died of acute sepsis less than two weeks into her 30-day sentence at the facility. This condition arises from infection and is usually treatable if diagnosed. A lawsuit filed last year claims jail staff failed to provide Meyers with adequate medical care, "forcing her to endure extreme and needless suffering prior to her death." Meyers was only in jail because she'd failed to pay fines stemming from a child support case.
A year later, 32-year-old David Stojcevski died at the Macomb County Jail while serving a sentence for a failure to pay fees associated with a careless driving charge. A lawsuit filed in that case similarly alleges jail staff neglected to attend to Stojcevski as he withered away and died from the effects of drug withdrawal. Last year, a federal investigation concluded there was no criminal wrongdoing in Stojcevski's death.
Wickersham has regularly pushed back against claims that oversights by his staff are responsible for any of the incidents. In an interview with the Associated Press this week, he said he's "100 percent" satisfied with how jail and medical staff handled Preston's situation.
Popular in the Community