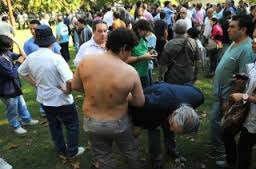 Journalists, lawmakers, police officers and doctors were among the injured Friday during the violent clash between Buenos Aires Metropolitan Police and protesters who tried to prevent the destruction of a workshop at the Borda Psychiatric Institute.
Arrested were six protesters and a photographer, taken into custody for allegedly attacking an officer.
The entire political spectrum condemned Mayor Mauricio Macri's orders to demolish the rehabilitation and therapeutic center. ATE (union for state workers) called a strike for next Tuesday and a march on City Hall.
Macri held a press conference on Friday night to condemn the violence and he defended the violent actions of the Metropolitan Police and praised them for the way they handled the situation.
Macri said, the police were "...workers, who also had a family, and who do not deserve to be physically attacked."
Using rubber bullets and pepper spray against the demonstrators, police and protesters clashed for several hours.
A photojournalist from the daily newspaper, Clarin, was shot in the face and reporters from the state-run news agency Telam, television channels TN, CN23 and C5N were also injured.
While Macri denied that patients were injured, news agencies reported otherwise while opposition lawmakers called for the head of City Security and Justice Minister Guillermo Montenegro.
Calling all HuffPost superfans!
Sign up for membership to become a founding member and help shape HuffPost's next chapter