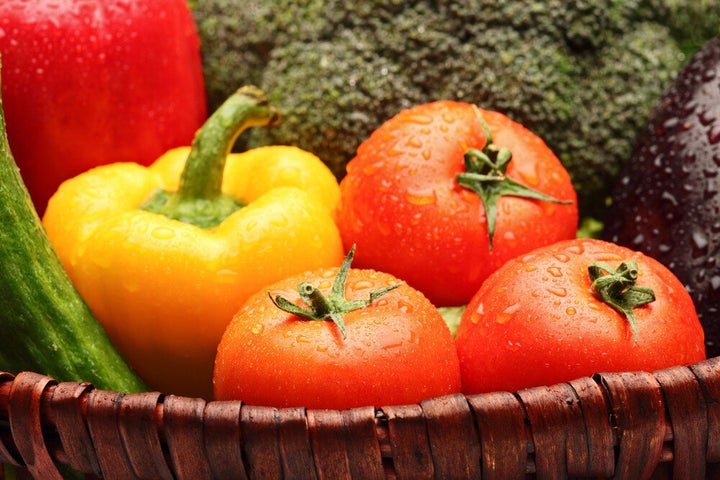 Take comfort-food classics, refract them through the health-O-meter, and what do you get?
If it's done well, you get crisp pizza, hot noodles and gooey brownies, say, whose pure ingredients and lack of allergens let you eat them without the fear of diabetes, heart disease and other buzzkills that usually accompany such feasts.
In other words: righteous richness, double comfort.
A new café in Berkeley, California masters those refractions. Based on macrobiotic principles and 100 percent vegan, the Green Earth Café serves tempeh Reuben sandwiches and cashew-cream parfaits. Even if you can't eat there yourself, we can all bring its inspiration into our own kitchens.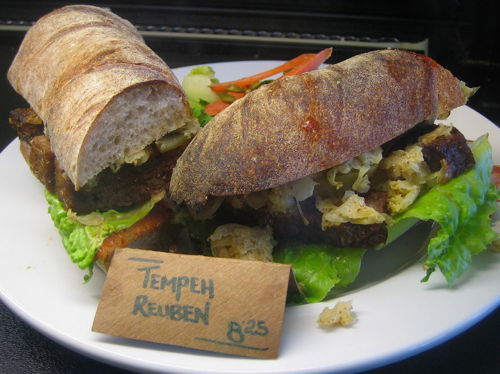 Owner Barbara Johnston-Brown was a classically trained pastry chef and critical-care nurse for many years before being diagnosed with breast cancer in 2005. While undergoing chemotherapy one day, "I suddenly saw this golden light and had this realization. I was in tears. It was one of those once-in-a-lifetime things."
The message in that golden light was "change what you eat." Within days, Johnston-Brown -- whose two sisters died of breast cancer -- shed her lifelong typical Western food habits and began a virtual crash course in macrobiotic cuisine.
Hailed for its health-giving properties for thousands of years but popularized in the U.S. during the 1950s by Japanese proponents George Ohsawa and Michio Kushi, the macrobiotic diet focuses on whole grains, legumes, fermented soy products, seaweed, and fresh and pickled produce. It was the macrobiotic movement that first made "seasonal" and "local" into trendy household words -- and helped power the probiotic push.
At Green Earth, naturally fermented house-made brown-rice bread and brown-rice pasta join tempeh, seitan and black beans in hefty sandwiches and hearty lasagna, with salads and polenta fries on the side. Whole-grain and gluten-free pizza comes topped with peak-of-the-season produce plucked from farmers' markets just a few blocks away. Students and faculty from the nearby UC Berkeley campus sometimes stay at the café all day: working on laptops while eating first breakfast, then lunch, then dinner. Above the kitchen door is a Tibetan scarf bearing a blessing from the Dalai Lama.
In the Green Earth kitchen, something is always being pickled: lotus root, daikon, multicolored chioga beets. Pickling is actually a very simple process -- and, Johnston-Brown points out, "the longer you pickle things, the more mellow they become."
But it's the desserts that are true works of genius: sweet but not too sweet, rich but not head-bangingly so. Johnston-Brown's ideal oil is avocado oil. Assessing standard recipes, she figures out ways to adapt them -- as can we all.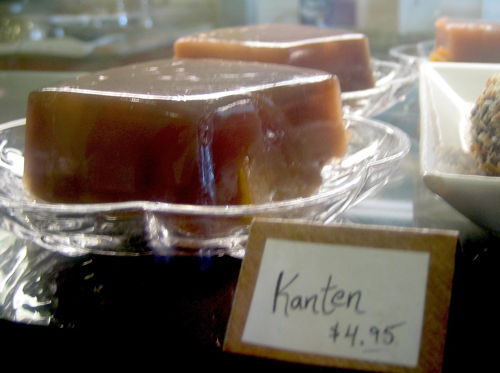 Grain-based sugars made from brown rice and barley are among the non-traditional sweeteners used in such marvels as a dazzlingly creamy nectarine-topped millet-cashew "cheezcake" with Deglet-date-and-cashew crust. Also on offer are amaranth-flour peanut-butter cookies; strawberry couscous cake; slabs of jiggly Jell-O like sea-vegetable-based kanten; and rich raw-cocoa-butter-cashew-date balls, rolled in toasted coconut. Glorious parfaits sport layers of kanten and cashew cream, with a semi-secret chocolate-ganache dollop at the bottom of the glass.
"A lot of people think 'macrobiotic' means a really narrow way of eating and living -- but it's not," Johnston-Brown says. "Really, it's everything."
Images courtesy of Kristan Lawson.
Related