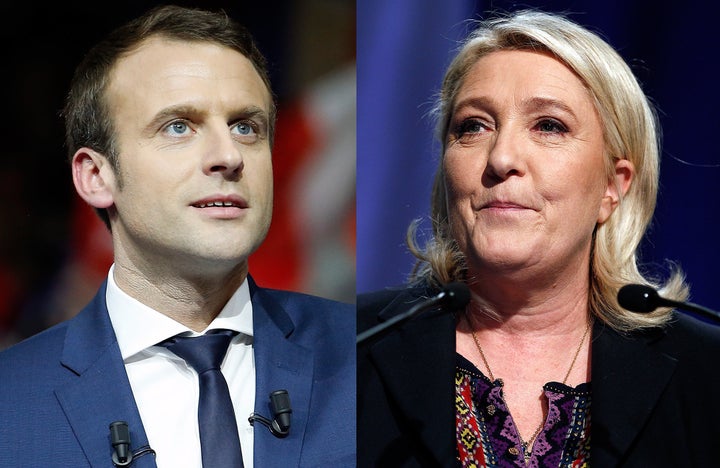 PARIS — By getting elected president of France at 39, despite having no political party structure or organized network a year ago, Emmanuel Macron has just delivered an exceptional historical performance that is somewhat comparable to Napoleon Bonaparte. 
Any success of this magnitude usually involves the convergence of three factors: a person's political intuition, a sharp assessment of the political situation and luck. Macron intuitively understood in 2015 that the political system had run out of gas and that the public had largely rejected the traditional parties. He sensed back then that President François Hollande would be unable to run in this year's election, and he also understood that voters' rejection of Hollande would create an opportunity for a new party.
Macron's political genius was to see that France's main divide was not right versus left. He thus realized it was possible to launch a movement against both the Republicans on the right and the Socialists on the left. The question was how to do so as an unelected member of the Socialist government without much of a following. He proceeded in three phases. First, as Hollande's finance minister, he developed a number of ideas to modernize the country's economy and explored the ideological taboos and stalemates that made reform extremely difficult.
Macron has delivered an exceptional historical performance that is somewhat comparable to that of Napoleon Bonaparte.
The right welcomed Macron's proposals, but nobody took them seriously because Macron appeared to be a man without a following. The left displayed some ideological exasperation with Macron's statements. But Hollande allowed his economy minister to freely express himself, thinking it would allow Hollande himself to secure support from centrist voters for his reelection. He of course did not expect Macron to prepare for his own political takeoff.
After achieving prominence in the public eye, Macron entered a second phase in the spring of 2016. While still minister, he launched the "En Marche!" (Onwards) movement, which was pointedly not intended to be a political party but a means to rally people around ideas and reforms and a very strong critique of the traditional political system. 
The third phase began in the summer of 2016. Macron decided to leave the government so that he would not have to endorse Hollande's agenda; instead, he struck out on his own. His strategy was based on very strong political intuition and a proper assessment of the political situation, but his success can only be understood in light of an exceptional set of circumstances.
Macron's political genius was to see that France's main divide was not right versus left.
Everyone knew that the Socialists had virtually no chance of winning the 2017 elections. But nearly all the pundits were also convinced that the Republican candidate ― François Fillon ― would likely win over right-wing nationalist Marine Le Pen, whose standing in the polls had been steadily rising. But in January, Fillon was ensnared by a scandal over the fake employment of his wife at the National Assembly and the use of public funds to pay his children. The right's campaign derailed. The path was cleared for Macron to emerge as the most credible candidate to face Le Pen's political party, the National Front, which made a major breakthrough in this election.
Thus, the election marked a shift in the French political system from confrontation between the left versus the right to confrontation between supporters of openness and the European Union versus supporters of withdrawal. Macron's victory was very important for France, Europe and the West in general ― it is the first major election to break the populist wave that brought us Brexit and U.S. President Donald Trump. A victory for Le Pen would have been catastrophic for Europe, which would not have been able to withstand the exit of one of the founding members of the EU.
That being said, this election is not going to settle everything. The election laid bare a divided society. Both blue-collar and white-collar workers voted for Le Pen, while middle and senior executives voted for Macron. The same divides appear with regard to education and income levels. Macron's top priority must be to narrow this divide. Otherwise, in five years, the populists might experience a resounding success. It is important not to forget that in the U.S., Trump succeeded Barack Obama.
If Macron doesn't narrow inequality, the populists might experience a resounding success in five years.
In order to succeed, Macron will have to secure a strong presidential majority, because little can be achieved without one. He will then need to achieve a certain number of structural reforms, especially in the labor market, where France is undeniably lagging behind other European countries. The lag largely accounts for France's relatively high level of unemployment. Finally, in order to strengthen Europe, France needs a more sustained dialogue with Germany, primarily regarding economic governance.
Macron stopped France's slide toward dead-end populism. It is now his responsibility to move upward and onward. He will need his full five-year term to do so.
REAL LIFE. REAL NEWS. REAL VOICES.
Help us tell more of the stories that matter from voices that too often remain unheard.
BEFORE YOU GO
PHOTO GALLERY
France Votes In Crucial Presidential Elections