The food memories that stick with me from childhood feel weirder and weirder every year that I age. That has never been clearer to me than on a recent trip home, when I knew that without fail, I needed to eat at Mac's Steak in the Rough.
For the uninitiated (which is, to be honest, probably all of you who didn't grow up in Albuquerque, NM, and probably even a few of you who did), Mac's is an old-school, drive-in, fry-shack of a restaurant, that has been slinging taquitos, onion rings and Steak in the Rough for over fifty years. "Steak in the Rough?" you are probably thinking. Yes, guys. Today, I am occupying this plot of HuffPost Taste real estate to talk to you about chicken-fried steak fingers. But mostly, I am here to talk to you about green onions.
This is what the important part of Mac's Steak in the Rough looks like (I specify "important part" because there is a modern, newly remodeled indoor restaurant portion, but you can go to a modern, newly-remodeled restaurant anywhere):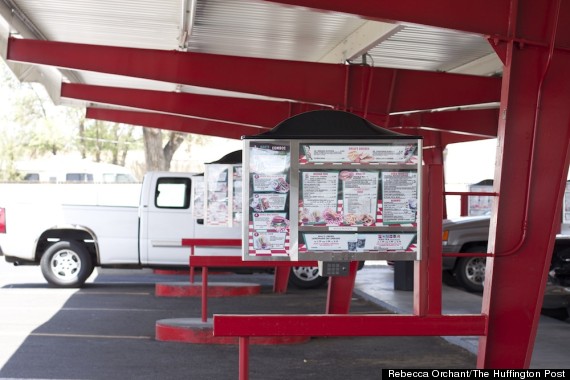 Dusty, populated with pick-up trucks, persistently cherry-red, this is a real American drive-in in the purest sense of the word. You order using an intercom built into each menu board. Mac's is well-known in town for their taquitos, onion rings, milk shakes and limeade. Go ahead and get some of those if you want to, but what you're here for -- the main event -- is this: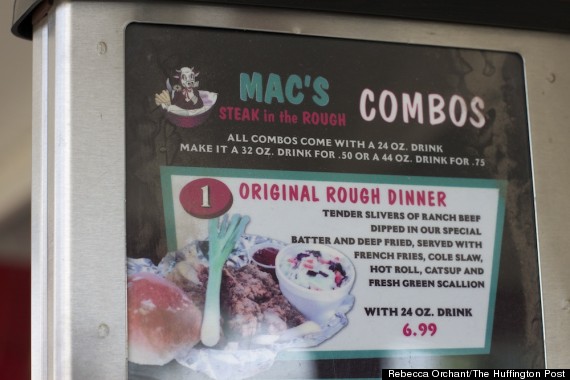 Let's all just accept that "Ranch Beef" is a terrifying way to describe something -- I have no idea what that is supposed to mean. Let's also agree that while an entire meal, including a drink, for $6.99 can't be of the most sustainable or gourmet quality, it can be freaking delicious every once in a while.
The way I got introduced to Mac's probably has a lot to do with why I love it so much. I was pretty adept, as a kid, at identifying the kinds of things my parents loved as individual people -- the things my mom wanted to do that my dad hated and the things my dad wanted to do that my mom hated. I was also pretty quick to identify which of those things I liked enough to capitalize on. With my mother, it was Chicago dogs and afternoon tea (usually not on the same day). With my dad, it was green chile (almost anywhere) and Mac's Steak in the Rough.
It was at Mac's that I learned to love a limeade so sour it will cross your eyes. It's where I learned to dip steak fingers in hot sauce sitting on the hood of a car. It's also where, absolutely dumbfounded, I saw my dad open up the box of Steak in the Rough, pull out the requisite green onion that accompanies every box and take a bite. Of a raw green onion.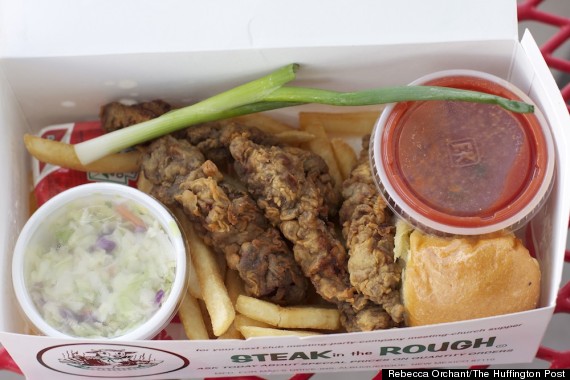 I watched. I waited. Where were the tears? The yelps? The only raw onion I had ever had any experience with so far had been an unpleasant experience, I couldn't understand how my dad had done it. A raw onion? With lunch? He just kind of smiled the way he did sometimes when he knew he was really freaking me out, and explained.
"Take a bite of the steak, and a bite of the onion. They taste good together." I did. They did. Suspicious of this new discovery, I slowly nibbled on the entire length of the scallion until it was gone. I had eaten a raw onion. It was something people could do. It was something they even did on purpose. I was, as they say, off to the races. The onion-eating races.
As an adult, I've grown pretty comfortable with my adoration of the allium family. I love them in just about any form. Raw in salads, caramelized, fried, roasted, pickled. But upon my recent return to Mac's Steak in the Rough, I was a little nervous. Had this nostalgic memory colored the deliciousness of the actual experience? While I eat a lot of onions, I'm not frequently chomping into them whole and raw, even as an adult. My husband and my brother sat next to me in the car once our order arrived, too full from our other food adventures to eat anything themselves. I took a bite of the steak, a bite of the onion. They tasted good together.