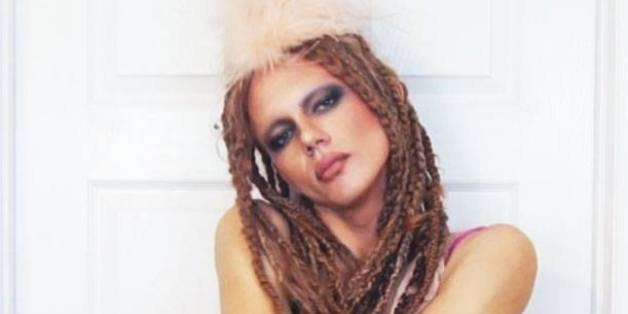 This is the nineteenth installment in an ongoing series that explores drag culture and the nightlife scene in Brooklyn, N.Y. Over the past several years, following the large-scale exodus of artists across the East River and into northern Brooklyn, those engaged in drag culture in this outer borough have created a new, queer world entirely their own. Accompanied by a larger movement to understand drag culture outside of the pageant circuit, many individuals engaged in the drag community in this borough approach drag culture through a nontraditional lens of "alternative" drag or performance art, enabled largely by the malleable and queer nature of this part of New York. Visit HuffPost Gay Voices regularly to learn not only about the individuals involved in Brooklyn's drag community, but more about the culture of the community itself.
The Huffington Post: How did you get your start in the drag world?
Macy Rodman: As my role model Woody Allen says, "80 percent of life is just showing up." I started showing up to my DJ gig in drag and got a good response, then did a few performances and eventually was asked to put on my weekly show BathSalts.
How would you characterize the kind of drag that you do?
Lounge lizard-ish but with like a funky rocker vibe.
Describe the drag scene and community in Brooklyn -- how is it different from drag culture elsewhere?
A lot of us don't look as good as other places, and maybe not many of us have good jobs, but we try hard and have fun. We're very drunk a lot, which makes it hard, and I think other places they're drunk too, but our bars don't have very good lights so we can get away with more mistakes.
Your weekly show BathSalts has become a staple in Brooklyn nightlife. How did it come about and what can attendees expect?
BathSalts is very special to me. I started coming to Don Pedro because they played "RuPaul's Drag Race," and I love watching the show with an audience because people just get so into it. I became friends with the people who worked there and they asked if I'd want to do a variety show after that season of "Drag Race" ended and we went from there. We've been doing it now for about a year and a half, and it's become this thing where people want to just try stuff out; like really creative, artistic, edgy stuff that they can't do other places, or feel like they shouldn't do other places. The vibe at the bar is like this little naughty clubhouse, and people just feel like they can get silly, or crazy, or nasty when they perform -- and I love that.
PHOTO GALLERY
Macy Rodman
You won the first annual Mr(s) Williamsburg pageant last year. How is this competition structured and how did it affect your career?
It's a round-robin tourney where several bars compete. Each bar has several rounds of competition, and once it's narrowed down there are semi-finals and finals. Each round of competition contains a performance component, an interview and a runway, and the revolving judge panel scores you based on that.
I was so excited to do Mr(s) Williamsburg because I got to meet so many cool people and go around to the different bars and really experience Brooklyn nightlife. It really helped with my confidence as a drag queen because I could tell what people liked and what they didn't like because it was a whole different audience than what I was used to.
Do you find empowerment through drag?
Yes, doing drag takes me kind of out my normal self a little bit and I can tap into a different side. Like if I'm feeling sexy I can be super sexy, or if I'm mad -- I can channel that stuff out on stage.
How do you do about planning a look? How has your aesthetic changed or developed?
It's all about staying true to yourself. I like to look slutty and like garbage, which are the pillars of my aesthetic, but other than that I like to branch out. Whatever the theme is, I just translate it to my personal style and add something like a silly hat, or change my hairstyle or what have you.
I don't think my aesthetic has changed much, but I have refined it. My makeup now is more about accentuating my face and my clothes have become more about my body. I know what works on me and what doesn't, but I've learned where to say "screw it" if I just want to wear something regardless. Day to night looks and evening glamour are important.
What does it mean to you to be a drag queen or a drag performer? Do you consider what you do to be drag at all?
I think to be a drag queen, it means that you wear wigs, and makeup that looks like a girl -- or at least not like a boy -- and you wear bras so you can pretend to have boobs, and underwear that can hide your penis. Then whatever goes on top of that is up to you and your personal style. And then usually drag queens lip sync or sing songs or do something on a stage -- whatever they're talented at. I think I'm a drag queen because I do all of that stuff.
Where can you be found throughout the week?
Every week I'm at Don Pedro on Mondays for BathSalts and Wednesdays for Severely Mame's party Scream Queen. And the new Mr(s) Williamsburg pageant is starting up, so look for me there! Also, check out my Soundcloud.
Any parting words?
#LongLiveTheNewFlesh #CLANGING #ARDENTCLARITY
Next week's feature will take a look at the Mr(s) Williamsburg pageant that Macy Rodman took the title of last year. Missed the previously featured drag performers and installments in this series? Check out the slideshow below.
Calling all HuffPost superfans!
Sign up for membership to become a founding member and help shape HuffPost's next chapter
BEFORE YOU GO
PHOTO GALLERY
Queer New World: Brooklyn Drag Culture