 Everyone has heard of Macy's Thanksgiving Day Parade. Once a year, floats and acts and balloons march through New York City amid cheers, waves and shivering news commentators.
When all's said and done, the actual parade itself is overcrowded, overhyped and too long. Don't bother to get up at the crack of dawn to grab a spot along the parade route (mainly because people have gotten up earlier and beat you to it).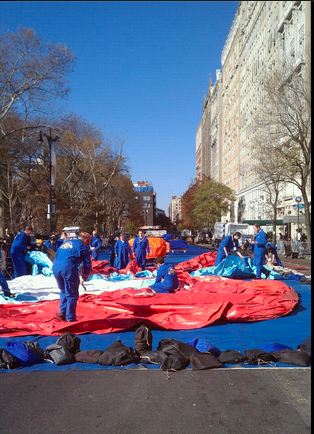 Macy's Thanksgiving Day Parade Workers Spreading Out A Balloon
1. It Happens The Day Before
From 3 p.m. until 10 p.m. the day before the parade, the giant balloons that are a fixture of the spectacle are placed in areas around the Museum of Natural History and then blown up to their full size. It's your chance to get up close and personal with the enormous turkey or a floating Bart Simpson. When else will you be able to look a giant Snoopy in the face?
2. Inflating Balloons Is Fun, But Inflating Balloons The Size of a Small House Is Better
These balloons are giant. Many New Yorkers would kill to have an apartment at the square footage these balloons possess. Plus, the process is fascinating. As every circus clown knows, there is an art to blowing up balloons, and that goes doubly so for the ones in the Macy Parade.
Since it's not THE PARADE and less people are aware of it, that means less chaos, and the ability to go away, use the bathroom, and then come back to watch more.
Grab a couple lattes, some warm pastries, bundle up and watch the beings of your childhood come to life (or at least become floatable). It's low cost, it makes you look like a true New Yorker, and the cold will encourage your date to snuggle up against you... for warmth.
5. To Give Job Appreciation
Someone has to unfold, lay out and blow up those balloons! These are hard working individuals that delight America each Thanksgiving through their dedication, hard work, and balloon inflation capabilities. The unsung heroes of Macy's Thanksgiving Day Parade should be admired, thanked and put inadvertently into Facebook Cover photos. C'mon. Give them the kudos they deserve by watching their Delicate Giant Balloon Dance. It's a magical process.
In short, button up that coat, wrap yourself in a scarf and stalk 79th and Columbus Ave. the night before Thanksgiving. You'll have an evening you won't forget, and an Instagram that will be the most favorited photo you've taken this fall.
REAL LIFE. REAL NEWS. REAL VOICES.
Help us tell more of the stories that matter from voices that too often remain unheard.