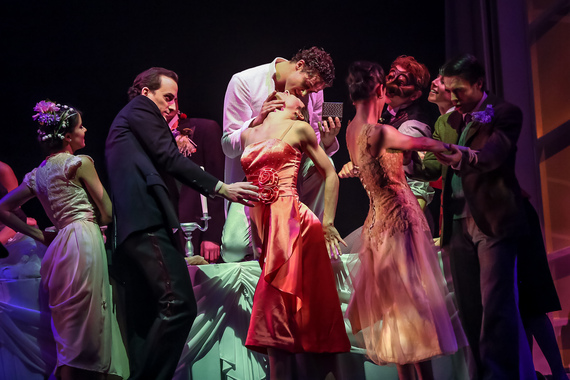 Timothy O'Donnell (center, in white) as Dorian Gray with his dangerous coterie in Michael Pink's Dorian Gray at Milwaukee Ballet (Photo: Nathaniel Davauer)
"All art is quite useless," Oscar Wilde proclaimed impudently in The Picture of Dorian Gray. Wilde's assertion might well be leveled against the procession of new and refurbished dramatic ballets produced in recent decades. With few exceptions, these have not ventured far from formulaic candy cane or empty Eurosexy flailing.
So Ballet to the People had good reason to whisper to her date before the opening night curtain of Milwaukee Ballet's new Dorian Gray - echoing the jaded Lord Henry Wotton in Chapter VI - "I have known everything, but I am always ready for a new emotion."
Choreographer Michael Pink heard her loud and clear.
His imaginative, at times mind-blowing retelling of Dorian Gray reminds us that a centuries-old art form - codified by a frivolous and despotic elite, many of whom met their fate at the guillotine - remains a potent language in which to tell modern stories, communicate timeless truths, and challenge stale thinking. The stringent demands placed on the ballet body, the ascetic practice required to chisel that body, make it singularly suited to telling a tale that brims with fleshly pleasures and pain, that is obsessed with youthfulness and evocative of fluid gender identities.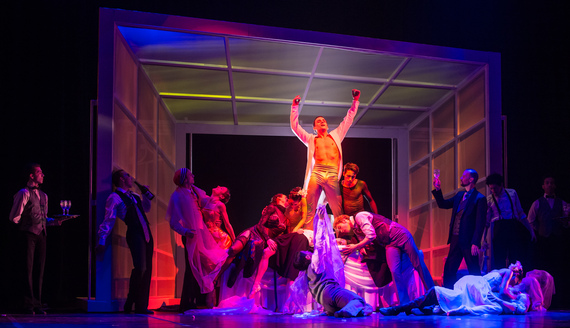 Patrick Howell as Dorian Gray presides over his decadent party in Michael Pink's Dorian Gray (Photo: Mark Frohna)
Enveloped in the opulence of Milwaukee's Pabst Theater, with plumes of smoke from an opium pipe wafting up to the gilded statue of Apollo atop the proscenium arch, marvelously lit by David Grill (the man responsible for illuminating Beyoncé and her brigade of Panther-ettes just a week ago at the gladiatorial contest known as the Super Bowl), and splendidly framed by Todd Edward Ivins' spare, fluid set, Wilde's kinky, indelible characters are given new life - and a new humanity - by an ensemble of beautiful and fearless dancer-actors.
An idle yearning bestows eternal youth and beauty on Dorian, while a portrait he keeps locked away records the ravages of debauchery on his face and body. Over the years he becomes a predatory peacock. He presides over decadent parties and dispenses cocaine to his guests atop a dinner table, like a priest administering holy communion at the altar.
An intriguing portrayal of Dorian by the fiery Patrick Howell on opening night and by the lankier, more lyrical Timothy O'Donnell on the following night, reveals a sympathetic, heroic strain in the character, even as he embraces every one of the Seven Deadly Sins. O'Donnell makes magnificent body lines as he crawls into and contorts himself around the empty frame that in this production stands in for the controversial portrait, and as he throws himself into the spiraling jumps that signal his reckless dive into an abyss. Howell on the other hand is a powder keg; it is hard to take your eyes off him when he is on stage, out of fear for what Dorian might do to harm himself.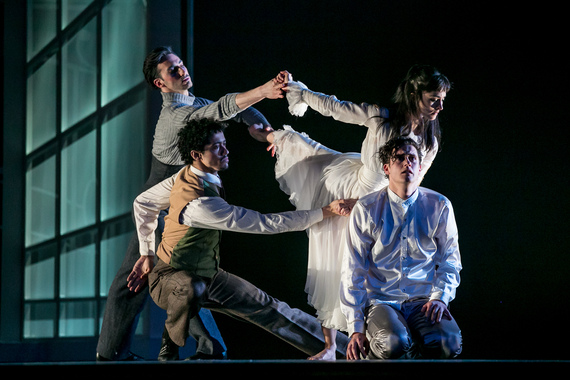 Garrett Glassman as James Vane, Alexandre Ferreira as Basil Hallward, Nicole Teague as Sibyl Vane and Timothy O'Donnell as Dorian Gray in Michael Pink's Dorian Gray for Milwaukee Ballet (Photo: Nathaniel Davauer)
In the role of Dorian's first love, the angelic actress Sibyl Vane, Nicole Teague (partnered by O'Donnell) was all sunny radiance, whereas Luz San Miguel on opening night wrapped innocence in a faint aura of sorrow.
Among the superb cast, an unforgettable performance was delivered by Davit Hovhannisyan in the role of painter Basil Hallward.
Some time after painting the youthful Dorian, Basil is eager to see the portrait again, but Dorian refuses. The tense standoff evolves into a forceful duet for the two men. Hovhannisyan is a terrific interpreter of Pink's choreography, movement flowing through his entire body with unassailable intensity. Years later, Basil confronts Dorian with rumors of his depravity and begs his protégé to refute them. Incensed, Dorian reveals the monstrous portrait to him. He then kills the anguished Basil, for fear that his friend will reveal his terrible secret to the world.
Ivins has created a movable picture frame which Pink leaves empty so that key dead characters may step momentarily into the frame to haunt him.
In the novel's climactic moment, faced with the horror of the portrait, Basil begs Dorian:
Pray, Dorian, pray... What is it that one was taught to say in one's boyhood? 'Lead us not into temptation. Forgive us our sins. Wash away our iniquities.' Let us say that together.
Pink transforms this moment in the ballet by crowding the ensemble - in the guise of the Seven Deadly Sins and dissolute party guests - into the frame. They taunt and abuse Dorian and his portrait painter, speaking in a babel of fragments of the Lord's Prayer, enunciated in the dancers' various native languages. With this stroke of genius, Pink crystallizes the notion that a performer's body is the collective gaze of society - in this case, a mindless society who no longer comprehend what they're saying, whose voices simultaneously punish and plead for mercy.
In a daring move, Pink gave the pivotal character of the scheming Lord Henry to actor James Zager. Zager moves gracefully, integrating perfectly into the ensemble in that sense, though his voice projected some diffidence and unease on opening night. By the second night, he seemed to have relaxed and found a new boldness.
The dancers respond in ballet to Lord Henry's spoken words. That this device works is a tribute to the cast. But was it necessary? Pink is a master of storytelling through dance, painting psychological portraits, creating visual metaphors, and moving the action along with seamless gestural movement. His choreographic voice alone - with its refreshing economy of classical ballet steps, always freighted with meaning, and an instinct for manipulating small groups to build tension and suspense - would have served as ample tribute to Oscar Wilde's craft.
Pink chose to open the ballet with a party scene meant to conjure up the decadent society in which Dorian lived, introducing most of the key characters with motifs that show up in later episodes. This, coupled with a shifting of the period to an indeterminate time, created some opening confusion. A more linear narrative seemed called for. The mostly bland costuming added to the uncertainty. With the exception of Dorian (poetically attired in a silver suit, then later bare-chested, with a long white coat that recalled Basil's painter's coat), the costumes seemed half-finished. Intricate detailing of bodices and waistcoats contrasted awkwardly with skirts that looked as if they belonged in a dance studio, as did a jazzy trio in black tights and leotards. Masks and millinery were nowhere near the level of outrageous inventiveness as Ivins' designs for the modern gothic fantasy Mirror, Mirror two seasons ago, though definitely warranted.
Ballet to the People is not entirely convinced that it was necessary to fiddle with the late Victorian setting of the novel. It was that world specifically that was rocked by the vicious satire of Dorian Gray. And hanging over every reincarnation of the work is the historical affair of life imitating art: the novel figured in the sensational criminal trial that ended in Wilde's conviction for "gross indecency."
The stuff going on in the pit, quarterbacked by Pasquale Laurino, was every bit as hair-raising as the hijinks onstage. The instruments - including the electronic wizardry that tossed all manner of industrial sound into the works - not only underscore the action onstage and punctuate Lord Henry's barbed witticisms ("I like men who have a future and women who have a past") but often seem to enter into their own vivid dialogue with the characters and with each other - negotiating, protesting, brawling, flirting, forewarning. Melancholy references to Chopin that litter the novel are strewn like pearls spilt from a snapped necklace. The clinking of silverware underscores the dance of hedonism at one of Dorian's cocaine parties, soon drowned out by a rioting saxophone. The haunting voice of a choirboy singing plaintively of lilacs accompanies the appearances of Sibyl and signals Dorian's stray thoughts of childhood. Jazz tempts Dorian, in the shape of three Fosse-inspired dancers amid whiffs of Kurt Weill. Dorian's anguished solos are accompanied by the urgent bowing of a solo violin, echoing Bartók's Hungarian folk songs. Once Dorian contorts his body inside the gigantic picture frame, as if it were a gallows or torture rack, the violin seems to serve as sentencing judge or executioner.
Born inside a picture frame, Dorian is now set to be destroyed in that frame. Pink and Feeney not only stay true to the text of Oscar Wilde's soaring, provocative work, they have also given its spirit new wings.
Dorian Gray concludes its run at the Pabst Theater, Milwaukee, on February 19-21, 2016. For more information and tickets, go to Milwaukee Ballet's website.