 The usual gang of idiots over at MAD Magazine have set their sights on the world of animation for their next issue and asked us if we'd share this preview of the list.
I asked John Ficarra, the editor-in-chief of MAD why they chose cartoons, to which he told me, "To be honest, our first choice was the 50 Worst Things about the Huffington Post, but we figured that would all but sink our chances of you plugging our new issue."
Figuring that the audience of The Huffington Post was the only one on the Internet that would understand the reference, they sent along the following exclusive image, illustrated by Adam Koford: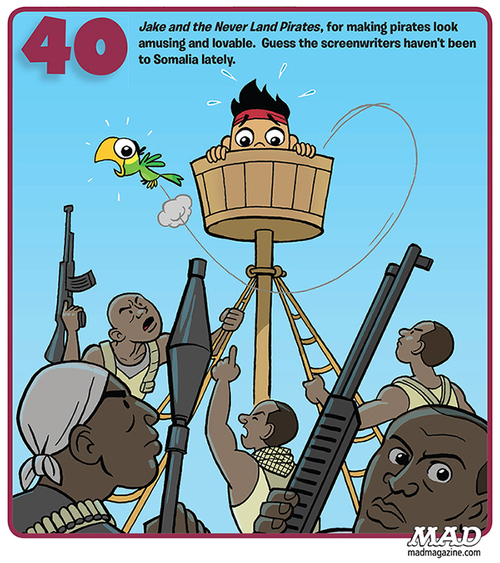 Shamelessly explaining the joke, Ficarra continued, "Our problem with Somali pirates is simple -- they have no respect for pirate traditions. Have you ever seen a Somali pirate with an eye-patch? A peg-leg? When's the last time you heard a Somalian pirate sea shanty? They're a disgrace! In retrospect, we're sorry we didn't do the 50 Worst Things about Somalian Pirates!"
He made no comment as to why the MAD staff even had "Jake and the NeverLand Pirates" on their DVR.
This issue hits stands this month, but if that's too hard for you, you can get a subscription here.
REAL LIFE. REAL NEWS. REAL VOICES.
Help us tell more of the stories that matter from voices that too often remain unheard.