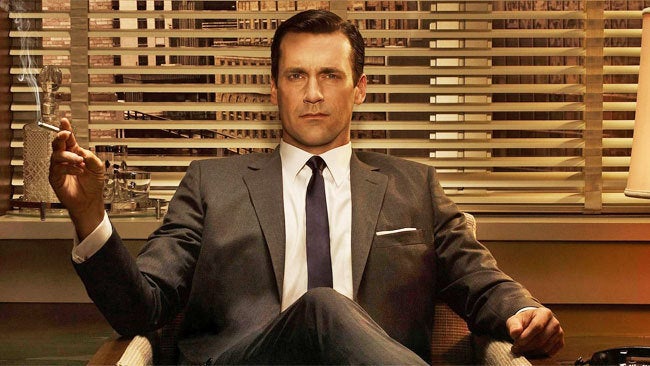 UPDATE III: A source close to the negotiations between AMC and "Mad Men" creator Matthew Weiner told The Huffington Post that the issues of actor cuts, episode time cut and product integration were not merely suggestions, as indicated by a previous source, but instead were definite AMC demands.
"The casting is a hard and fast thing," the source said. "They're not making a suggestion, that's not how these things work, that you cut your budget after you cut your deal. They said cut $1.5 million in cash expenses per year, which is the equivalent of two actors. They give you a number they want you to hit, and you have to hit it."
The source added that the budget cut each year would require cutting two actors every year for three years, and not bit players. "Series regulars," was how the source described the type of role that would have to be cut.
There's also dispute over the language of AMC's earlier statement, which said that the show has been delayed to 2012 due to "key, non-cast negotiations." Instead, the source told The Huffington Post that the show was pushed to 2012 due to a show glut, as AMC has a full slate of shows for the fall. Weiner, he said, wanted to do the show in 2011.
"They first approached Matt with a substantive offer two weeks ago. And when they did that, Matt said listen, I know this is starting late, but I want it on the air in 2011, because it's been too long. They said no."
Even with a late start in writing and production, the source said, if a deal was signed today, Weiner could deliver a show for broadcast in 2011.
Weiner has been offered a substantial contract, confirmed to be worth $30 million, but he's holding out on creative grounds. "What they've said to him is, these are our big three things, and in exchange for swallowing it, we'll pay you a lot of money," the source relayed. "What he said is, that's great, but you can't buy my artistic silence, I'm not going to let you ruin my product just because you want to pay me. He's putting his art before his wallet."
Given their pickup of the fifth year option for the show, AMC could continue producing "Mad Men" without Weiner. Asked whether Weiner would walk, the response was muted.
"The thing Matt wants is to do the show. He's hopeful that they can come to some sort of agreement, to get something, it's been his passion, he's been at his creative peak with it, he wants to do it."
UPDATE II: In a conversation with The Huffington Post, a source with knowledge of the negotiations between AMC and "Mad Men" creator Matthew Weiner, speaking on the condition of anonymity, clarified a number of issues that are allegedly keeping the two sides from coming to an agreement.
On the point of cutting two actors, the source said, "They're not asking Matt Weiner to change the show's DNA, and they are not asking him to fire or cut two actors. That was part of a list of suggestions that they gave to him or to his people to monitor the budget on the show."
Addressing the question of product integration, the source said, "[Product] integrations have been happening from season one. It's not additional product placement, it's basically being able to talk about the product placement in the show, it's an issue of transparency about the product placement that has gone on since season one, so their partners can talk about it."
When asked by The Huffington Post whether "Mad Men" will return with or without Weiner, the source said definitively that, "I can say that the show is coming back in 2012."
UPDATE: AMC has released a statement saying that they've triggered their option with Lionsgate and that "Mad Men" will return in early 2012. They note that they're still in the midst of "key, non-cast negotiations," referring to Weiner. The statement is below:
"AMC has officially authorized production of season 5 of Mad Men, triggering our option with Lionsgate. While we are getting a later start than in years past due to ongoing, key non-cast negotiations, Mad Men will be back for a fifth season in early 2012."
The fourth season of "Mad Men" was released on DVD and Blu-Ray on Tuesday.
PREVIOUSLY:
The Emmy-winning show is the subject of a bloody battle between creator and executive producer Matthew Weiner and network honchos at AMC. The show has yet to be renewed for a fifth season, and the sides are far apart on a deal.
Money is the issue, Deadline and The Daily report, but it has nothing to do with Weiner's contract; the two sides were close to agreeing on a two year, $30 million deal for the mind behind the acclaimed period drama. Instead, the struggle involves budgeting in other areas, namely advertising and even actors.
The two publications have sources indicating that AMC wants to cut two minutes from each episode, in favor of more commercials, as well as integrate product placement into the show.
Additionally, the network wants to cut two actors to cut costs. Neither of the actors has been revealed.
UPDATE: A source close to production says that all the show's major cast members are returning.
Predictably, Weiner has balked, and thus, no deal for season five has been made. The show's actors have been busy doing other projects; star John Hamm appeared in the film "Sucker Punch," released this weekend, while Christina Hendricks is filming a movie with Sarah Jessica Parker and January Jones will star in this summer's "X-Men: First Class."
They may have to find more acting jobs; The Daily says that the network could actually cancel the show. "Weiner is being completely screwed by AMC," a source told the iPad-only paper. "No one would have heard of AMC if not for Matt Weiner and 'Mad Men.' But they will not renew the show unless he accedes to all their demands."
Similarly, a source told Deadline, "The negotiations are about to collapse as a result."
That's a change from January, when AMC announced that the show would be back despite the lack of contract. Speaking to Entertainment Weekly at the time, Weiner said, "It would be heartbreaking for me if they don't work it out, horrifying really. It would be a shame for fans to never get to see what great stuff we have planned for Don and company."
Weiner produces the show with Lionsgate Television.
UPDATE: Matthew Weiner spoke to the NY Times on Tuesday, responding to the controversy. "I don't understand why, with all of the success of the show, they suddenly need to change it," Weiner said, adding, "All I want to do is continue to make my show, and make it in the way I want to, with the people I want to make it with."
That said, he told the paper that he loves the show and has every intention of working out a deal.
Popular in the Community