Mattel, Lionsgate and AMC have launched the "Mad Men" Barbie Doll line featuring Don and Betty Draper, Roger Sterling and Joan Holloway. According to the press release:
Gracefully molded of Silkstone, a material that resembles the look and weight of porcelain, each doll is stylized in iconic costumes from the series, and comes with accessories true to their show counterparts. Don Draper wears his classic, polished red-lined suit and comes accessorized with a hat, overcoat and brief case; Betty Draper's classic look is captured with unparalleled detail, from her faux pearl necklace to her pumps; Joan Holloway looks chic in a purple skirt suit and perfectly styled coif with her staple accessory - a pen necklace; and Roger Sterling is looking dapper in his monogrammed shirt.

The dolls will be available in July and will retail for $74.95. The Sterling Cooper Office/Playhouse is sold separately.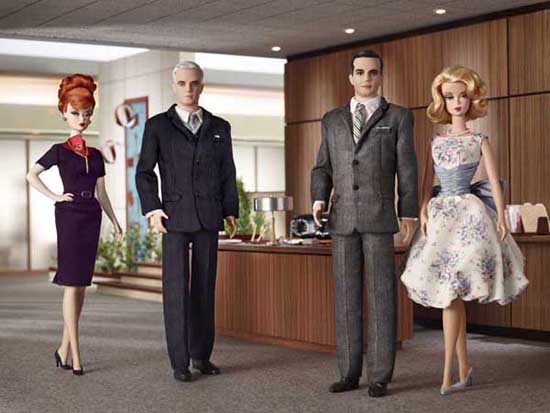 Related