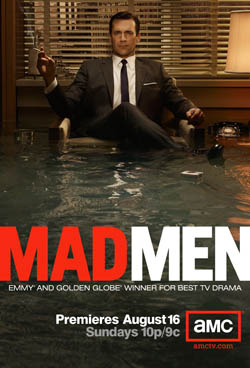 As the Summer Season brings the return of good TV, this Sunday, August 16th, marks the long-awaited premiere of Season 3 of Mad Men. People around the country are planning theme parties, complete with 60s attire, appetizers, and cocktails. In New York alone, Simply Chic PR is hosting a costume party Wednesday at the Gates, the premiere will be broadcast live in Times Square on Sunday, and throughout the week the Museum of Art & Design will project art inspired by 60s advertising on its exterior.
You can host your very own Mad Men premiere party at home, simply by asking guests to contribute food like deviled eggs and pigs in a blanket, and stocking your bar with a Mad Men staple. In the very first episode, Don Draper's new secretary is told to stock up on Canadian rye, a liquor that is once again becoming cool, thanks to the show's popularity. Throughout the rest of the season the men of Sterling Cooper swill down Canadian Club Whisky at any chance they get. They tend to drink their whisky straight up or on the rocks, but if you want to have a bit more fun at your own party, here are a few classic cocktails to satisfy any guest.
The Don Draper: Old Fashioned
While at the office Don drinks his Canadian Club neat, but when he's out on the town he switches to this quintessential drink.
In a short wide-mouthed tumbler place a lump of natural sugar, and add as much Angostura Bitters as the lump will absorb.
Then dissolve the lump of sugar in a little club soda.
Fill the tumbler with ice cubes.
Add a wine-glass full of Canadian Club 12 year reserve whisky.
Garnish with a twisted lemon peel.
The Betty Draper: Cosmopolitan
While Betty is known for perfecting the simple Tom Collins or vodka gimlet for guests, if she were around today, she'd be a Cosmo girl. Here's a delicious update using her husband's favorite.
In a cocktail shaker filled with ice add:
2 parts Whisky
1 part Cointreau
1 part Cranberry Juice
1 Twist of lime
Pour in a martini glass and garnish with a twisted orange slice.
The Peggy Olsen: Greyhound
Whether it be at the burlesque or the bar, Peggy loves to hold her own with the boys. The Greyhound has just the right amount of kick with just a dash of sweetness.
1.5 parts Whisky
3-4 parts of grapefruit juice
Finish with a dash of Grenadine
The Joan Holloway: Burgundy
Sweet and tart, the burgundy is just as seductive as everyone's favorite redhead.
1.5 parts Whisky
4 parts ginger ale
Splash of cranberry juice
The Roger Sterling: The Millionaire's Manhattan
While Sterling normally sticks to clear liquors, we think he'd go for this decadent Manhattan, just the thing to prove you're ahead of the pack.
1 part Harvey's Bristol Cream
2 parts Whisky
Fill a lowball glass with ice and add ingredients
Stir and garnish with maraschino cherry