We caught up with "Mad Men"'s costume designer Janie Bryant at a launch party for her book The Fashion File: Advice, Tips, and Inspiration from the Costume Designer of Mad Men on Wednesday night. The New York event was sponsored by Maybelline, who mesmerized us with vintage makeup ads played on rotation--très "Mad Men."

The Emmy Award winner talked to us about who she was wearing, her style inspirations, what tradition she'd bring back, how she's one of those people who doesn't do Halloween, and what she wore when she did do Halloween. We might copy the ghost idea this year.

Because the camera work is so shaky (first time with a Flip Cam!) we'll also transcribe what she said below.

WATCH:

<0--3417--hh>

What she was wearing last night [scroll down to see the full look]:
Dress by Dennis Basso, ring by Miriam Haskell , and shoes by Ruthie Davis.

What she would bring back from any era [Bryant wrote an entry for Contributing Style Editor Lesley M.M. Blume's new book Let's Bring Back]:
"In general, I think dressing up is important. That's always contemporary regardless of whatever era."

Her greatest style inspirations:
Movies. Funny Girl, Guys and Dolls, An American In Paris, Sound of Music, Moulin Rouge.

On whether she's dressing up for Halloween:
"I am not. I'm one of those people who does not dress up for Halloween, but I would like to bring back people dressing scary. I think it's important to dress scary for Halloween. Or as a 'Mad Men' character."

Her favorite costumes as a kid:
A school teacher. "I was really into wearing glasses at that point in my life." Another year "in the days when you made your own costumes, my girlfriend and I decided we were going to go as ghosts, so we went as a double-headed ghost." Off-camera, Bryant revealed that this costume was created with a sheet.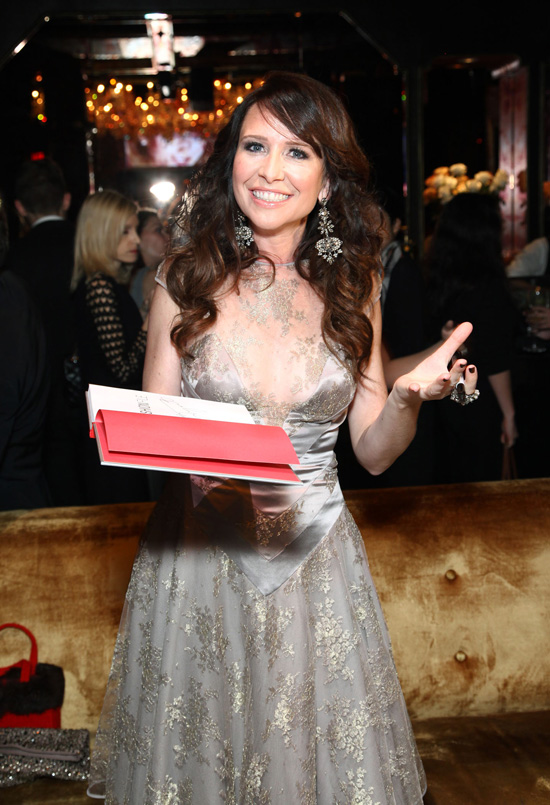 REAL LIFE. REAL NEWS. REAL VOICES.

Help us tell more of the stories that matter from voices that too often remain unheard.

0--3417--hh>