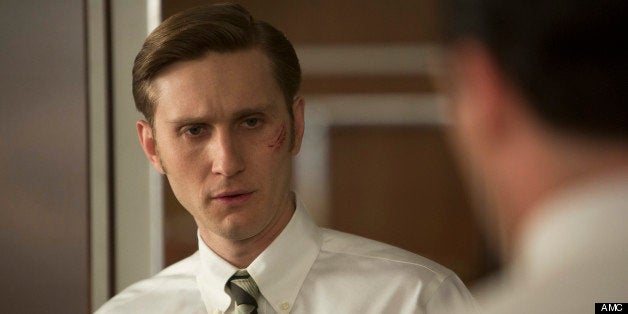 He's a master at advertising, writing fiction, and now ... tap dancing?
On Sunday's "The Crash" episode of "Mad Men," Aaron Staton (Ken Cosgrove) performed an impressive tap number. And although his expert moves generated a lot of buzz on the Internet -- including the obligatory "Ken Cosgrove tap dancing" GIF -- Staton insists he had a lot of brushing up to do before he took the stage.
"The truth of it is, it's not something I've done in a while. It's been a few years. First I got a text message, 'Do you tap dance?' And so I had to go: 'Do I? Let me check.' I'm still holding the phone -- 'What do I still know, if anything?'" he told The New York Times.
"Mary Ann Kellogg -- who has choreographed all of the dance sequences over the course of the show, from when Pete and Trudy did the Charleston and the 'Zou Bisou Bisou' song last year — she came aboard, and we had fun figuring this out," he continued. "Matt knew he wanted a time step in there, and there were a couple steps that I needed to work on and freshen up a little bit."
Staton isn't the only one who had work to do before his "Mad Men" musical number. Ahead of "Zou Bisou Bisou" last year, Jessica Pare had quite a bit on her plate.
"I think we had three six-hour sessions together, which was my first hint that it was going to be a little bit more complicated choreography than I had expected," Pare said in a conference call last March. "Working on it, practicing it ... I think it would come to about a week and a half."
"Mad Men" airs on Sundays at 10 p.m. ET on AMC.
Do you hope to see more musical numbers on "Mad Men"? Sound off in the comments.
PHOTO GALLERY
'Mad Men' Season 6 and 7
Calling all HuffPost superfans!
Sign up for membership to become a founding member and help shape HuffPost's next chapter
BEFORE YOU GO