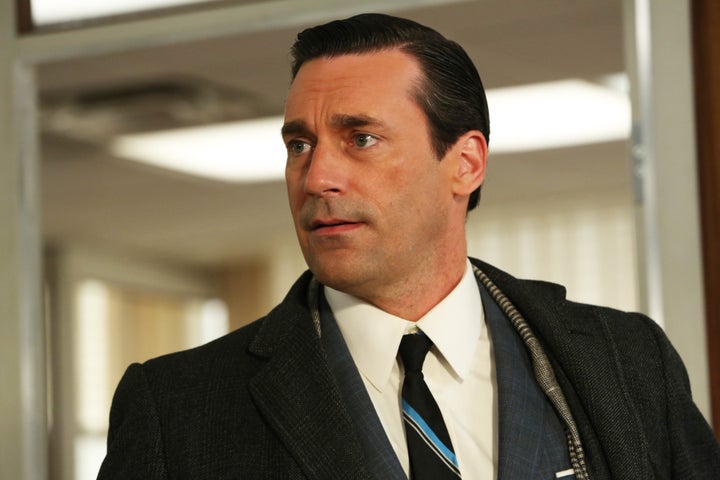 Note: Do not read on if you have not yet seen the Season 6 premiere of AMC's "Mad Men," titled "The Doorway."
Don Draper is not having an easy go of things thus far in "Mad Men" Season 6. The troubled anti-hero of the hit AMC series (Jon Hamm) is still reeling from the death of Lane Pryce (Jared Harris) and dealing with his own philandering demons.
"Mortality is something that is weighing on Don," Hamm said.
As "Mad Men" moves into a new era, Don is quickly finding it harder to keep up. "He's an old man in a young man's game at this point," Hamm told TV Guide. "Even with his wife, who's this young, vibrant actress who's exciting and young and new and sexy and vital. Don is rapidly becoming fewer and fewer of those things."
The new season finds Don once again having an affair, this time with Sylvia (Linda Cardellini), his neighbor. It's a backslide for the character who spent Season 5 being faithful to his new wife Megan (Jessica Pare), though there was always the question of "will he cheat?" or rather, "when will he cheat?"
"The more we invest in [Don] as a character, you want him to do the do right thing," Hamm said. "Then you see him sort of backslide or fall back. We're living in a golden age of characters [who] we watch do terrible things, and still somehow we root for them, or root for their redemption. Not every character can be Coach Taylor."
"So much of the episode is about, 'How am I perceived?' She is uncomfortable being seen as a mom, as a suburbanite, as someone who doesn't care ... Betty's very childlike," Weiner told Vulture. "She identifies with Sandy, and that moment when she decides the futility of her attempt to rescue that girl and preserve her innocence is just very touching to me. [It's] her daughter closing the door in her face. I feel like her changing her hair at the end is her answer to the guy saying, 'I know who you are,' and her responding, 'You have no idea who I am.'"
"Here you are having the same problems you've always had -- and now you know that it might be you," he said. "Are you capable of changing? What is the anxiety that creates? What are your options? Run? Fight back? Try and control the world? Are you capable of changing yourself?"

"Mad Men" airs Sundays at 9 p.m. ET on AMC.
PHOTO GALLERY
'Mad Men' Season 6 and 7
Calling all HuffPost superfans!
Sign up for membership to become a founding member and help shape HuffPost's next chapter
BEFORE YOU GO