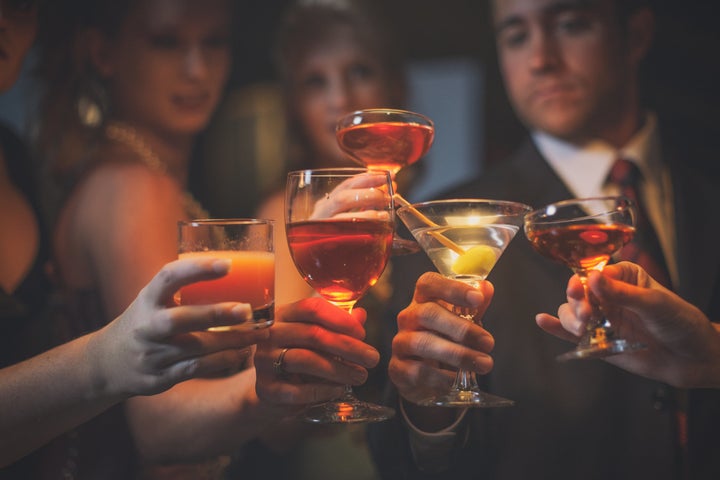 "Mad Men" debuted on AMC in July of 2007, but I didn't start watching it until the midseason break, when I binged to catch up after reading somewhere it was the best show none of us were watching. I've always been a binger.
I was 26 and had just landed a sweet job editing for one of the weekly city papers that covered the nightlife scene in Columbus, Ohio. This particular brand of journalism felt similar to the advertising world circa 1960, as we tried to make creative magic happen under relentless deadline pressure and worshipped at the altar of all things booze.
The martinis and Manhattans of "Mad Men" inspired a generation of 20-somethings to embrace classic cocktail culture. For me, those seven seasons of television coincided with a particularly traumatic stretch of life, the kind that makes you run toward something to help anesthetize the pain.
In 2008 I gave birth to a beautiful, amazing girl who has a rare genetic disorder. We spent a lot of time during her early months in pediatric ICU. My marriage cracked under the strain and slowly disintegrated. When my husband and I eventually separated, I knew exactly what I wanted to do with my two new kid-free evenings each week. I wanted to drink. I wanted to forget, for a few hours, that everything in my life felt like it was falling apart. And nobody raised an eyebrow. You deserve a drink after the year you've had.
I quickly befriended my bartenders and became a connoisseur of locally brewed craft beers, the darker the better. At work, I took "Mad Men" lunches. Our TV critic got the "Mad Men" season premiere episodes early to review, so we'd arrange lunchtime screenings complete with whiskey tastings. We were all under the spell.
I thought of myself as Peggy, of course. I developed an affinity for vintage shift dresses and bourbon. I was tentatively climbing the corporate ladder.
Unfortunately, my boss came to think me as Peggy, too, and of himself as Don. He regarded me in the same way Don thinks of Peggy, and he treated me the same way too. I gave you all of this and I can take it away. You would be nothing without me.
In May of 2012, I sat on my couch and watched as Peggy marched into Don's office and handed in her resignation. A sob caught in my throat, and I knew deep in my soul I was going to have to quit my job, too.
About a year later, I walked away from that job I loved so much to preserve my emotional sanity. I started my own company as a marketing consultant working from a home office.
The first time someone asked if I thought I had a drinking problem, my answer was no. I didn't drink every day. My problem was that when I did drink, I drank way more than I should. By a certain point, though, I was drinking every day ― even on the days my daughter was home ― whether it was a glass of wine or three with dinner or a bourbon to take the edge off after the bedtime routine.
"When my husband and I eventually separated, I knew exactly what I wanted to do with my two new kid-free evenings each week. I wanted to drink. I wanted to forget, for a few hours, that everything in my life felt like it was falling apart. And nobody raised an eyebrow."
On the days she wasn't with me, I could spend whole Sundays drinking mimosas on patios or sipping beers at festivals and concerts. It felt glamorous. But in reality, it was this: I kept ordering drinks until, magically, all the hard stuff from that particularly rough few years disappeared. All the anguish of a medically complicated child, a collapsed marriage, an emotionally abusive professional relationship, the regret of leaving the career I'd spent all my life pursuing, the loneliness of working from home — all of that disappeared. At least temporarily.
During those moments, I could imagine I was someone else. And if Don Draper taught us anything, it's that you can't just shed your old life and move on as someone else.
Every morning, I'd focus on finding some combination of breakfast foods to stave off the incessant nausea and drink enough coffee to make my brain function until lunchtime. That left a few hours for worries to work back up to the surface, then — thank God — it was time to start the cycle again.
During the last few seasons of "Mad Men," our local movie theater showed episodes as they aired on Sundays. I'd plan the whole day around those screenings. My boyfriend, now husband, and I would start with Bloody Marys, then move on to beers on a patio. We'd always end up at this terrible Tex Mex chain and decide shots seemed like an excellent idea. Then we'd stumble into the theater for the show.
The next morning, if I was lucky, I'd wake up with a few flickering memories of the episode. Other mornings, everything was blacked out ― washed away in a sea of liquor. Later, I'd pay $2.99 to download the episode on iTunes and watch it a second time before repeating the whole thing again the next Sunday.
"Mad Men" seasons four and five, for those of us actively struggling with alcohol addiction, was a bummer. Don was drinking to excess, plunged into a dark misery of his own creation. I felt betrayed in the same way I did when I realized "Lost" was really about spirituality, not science. Wait, this is a show about how drinking is terrible?
The thing is, I loved drinking. The bubbly, happy feeling after that first drink. The camaraderie of a night of drinking together. In the midst of all that sadness, there was much to celebrate. New love, a new marriage, a new business, a new start. The drinking days, at one point, felt like celebration.
Whenever I started to wonder if I had a drinking problem, all I had to do was look around and see a bar full of people keeping up with me drink for drink. This is normal. But the blacking out scared me. The hangovers were becoming more intense — I would lose entire days. I needed to be a better, more present mom for my daughter. I didn't want to be the mess of a person I was at 2:30 a.m. after last call anymore. I just didn't want to have to stop drinking to do that.
My drinking days were good times. Until they were bad times. Whole evenings I can't remember. Memories that come back in terrifying flashes. My first thought upon waking was frequently: Oh, fuck. There were too many times I said things I regretted. Did things I shouldn't have done. Became a person who barely seemed like me. There were times I vowed never again. Times I tried to start drinking later in the day, to take days off from drinking, or to alternate drinks with water.
I believe alcohol abuse is a slope. There's no magical line you have to cross before you become an alcoholic. Over time, because of the way alcohol works, you drink more and more and it seems great until suddenly it's not. And by then, it's too late to get back to where you were. I couldn't go back to the person who didn't drink every day, even though I so wished I could.
The last day I drank myself to obliteration, I met up with friends for happy hour. Because I had an obscenely early work appointment the next morning, I vowed I'd stay out for just two drinks then head home. I arrived later than everyone else and ordered a double gin and tonic to catch up. And suddenly the idea of heading home sounded really silly.
"The next thing I remember I was struggling to open my eyes. The sky was dark. I had collapsed in a field of grass God knows where. Two strangers were standing over me: 'Is there someone we can call for you?'"
At the next bar I saw someone order a gin martini and, in the moment, this seemed so classy. I had a few. The next thing I remember, I was struggling to open my eyes. The sky was dark. I had collapsed in a field of grass God knows where. Two strangers were standing over me: "Is there someone we can call for you?"
I didn't have a drink the next day, or the next. In those early days of sobriety, desperate to not drink, I frantically Googled things like "how to relax naturally," grasping for some nonalcoholic substance that replicated the slow, lovely buzz those first couple of drinks bring. There is no magic pill.
Alcoholics Anonymous wasn't my path. But I've found an amazing online community of people around the world who share a similar belief that alcohol is a poisonous, addictive substance, and none of our bodies are designed to handle it. We believe in recovering out loud ― sharing our stories in the belief they will help others. Society glamorizes alcohol use in a way that's dangerous to anyone struggling with moderation. Rosé all day, mama. Everything's fine until you're drunken Freddy Rumsen pissing himself and passing out.
I'm three years into sobriety now. I drink a lot of tea. I spend a lot of time staring into fire pits. I read more books and watch more movies. I cook more and shop more. I lost weight. I started back up with yoga and have dabbled in meditation. I'm seeing a therapist to actually work through all those years of trauma I was running away from.
A year seemed impossible on Day One. That means I made it through a birthday sober; I celebrated Thanksgiving and Christmas sober; I went to a wedding sober; I traveled sober. I ended every workday without cracking open a beer. I pushed away dozens of wine lists and abstained from mimosas, my favorite, during countless brunches.
On May 17, 2015, the series finale of "Mad Men" aired on AMC. I was 15 days sober. I wore a vintage dress for dinner at our favorite throwback '60s steakhouse, where I ordered a bacon-wrapped filet and an iced tea. I drove to the movie theater, ordered a popcorn and watched Don reach some capitalistic version of enlightenment. And I remembered everything the next morning.
Shelley Mann is a writer and editor living in Columbus, Ohio, with her husband and two daughters. She writes about food, motherhood and sobriety. You can find and follow her on Instagram here.
Do you have a personal story you'd like to see published on HuffPost? Find out what we're looking for here and send us a pitch!
Popular in the Community