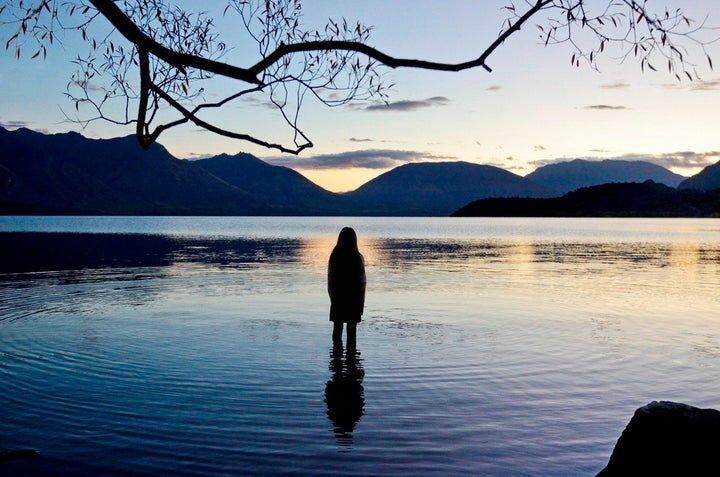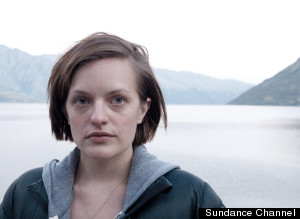 One of the chief draws of the terrific "Top of the Lake" (Monday, March 18 at 9 p.m. ET on Sundance Channel) is knowing that it will end.
It's not that you're likely to get sick of this atmospheric mystery tale -- which stars "Mad Men's" Elisabeth Moss and reunites "The Piano" director, Jane Campion, with its star Holly Hunter -- it's just that "Top of the Lake" isn't padded in contrived ways to fill out a 10- or 13-episode season. The story dictates the length, not the other way around.
There's a lot of talk these days about the future of television, and that's certainly something we need more of: Creators who figure out what they want to do and then find a format, a venue and a running time that make sense for the specific story they're telling.
The premise of "Top of the Lake," which airs in seven parts over five weeks, is not terribly original, but Campion, who also wrote many of the episodes, puts her distinctive stamp on the miniseries' core ingredients. There's a missing child, a community full of secrets and a driven detective with a fiance she's largely forsaken, but the similarities to AMC's version of "The Killing" (thank the gods) more or less end there.
Actually, the pilot of the U.S. version of "The Killing" did a fine job of establishing a melancholy tone, an intriguing mystery and pleasingly ambiguous characters. The show ran off the rails soon after that, but "Top of the Lake," which has a similarly moody start, only becomes more fascinating over time. That's not to say "Top of the Lake" is free of idiosyncratic digressions and the occasionally odd segue, but it does a critically important thing very well: It draws you into a specific world and it quickly makes that world's textures, relationships and stakes matter.
Moss plays Robin Griffin, a Sydney detective who returns temporarily to her hometown, nestled in some of New Zealand's most gorgeous scenery. The workaholic Griffin does some consulting for the local police department between visits to her mother, who is seriously ill, and you get the impression that Griffin would rather be working a local missing persons case than dealing with family issues or her past.
In this beautiful backwater, one clan seems to have cornered the market on thuggery and black-market activities, and as "Lake" unfolds, we learn about Griffin's connections to the rough Mitcham family and about the secrets that have kept her psychologically tethered to the close-knit town. As she gets more involved in a case involving a child, it doesn't take long for Griffin to meet G.J. (Hunter), an American guru who has set up a new commune for women on the edge of the town's lake.
Reactions to G.J. will likely be polarized, but Hunter's performance was one of the main draws for me. Her stillness in this role is impressive: G.J. mainly sits in a trailer and drinks coffee, and she occasionally issues blunt advice to her ragged flock in a clipped, distracted manner. Is Campion amused by or affectionate toward G.J. and her gaggle of strange, contradictory women? There's no concrete answer, but the ambiguous treatment of the lakeside encampment -- puckishly or accurately called "Paradise" -- is one of "Lake's" chief pleasures.
Many of the women are fleeing difficult relationships. Griffin, meanwhile, is treated with casual condescension by fellow officers and has her own painful secrets, with a thick skin as a result. As "Top of the Lake" progresses, however, those barriers start to fall.
Television often tells stories involving oppression and violence, especially violence toward women and children, but it most often uses them to juice up a procedural formula or to launch a melodramatic cliffhanger. It's rare for a television show to let the consequences of violence and assault play out in complex, nuanced ways for both male and female characters. Despite its relatively short running time, "Top of the Lake" does that. In fact, examining the effects of brutality on those who employ it and those who experience it appears to be one of the reasons for the miniseries' existence.
Griffin is quite different from "Mad Men's" Peggy Olson -- she's tougher and more physically brave -- but she shares that character's resilience and intelligence. As is often the case on "Mad Men," Moss' role in "Top of the Lake" frequently requires her to react to others and to experience pain and regret in silence, and we know from five seasons of the AMC show that the actress is a master of those skills. She and the subtle David Wenham, who plays a local detective, are well paired; each actor innately understands the slightly hushed, realistic atmosphere Campion is trying to create. Griffin doesn't particularly want to be liked, but given who's playing her, it's impossible not to care about the toll this case begins to take on the detective.
"Top of the Lake" is set a small town in which everyone knows everyone else and all is not as it seems -- in other words, it has the kind of premise we've seen many times before. Rarely, however, will you see such visual rigor, emotional intelligence and assured storytelling brought to a mystery tale told in this kind of world.
As "Mad Men" (which returns with its sixth season April 7) approaches its home stretch, it's good to see that Moss' post-Sterling Cooper Draper Pryce career looks promising indeed. And if we're lucky, this will just be the start of a new love affair between Campion and the television industry.