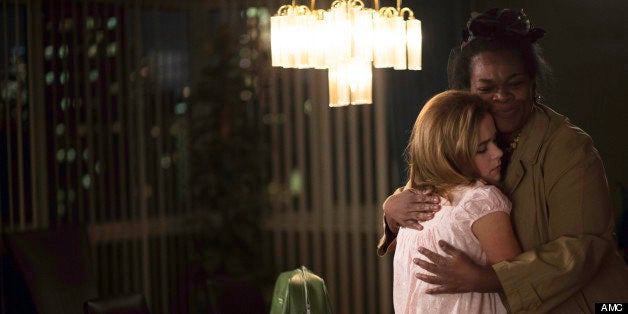 Note: Do not read on if you have not yet seen Season 6, Episode 8 of AMC's "Mad Men," titled "The Crash."
The Draper children were left alone at Don (Jon Hamm) and Megan's (Jessica Paré) Manhattan apartment in this week's episode of "Mad Men" and things did not go well.
Sally (Kiernan Shipka) heard a noise coming from the living room and sprang from her bed to investigate. What she found was a plump African-American woman (Davenia McFadden) rustling through drawers. When she confronted the mystery woman, she explained, "I'm visiting. Didn't nobody tell you? I'm your grandma ... I raised your daddy."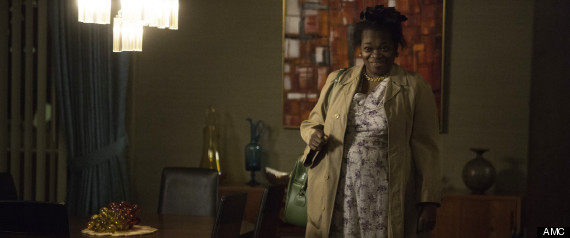 An utterly baffled Sally kept her cool, asking question after question to make sure this woman was, in fact, her never-before-seen black grandmother. "I think I was supposed to be surprise for you. Come over here and give a hug to your Grandma Ida," the woman told Sally, who didn't move a muscle. "Now don't you be rude to me ... You come over here and give me some sugar."
They coolly embraced (above) and then Grandma Ida made Sally some eggs and poured her some orange juice before continuing to try to "find a hiding place for the presents" she brought them. "That TV's in here good," she said, trying to yank electronics from the wall unit.
When Bobby (Mason Vale Cotton) woke up, he was equally as confused. But he was intent on seizing the opportunity. "Are we allowed to watch TV?" he asked Sally, who proceeded to call the police. "Are we negroes?" he whispered.

(Credit: flushwithcash on Tumblr)


Grandma Ida took the phone from Sally and assured whomever was on the other end that the little Drapers were just joking around. But aware she couldn't outsmart Sally, she saw herself out, TV-less.
When Don returned home from his speed serum-induced brainstorming spree, he found Megan, Betty (January Jones), Henry (Christopher Stanley), his children and the police. "Some elderly negro woman held your children hostage and robbed you blind," Betty shouted at Don, who then collapsed on his shag carpet. Dad of the year!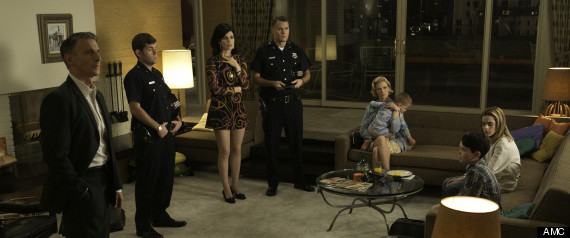 Later, he called to apologize to Sally, who explained, "I asked her everything I know and she had an answer for everything. Then I realized, I don't know anything about you."
"We really wanted to show that Sally Draper doesn't know anything about her father," Weiner explains of the Grandma Ida storyline in the behind-the-scenes video below. "These children are not being parented at all ... They are vulnerable to this intruder lying to them."
"Mad Men" airs Sundays at 10 p.m. ET on AMC.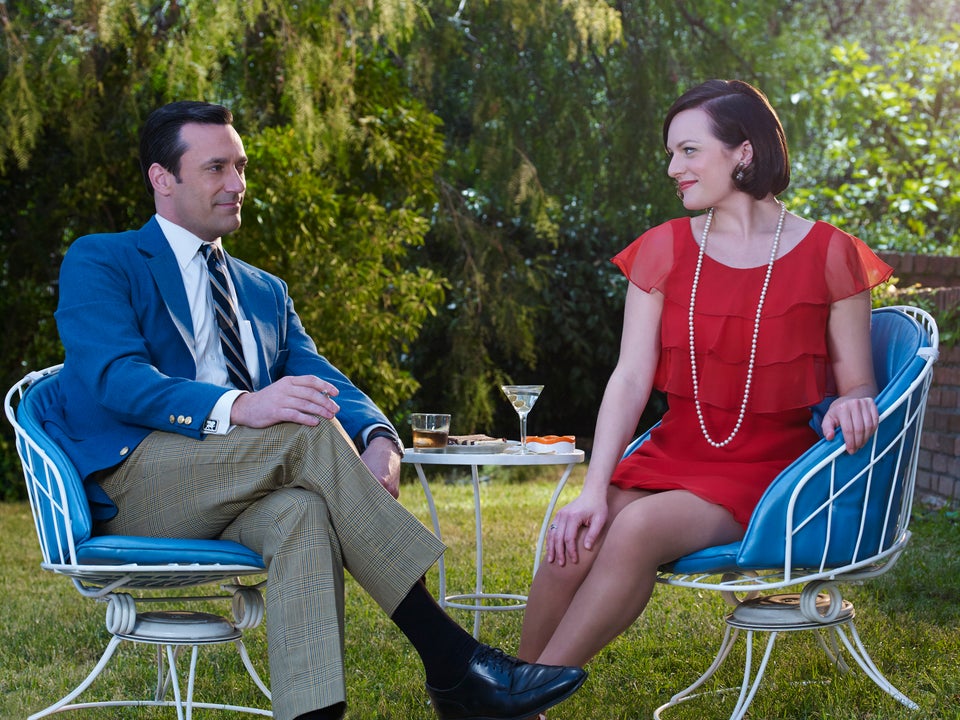 'Mad Men' Season 6 and 7
Related
Popular in the Community