If you're going to kill off Betty Draper Francis played by one of my Mad Men faves, January Jones, on Mother's Day, could it at least be done to the 1965 Billboard chart topper, "A Taste of Honey" by Herb Alpert's Tijuana Brass?
Especially since this next-to-last epsiode of the 8-year series is titled, "The Milk and Honey Route." OK, the milk and honey route may refer to a preferred hobo mode of travel in the 1961 book by sociologist Nels Anderson, The Hobo: The Sociology of the Homeless Man, not Alpert's bestselling album, Whipped Cream & Other Delights, but still....
As it is, we have Betty's politico husband, Henry (Christopher Stanley), chastising her not to be "morose" about her cancer, but he may as well have been telling us viewers, not to be morose. Since we learned of her diagnosis at the same time she did, hearing some anesthetizing music would have been nice to dull the pain. I mean, I cried. Where's my Don and Betty happy ending? PS I have been waiting for it for 8 years!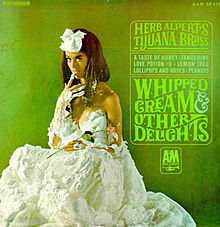 The whipped cream model, Dolores Erickson, a native of Seattle, started her career in 1952. Wearing shaving cream and chiffon in this shot, she was also three months pregnant.
Remembering my own mother on Mother's Day, mom's nickname is "Honey," and my recently departed godmother, whose husband's nickname is "Honey," I was hoping for a sweeter, more nostalgic Mother's Day Mad Men episode. Not this, with Don Draper (Jon Hamm), getting beat up with a fat phone book in a Midwest motel room, not by a woman, by angry drunken WWII and Korean War vets.
At the end of the episode, Don still doesn't know, Betty's been diagnosed with lung cancer, is refusing treatment, and has been given less than a year to live.
Meanwhile, arguably the least likeable character on the show, Dartmouth man Pete Campbell, played admirably by Vincent Kartheiser, gets the happily-ever-after ending, reuniting with his divorced wife, Trudy (Alison Brie) in a Wizard of Oz Dorothy moment, as they Learjet off to Kansas to get a house with tornado speed. This may also be a case of art imitating life, since Vincent married another actress on the show, Alexis Bledel, in real-life last year.
For those of us wishing for a happy ending finale next week or at least an easy landing, it looks as if it is not to be, featuring a funeral finale, minus Don, most likely. He doesn't know Betty's gone, so he'll have an operator call her long distance "person-to-person" in the final scene, done in those days, so you didn't have to pay for the long distance call if the person with whom you wished to speak, wasn't there. Hence, the finale's title, "Person to Person."
Mad Men debuted six weeks after a parent's funeral, coming at the right time in my life, for when I watched it on Sunday nights, I felt as if we were still together as a family, and I was Sally, my brothers Gene and Bobby, and we'd all be going to Becker's Donuts on Lorain Road in Fairview Park, Ohio for a baker's dozen of 13 donuts, gobbled down, gulping milk. That was our Sunday supper.
Mom had knocked herself out earlier in the day making a pot roast with Idaho potatoes, carrots, sometimes sauerkraut if the roast was pork, and not beef. She'd put it in the oven all in one pot, before morning Mass, and then it would be done when we got home around 1 p.m. as she whipped up some gravy from pan drippings, cornstarch, water and a teaspoon or two of Gravy Master, a staple in most kitchens, coming in a tiny, glass triangular-shaped bottle. I peeled the potatoes and carrots for the meal. My brothers didn't help because that was considered "women's work."
A fitting bookend, Mad Men wraps up the very weekend my urban planner niece Jacqueline graduates from Bryn Mawr College, not coincidentally, Betty Draper Francis' alma mater. Wonder how many others applied to Bryn Mawr because of that Mad Men connection. Jackie had been accepted at three Seven Sisters, and I know for her Mad Men fan father paying the tuition, that was the tipping point.
Now with Mad Men's finale just days away, whatever will we watch on Sunday nights to start off the week? They were bad and mad, sad we are, they'll be no more.
Lonna Saunders may be reached at lonna2@msn.com
Calling all HuffPost superfans!
Sign up for membership to become a founding member and help shape HuffPost's next chapter