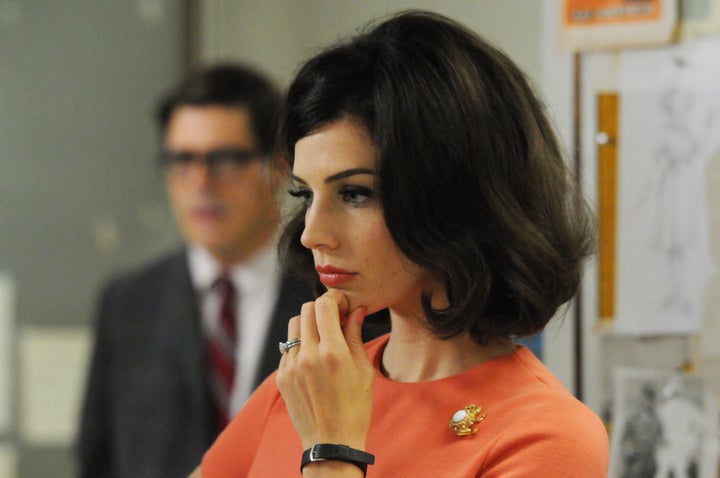 The Season 5 premiere of "Mad Men" marked a few firsts for the AMC series. Not only did the show see a record high of 3.5 million viewers, but Megan (Jessica Pare) became the new Mrs. Draper and made her mark on the employees of Sterling Cooper Draper Pryce.
After throwing Don a surprise party for his 40th birthday, Megan performed a rendition of the catchy french tune "Zou Bisou Bisou," originally recorded by Gillian Hill in 1961.
Pare opened up to HuffPost TV and other journalists during a conference call about the "Mad Men" premiere and her (and Megan's) breakthrough moment.
How did you prepare to sing "Zou Bisou Bisou"?
I listened to it a whole lot, and Matt [Weiner, "Mad Men" creator] gave me some pretty comprehensive notes to go along with it ... I worked with David Carbonara, who does some songs for the show. I got to go to a real, grownup recording studio and sing the song like a professional, which was an amazing opportunity.
Do you have any kind of professional singing experience?
I like to sing around the bonfire, in the shower, in the car ... and that's about it. It was a gift and such a great opportunity to record ["Zou Bisou Bisou"] professionally.
How long did it take you to learn the "Zou Bisou Bisou" routine?
I worked with a choreographer Marianne Ann Kellogg. I think we had three six-hour sessions together, which was my first hint that it was going to be a little bit more complicated choreography than I had expected. Working on it, practicing it ... I think it would come to about a week and a half.
Did you realize "Zou Bisou Bisou" would be released on iTunes commercially as a single?
I think at the time that had been mentioned, but I had a lot on my plate on that moment so I thought, "Oh, neat, that'll be fun." But it's been getting a lot of great attention ... it's really exciting. At the time, I just was like, "I can't believe I'm new on this show and I have to do an entire song and dance routine for the entire cast of 'Mad Men.'"
Suddenly, Megan is a part of two of the most talked-about scenes in the show. It's like an overnight star was born. How does it feel and look to you?
I've been waiting for today and last night for months. I'm really excited about it. I'm really proud of the work I did. I couldn't be more honored or proud to be part of such an amazing cast or such an incredible show. I've been doing this for 14 years, and I cannot think of anything ... It's a huge, enormous gift.
Did you know that Megan was going to be such a big character?
No. I auditioned with scenes from previous seasons. There was nothing written for Megan at the time, although I'm sure it was all in Matt's head ... Obviously, it was a great surprise.
Was the "Mad Men" cast an intimidating one to walk into?
I think they're all extremely talented, so I was definitely a bit intimidated. But they're a very warm, really genuine, very open cast. So it was actually a really nice experience to get to know everybody. And now, getting to know everybody and do another dance routine in front of them was a hazing of sorts; but they were amazing about that, too. And everyone was walking around singing that song all day, as you can imagine.
When did you know you would be part of Season 5?
Before we started [filming], I knew. But then I wasn't sure if there would be a Season 5! I didn't know what kind of a part I would have, how big it would be, etc. But it hasn't been that difficult, keeping it a secret. I've been so excited for this scene for months. I wouldn't be in this position without the people who have asked me to keep a secret, so it's very gladly kept.
Megan seems to have grown in confidence.
Last season, we didn't have much of a sense of Megan, and now, we have a much better sense of her. At the beginning of any relationship there's more shyness, less confidence. But of course, they are really married. They're a real couple. They go to work every day. They have dinner together every night. They spend real time together, and she loves and accepts him as a whole person. That initial shyness has faded by then.
What do you think Megan sees in Don?
I think her experience is that he's a very smart, very funny, mature guy. She doesn't really see the side of him that the rest of us see watching the show. She doesn't see the stern, tightly-laced Don Draper.
How do you see that disconnect between what Don went for with Betty, and what he's now going for with Megan?
I've put a lot more thought into Don's relationship with Megan since I've been working on that part of it, but I think the big surprise for this season is that Don and Megan are pretty good together. They're a pretty good match for one another.
Check out photos from the Season 5 premiere of "Mad Men" here: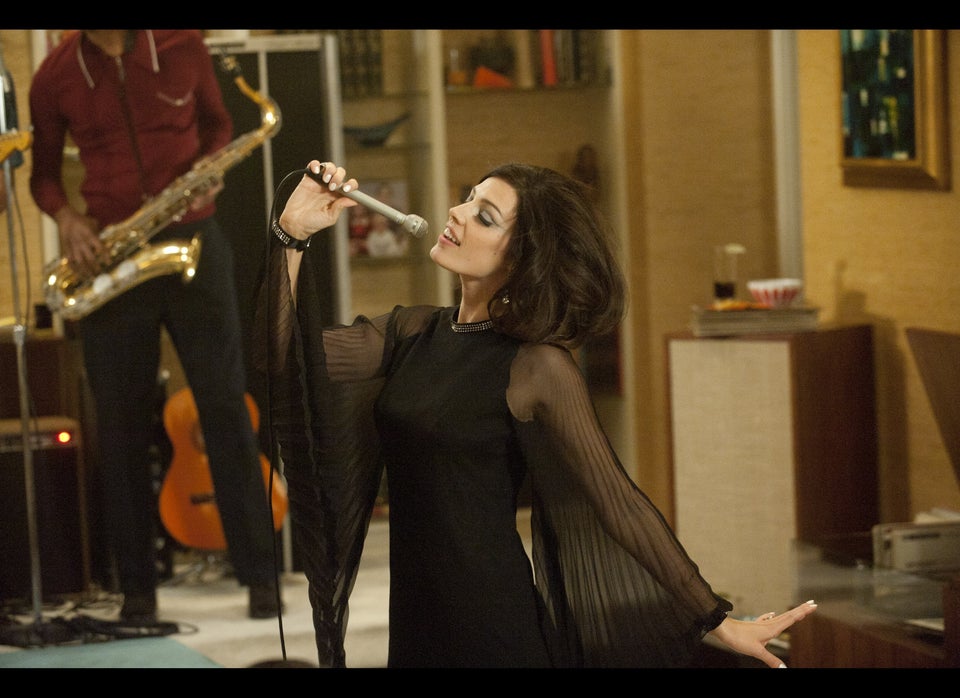 Related
Popular in the Community