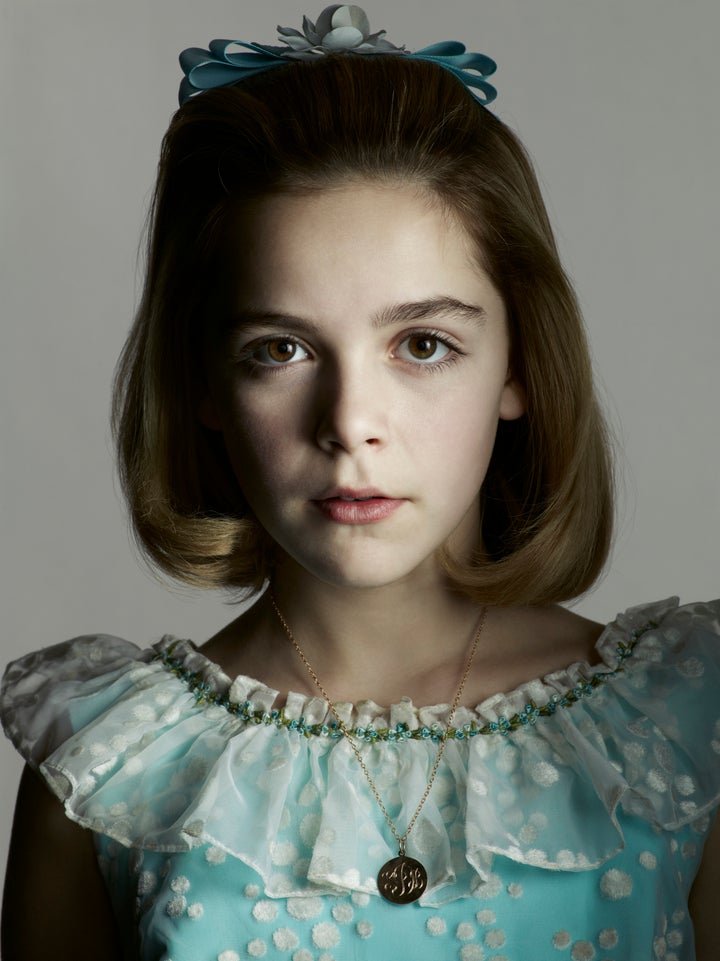 "Mad Men" creator Matt Weiner has put the fear of God into TV critics about spoiling any single second of the Season 5 two-hour premiere (Sun., Mar. 25, 9 p.m. ET on AMC). But it's the kind of fear that the "Mad Men" cast knows all too well. Trying to talk about a season you can't talk about is tricky, but the show's youngest series regular, Kiernan Shipka, always manages to handle it like a pro.
"At the beginning of each table read, he'll give a nice speech about how important it is to not reveal anything," Shipka said, detailing Weiner's repeated pleas for secrecy. "'Don't tell your agents, don't tell your managers, don't tell your publicists, don't tell anybody. And don't put it on IMDb, don't tweet it, anything.' And everybody respects that."
Much like her onscreen alter-ego Sally Draper, Shipka is 12 going on 22, but her poised answers are often punctuated with giggles. "I think I'm just allowed to say that this season's very bold, and it's really exciting for a lot of characters. Yeah, [Laughs.] ... that's about it!"
But we managed to talk about quite a bit, like what's been her favorite season of "Mad Men" so far and what she'd like to see Sally Draper do one day. She also admitted she'd love to do more Funny Or Die videos, or even a series, and dished about her next comedic turn: Playing "herself" on ABC's upcoming sitcom "Don't Trust the B---- in Apt. 23," opposite "Dawson's Creek" alum James Van Der Beek, also playing "himself."
You're the one Draper kid who has gotten your own storylines ... on a show that could so easily just be like, "Those are the kids, doing kid things." You must be so happy about how your character has grown.
Yeah, I'm really happy. [Laughs.] I mean, I couldn't be more happy, to be honest. It's so great.
I know you don't really get to watch the whole show, but have you had a favorite season so far?
This season is pretty amazing. I feel like each season -- each episode, even -- just keeps getting better and better. I think this one is kind of a mixture of all the seasons. It really has all the elements put together to make for a really amazing season.
Will we get to see more of Sally coming into her own?
We definitely will see some more of Sally growing up this season.
Last season was intense! I was worried for Sally.
I was, too. I was excited too, but I worried for her.
What would you want to see Sally do? What would be your dream episode for her?
I'd love to see Sally really go into the city more ... kind of just go there on her own and explore Manhattan. I think that'd be really fun. Maybe do some shopping. I don't know ... maybe Sally would become a tour guide. [Laughs.]
You know, there was one cast photo from this season that really caught my eye, with a magazine in it from 1954. Would you know anything about that?
[Shrugs and smiles] I can't say anything.
[Laughs.] I know. OK, something you can talk about: You're now big enough to guest star as yourself on other shows -- I kind of can't wait to see you as "Kiernan Shipka" on "Don't Trust the B---- in Apt. 23"!
[Laughs.] That was a really great experience for me. I mean, it was such a different environment, first of all -- I'm used to "Mad Men," where you have to get every word exactly correct for everything, and it has to be very true to the script. In this, they were all, "Try saying this this time," and "Improv a little bit." It was awesome. It was such a different experience, but it was so cool.
Whenever "Mad Men" ends, could you see yourself doing more comedy?
Definitely -- I'm open to doing comedy, action, drama, whatever!
I feel like your Funny Or Die video was the thing that made people realize how funny you could be.
That was awesome. I would love to do more -- I would love to work with Funny Or Die more. They were so great. They totally let you play around ... it's such a relaxed, fun set, and it was fun working with all those kids and adults, too, doing interviews, so to speak. Honestly, I would love to continue doing the psychologist with different kids and TV actors -- that would be quite fun.
I think it should be a series.
I do, too. [Laughs.] Comedy In Treatment!
You mentioned Twitter earlier, but what's up with your sad, never-updated Twitter account. Are you over it?
I know! I have a Twitter, but I'm not a tweeter ... if that really makes sense. I have 37 tweets. [Laughs.] Apparently, that's really bad! But I think you're pushing me to get back on it now. [Laughs.] I'll start tweeting! I'll tag you. I'd retweet this [interview] ... but I don't even know how to retweet!
[Editor's note: Right after this chat, Kiernan Shipka started tweeting again -- follow her!]
When you're not working, what do you like to watch on TV?
I really love "Modern Family" and "The Big Bang Theory" ... I think those are two really funny shows. And the Food Network. I have to say, I actually really like that channel a lot. It's addictive! Once you turn it on, you can't turn it off. When I'm sick, I mean ... it's the only thing I watch. And "Project Runway" is pretty amazing.
Check back for a bit more with Kiernan Shipka after the "Mad Men" season premiere airs!
"Mad Men" Season 5 two-hour premiere airs Sun., Mar. 25, 9 p.m. ET on AMC.
Forget where "Mad Men" Season 4 left off? Here's a refresher: