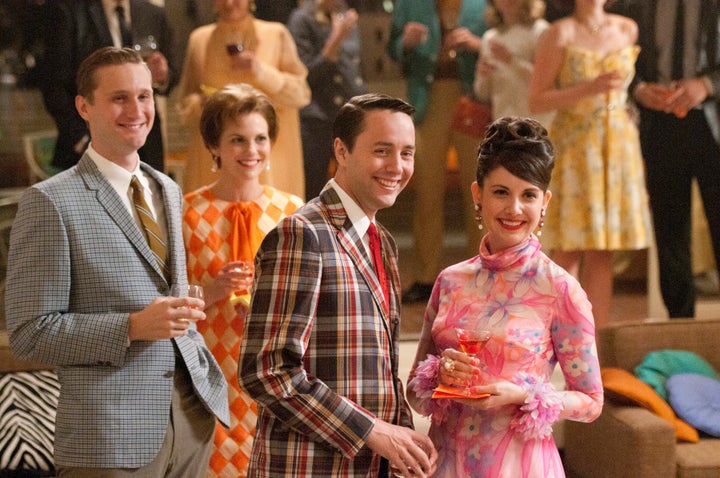 Roll out your fancy vintage bar carts! "Mad Men" Season 5 is almost here (two-hour premiere airs Sun., Mar. 25, 9 p.m. ET on AMC).
We've been sworn to ultimate secrecy about everything in the much-anticipated "Mad Men" Season 5 premiere, but that doesn't mean we can't help you celebrate the show's long-awaited return.
Bartender Brandon Morgan has shared with HuffPost TV an easy, unexpected and very under-appreciated classic cocktail, perfect for stirring up and sipping at your "Mad Men" viewing party.
It's not a martini or a bourbon neat -- if you haven't tried the spicy, sour and totally refreshing Moscow Mule (rumored to have been invented in Los Angeles, a place we love to see "Happy Don" visit), get ready to fall in libation love. Watch our quick video how-to here, and find the full recipe below.
And if you're the drinking game type, this will be a good one to sip along with the show, all season long. Although, again, we can't even tease what may or may not happen in the "Mad Men" premiere, so we'll just say this: Every time you smile, laugh or have an OMG moment, take a sip. Of course, please drink responsibly and only if you're of legal age.
2 oz. Vodka
3/4 oz. of fresh lime juice
Top with ginger beer
Directions: Simple -- you can build this cocktail right in the glass. Bottoms up!
"Mad Men" Season 5 two-hour premiere airs Sun., Mar. 25, 9 p.m. ET on AMC.
Popular in the Community