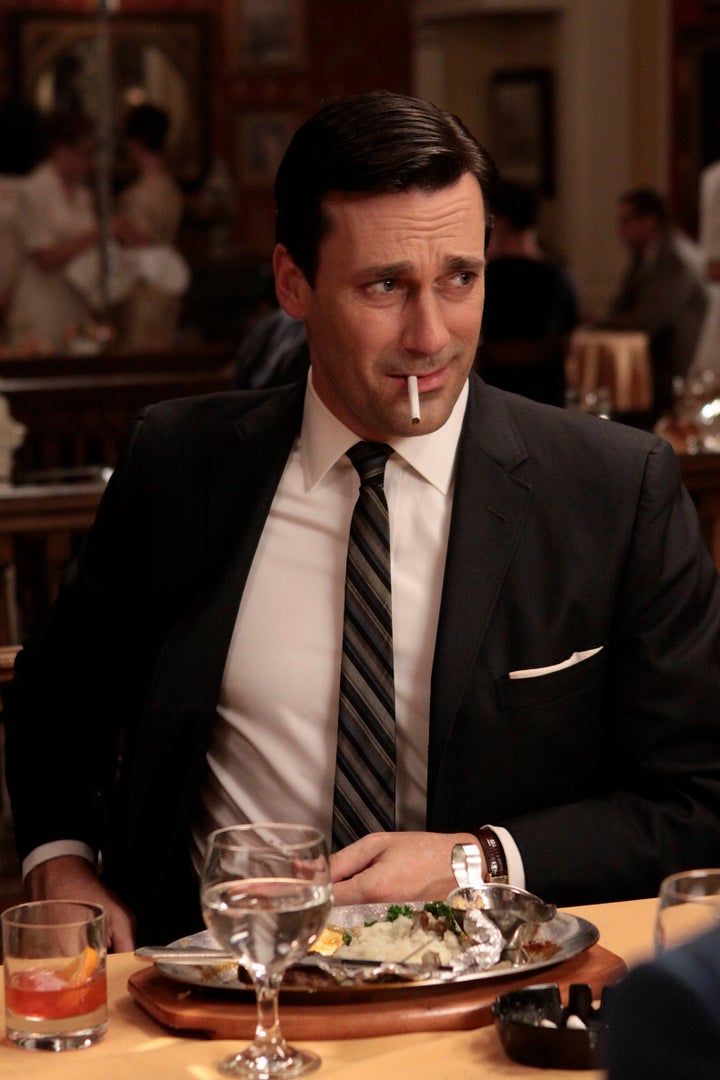 Depending on who you are, you like "Mad Men" because it's an addictive soap opera tricked out in meticulously accurate historical detail, or because it's a high-minded historical drama that just happens to be majorly entertaining. This year, Jon Hamm, Elisabeth Moss, John Slattery and Christina Hendricks are all up for acting Emmys -- and the show has taken the top prize of Outstanding Drama Series each of the past three years.
While each "Mad Men" episode is thematically bound and self-contained, the show is also a serial in the classic sense. It would be a disservice to watch haphazardly or out of sequence -- each season has an arc, each character accumulates personality bit by specific bit.
If you haven't seen it, you have one less excuse not to start. If you're already a fan, check out our list of favorite episodes from each season as you start to get your pencil skirts and martinis ready for January 2012, when Season 5 will premiere.
Episode 1: Smoke Gets In Your EyesThe pilot episode of the series is as good an argument for getting hooked on "Mad Men" as anything that could be written about the show. The jaunty swing of 1960s New York is undercut with a sense of foreboding (especially for viewers, who realize it won't be 1960 forever), as we first meet Don, Peggy, Joan and all the other denizens of ad agency Sterling Cooper. Don Draper is introduced as the cut-out archetype of the man in the grey flannel suit throwing back three-martini lunches and bedding bohemians, Peggy as the naive and frumpy new girl thrown into a pit of ogling men, and Joan, as the secretary of all dreams past, present and future. The final reveal -- womanizing Don is married -- is both startling and satisfying -- a feeling "Mad Men" provokes again and again.
Episode 7: Red In The FaceA tutorial in the art of revenge, an examination of thwarted desire, and a guide to the perils of living in the past, "Red In The Face" takes an unpleasant look at the men and women of "Mad Men" as they begin to realize just how unhappy they are. Roger Sterling, the consummate cad, puts the moves on Don's wife, Betty, exposing the silent viciousness of their relationship, and exposing his own misguided braggadocio as a cover-up for his insecurity. Watching Don's payback (a painful scene where Roger struggles up the stairs after a boozy lunch before vomiting on the carpet in front of clients) gives us both the sickly satisfaction of seeing an enemy undone, and the unsettling sense that these small, tainted pleasures are all that remain in this world.
Honorable Mentions: Indian Summer, The Wheel
Episode 6: MaidenformThough "Mad Men" can sometimes veer into stilted symbolism when dealing with the pressures of portraying the past, while inserting modern criticism, "Maidenform" confronts the tricky sexual landscape of 1962 head-on. Structured simply (the campaign for the title bra separates women into two categories: Marilyn and Jackie) the question recurs throughout the episode in careful variation. While Betty continues unsuccessfully to please Don, Don ties up his strongheaded mistress to a bed when she suggests that he's well-known as a good lay around town. Peggy, whose dowdiness has become a business liability, ends the episode by changing into a low-cut dress and trying on a new kind of female power.
Episode 13: Meditations in an EmergencySeason 2's finale lances the tension-filled sore of the season up to this point. In other words, the end days are here. Amidst the panic of the Cuban Missile Crisis, Betty excises her marital resentment by sleeping with a handsome stranger, while Sterling Cooper finalizes its buyout by British company PPL. In an enigmatic scene that is one of the most devastating of the series, Peggy confesses to Pete that she had his baby and gave it away -- right after he tells her he wants to be with her. Vincent Kartheiser, who begins filled with buoyant ardency, ends stunned and still, glassy-eyed and clutching a shotgun to his chest in the dark office.
Honorable Mentions: Three Sundays, The Mountain King
Episode 3: My Old Kentucky HomeRoger puts on blackface, Joan plays the accordion, Pete and Trudy dance the Charleston, and Peggy gets high. While these events alone would make this episode worth watching, My Old Kentucky Home is also a bleak study of people who get what they want, and realize they want something else. Roger throws a blowout with his shiny new 20-something wife, who responds by getting wildly drunk and falling down everywhere. Betty, hugely pregnant, lets a lonely divorced man caress her enormous belly. Joan, who only ever wanted to be a housewife, learns her husband is hopeless at medicine, and is left playing the accordion for people who can't hide their pity for her. Only Peggy, lighting up with the boys and churning out copy, seems to be cut free from expectations.
Episode 7: Seven Twenty ThreeDon Draper, for all his creative brilliance and luck with women, isn't doing very well when we come to Seven Twenty Three. Though the flashbacks into Don Draper/Dick Whitman's past life can sometimes feel cheesy and misplaced, this episode makes it clear that trying to separate past and present lives is at best an exercise in self-delusion, and at worst, an undetonated bomb. Jon Hamm makes so much of Don's foibles palatable that Don's cruelty to Peggy is starkly awful. But despite Don's origin story, escape is no longer an option. Bert Cooper, mainly around as a shoeless eccentric, outmanuevers Don, forcing him to sign a contract and anchoring him to a life he seems ready to leave.
Honorable Mentions: Shut The Door, Have A Seat, Guy Walks into an Advertising Agency
Episode 5: The Chrysanthemum and the SwordSeason 4 might be the show's darkest yet. A divorced Don descends into alcoholism and is left as a dark sack of a man groping around the broken outlines of what used to be his life. In "The Chrysanthemum and The Sword," some light is finally let in. Though the commentary on foreign relations (Roger's outburst in front of the Japanese clients, Pete's eager attempts to bone up on Asian culture) falls a little flat, the episode transforms midway through. In a gambit to outwit a rival agency, Don devises a scheme to shoot a fake commercial for Honda to trick the competition into bankrupting themselves by doing the same. Glossy, thrilling and playful, the preparations for the fake spot, and its eventual result, play out like an old-fashioned spy caper.
Episode 7: The Suitcase"The Suitcase" is unlike any other episode on the show. A meticulously crafted character study, the episode seems at times more theatrical than cinematic. That's not a criticism: A chamber piece focusing almost exclusively on the relationship between Peggy and Don, "The Suitcase" offers no plot development that could be satisfactorily explained in summary. The episode is what they'll be showing writers to help demonstrate the term "character growth." Stuck in the office for a night, Peggy and Don fight with each other, weep and drink to excess in front of the other, and, in the end, console each other. "The Suitcase" requires just as much from the viewer as it does from its actors. After watching, it's hard not to feel simultaneously wrung out and enlightened.
Honorable Mentions: The Beautiful Girls, Waldorf Stories
Related
Popular in the Community