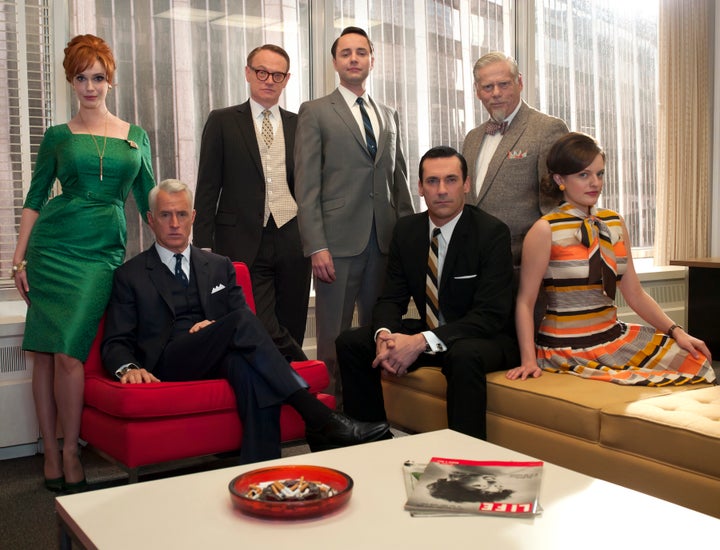 And after this week's trippy episode of "Mad Men," we can imagine what Roger Sterling would have to say about the fact that it was in September 1966 that Timothy Leary founded the League of Spiritual Discovery, a religion based on LSD, which was made illegal the following month.
We also know that 1966 was the year that mini-skirts were really in fashion (Zou Bisou Bisou!), color TVs became popular, Jacqueline Susann's first novel "Valley of the Dolls" was published and all cigarette packets in the United States had to start carrying the health warning "Caution! Cigarette smoking may be hazardous to your health."
But what other pop culture events from the end of 1966 through 1967 might "Mad Men" incorporate this season? Here are some major landmarks we could see getting a shout-out on the show.
August 1966: Construction began on the World Trade Center in New York City.
September 1966: Valerie Percy, the 21-year-old daughter of then-U.S. Senate candidate Charles H. Percy, was stabbed and bludgeoned to death in the family mansion on Chicago's North Shore.
September 1966: The first episode of classic science fiction series "Star Trek" aired on TV.
October 1966: Bobby Seale and Huey P. Newton formed the Black Panther Party.
October 1966: The Love Pageant Rally took place in Golden Gate Park, setting the stage for the Summer of Love.
October 1966: Grace Slick first performed with Jefferson Airplane.
November 1966: Actor Ronald Reagan entered politics as governor of California.
November 1966: The Arno River flooded Florence, Italy.
November 1966: John Lennon met Yoko Ono.
December 1966: Walt Disney died.
December 1966: Dr. Seuss' book "How the Grinch Stole Christmas" was animated for television and shown for the first time on CBS.
January 1967: President Lyndon Baines Johnson called for a temporary 6 percent increase in taxes due to increased spending, the highest working wages in history and an unemployment rate that was at a 13-year low.
January 1967: The first Super Bowl ever was played between the Kansas City Chiefs and the Green Bay Packers, who won 35-10.
January 1967: U.S. astronauts Gus Grissom, Edward Higgins White and Roger Chaffee were killed when a fire broke out in their Apollo 1 spacecraft during a launch pad test.
May 1967: Elvis Presley married Priscilla in Las Vegas.
June 1967: Civil rights case Loving vs. Virginia received a unanimous ruling, declaring interracial marriages legal by ending race-based restrictions on marriage in the U.S.
June 1967: Thurgood Marshall became the first black justice on the Supreme Court.
June 1967: The first bank ATM made its debut at Barclays in London.
October 1967: The musical "Hair" premiered off-Broadway.
November 1967: The very first issue of Rolling Stone magazine was published.
December 1967: Otis Redding died.
December 1967: Evel Knievel made a name for himself, gaining national attention for unsuccessfully attempting to jump over the fountain at Caesars Palace in Las Vegas on New Year's Eve, a stunt that was filmed for ABC.
December 1967: The world's first human heart transplant was successfully performed by Christiaan Barnard in South Africa.
Think of any we missed that "Mad Men" could touch upon? Watch our mash-up of memorable TV trips (of the Roger on LSD kind) to free your mind, then share your suggestions in the comments.
Related
Popular in the Community