We're about halfway through Season 4 and "The Suitcase" focuses on the show's most functional couple -- Peggy and Don. And of course when the episode opens with tickets for the historic prizefight between Sonny Liston and Cassius Clay, aka Muhammad Ali, we're in for a show full of confrontation.
They collaborate, fight, reconcile, have birthday dinner and drinks, go 'home' together, and then literally sleep with each other on Don's couch. A mouse invades Don's office and at first he doesn't flinch. But Peggy's scream prompts him to dash after it. She comforts him while he pukes his guts out from yet another night of binge drinking. Don even tries to defend her honor when Duck calls her "another whore." The office is their home, the couches, their beds. In the end, their night together results in the conception of an ad campaign.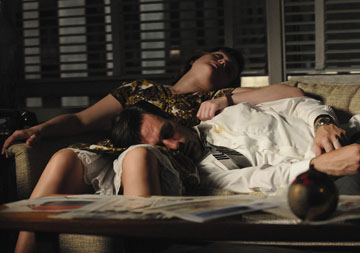 They both blow off others to prioritize their work -- Don to Roger and Peggy to Mark. An emergency call from California causes Don to bottle his emotions with work and alcohol, always hand in hand. Roger's the ambassador of booze, trying to get Don to go watch the fight with him, earlier saying "we can solve this problem with a flask." Resentful having to sit through a dry dinner with recovering alcoholics Freddy Rumsen and Cal Rutledge, Roger sneaks off to a bar next door where he phones Don to come to his rescue. Their always quick-witted banter ends in Don declining the offer and ending the phone call with "Goodnight, Sweetheart."
With her coat and hat on and ready to meet Mark for what she thinks will be a romantic birthday dinner, Peggy is lured into Don's cave at the end of the work day, much to the amusement of the rest of the creatives, who quickly scamper away to go watch the boxing match. Everyone else knows that stopping by Don's office at the end of the day, even when he says it'll only take a second, you're stuck for the night. Wanting to be distracted from the pending phone call to California, Don traps her with an after-hours brainstorming session for Samsonite Suitcases and demands "we're gonna do this right now." (Having worked in the creative field, I'm all too familiar with the frustration of staying very late to cater to a superior's whim of inspiration.) Peggy the workaholic doesn't do much to plot an escape and one after the other, he shoots down her ideas. After much passive aggressive pouting, Peggy tells him about her birthday and he tells her leave. As she's waiting for the elevator, she sees a lightbulb flick off, an allegory to her contribution to the campaign. The elevator arrives and she just can't take it. She turns around and stomps back into the office, foregoing her family and boyfriend for her passion.
Rather than admitting to being inconsiderate, Peggy blames Mark for standing him up, telling him that he's only trying to get in good with her family. He retaliates by saying that she never stands up Don and after some guilt from her mother, Peggy and Mark have a phone break up (we have to remember that they didn't have texting back then). "Couples fight," Peggy's sister tells him. But the real fight is about to come.
The tension rises with Peggy's frustration at being kept in the office after hours. Add her simmering resentment of her unsung contribution to the Glo Coat commercial and she reaches boiling point. She lashes out at Don for taking credit for her work and he retorts with "It's your job. I give you money, you give me ideas."
"And you never say thank you!"
"That's what the money's for!" he yells. "You're young, you will get your recognition. And honestly, it is absolutely ridiculous for you to be two years into your career and already counting your ideas. And you should be thanking me when you wake up, along with Jesus, for giving you another day."
This sends Peggy to the bathroom where she bawls in front of the mirror. Neither of them have ownership over the winning concept -- it's the product of their teamwork. As Don says, "You gave me 20 ideas and I picked out one of them that was a kernel of an idea."
But Peggy and Don's fight is just as brief as the boxing match and couples love to gossip about other couples. After she retreats to her office, Don calls her into his to make her laugh - at a tape of "Sterling's Gold" by Roger Sterling. Ice clinks in the background as he rambles of his sexual prowess and how Bert hates him because of it. He leaks that the old eccentric is a eunuch, making Bert the female in his partnership with Roger. In an episode on toughness, we learn Bert Cooper literally has no balls.
When it comes to mice, neither does Peggy. She squeals when she sees it run across Don's office, and after a quick chase and peek under the desk, Don kneels and asks to take Peggy for her birthday dinner. Kneeling often signifies reverence, as well as the position the man takes when popping the question. This is a proposal she can accept. She knows she's supposed to want a husband and family but admits that she's never as content out of the office as inside. Don reflects on his service in Korea and how he never shot anyone. They both watched their fathers die. Then they drink in a bar, and Peggy looks like Roger's replacement as Don's drinking work-buddy, except Don would likely never admit that Roger is attractive like he did to Peggy. They talk about how Don's the only one who visited her in the hospital after birthing Pete's bastard baby, which finally breaks through any remaining façades and allows them both to speak frankly.
Duck hits rock bottom and is fired from Gray (mutual schmutual). After he sends Peggy flowers for her birthday, she calls him at his dark and lonely apartment. He tries to woo her with the half-baked notion of starting an agency focusing on women's products, where she would be creative director - her real birthday present is a business card showing this. But the ulterior motive is he's drunk, desperate and Peggy's the last cute girl who would take her clothes off for him. She hears the slurring and realizes that this professional opportunity is less than legitimate.
Late at night and drunk as a sailor, Duck enters the SCDP offices to find Peggy. He pulls his pants down to "leave Draper a present," and Peggy explains that he's about to defecate in Roger's office. When he sees Don, Duck blurts out details of his former tryst with Peggy and insinuates that Don is now sleeping with her. Duck calls her a "whore" and Don swings at him but misses (classic). When Duck pins him to the ground, he fumes "you know, I killed 17 men in Okinawa," - quite the contrast to Don's record.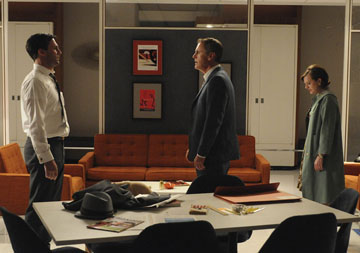 Embarrassed, Peggy begins to explain the fling with Duck but Don doesn't want to hear about her past. On his couch, Don falls asleep with his head on Peggy's lap and in the middle of the night, a vision of Anna Draper visits him, carrying a suitcase (is it a Samsonite?). She smiles at the sight of him and Peggy. After he awakes, he finally returns the call to California and hears the news he's been dreading. Anna Draper is dead. The grief is overwhelming and he sobs while Peggy comforts him, reassuring him that Anna was not the only one who really knows him.
Peggy then decides against going home and falls asleep in her office where she's woken up a few hours later by the whistles of the circus-like creative team. She checks in on Don, who's still in his office and all freshened up and focused on work. Uh oh, is he pulling another Alison? But there's a role reversal - he shows Peggy new Samsonite concepts and she criticizes each. "Why are you shitting on this?" he asks. She relents, telling him, "It's good. It's very good." Don then holds Peggy's hand, the thank you she's always wanted.
Another interesting aspect is Don rooting for "methodical" Sonny Liston and not the name-changing Ali. "Moo-hammad Ali," he scoffs as his eyes roll. In the opening scene, new Art Director Stan says "I was just saying Clay would make one hell of an ad man."
But Ali is tough and knocks out Liston in the first round. Samsonite is tough. And though we're not as tough as we'd like to be, we often find strength through our relationships with others.
Calling all HuffPost superfans!
Sign up for membership to become a founding member and help shape HuffPost's next chapter